Columbia alumnus recognized for innovative advertising work 'on a national stage'
David Littlejohn only attended Columbia for one year, but that year was transformative in his career path, leading him to direct one of the leading advertising agencies in the country.
Littlejohn, a 2004 advertising alumnus, is now the chief creative director for Humanaut, one of the top 10 advertising agencies in the country, according to Ad Age's A-List 2020 Awards.
He first heard of Columbia from his high school art teacher in Chattanooga, Tennessee. After a stint at a couple of community colleges in the South, he finally enrolled at Columbia in 2003.
Graduating from Columbia in 2004, Littlejohn landed his first internship at Maddock Douglas, an agency in Elmhurst, and later worked as a copywriter at both Foote, Cone and Belding in Chicago and Crispin Porter + Bogusky in Boulder, Colorado.
He then worked as a freelance copywriter and creative director for smaller advertising brands such as BBDO San Francisco, Victors & Spoils, and Saatchi & Saatchi.
"This was the time when apps were becoming businesses and you could develop something with some friends in your garage," Littlejohn said. "I quickly realized that having all the advertising background I had, my biggest assets to these startup companies was my branding, my advertising, my marketing background and experience."
In 2013, Littlejohn teamed up with Andrew Clark and co-founded Humanaut, the environmentally-focused agency, which works with emerging brands that share its values.
Some of the Chattanooga company's past partnerships include Organic Valley, Bombas and Morgan Spurlock's fast-food documentary "Super Size Me 2: Holy Chicken!"
But before Littlejohn's career in advertising increased in notoriety, he started his journey in Chicago.
Littlejohn took a circuitous route to get to Columbia, but soon was drawn to copywriting because of the mixture of various media. He added that it is the kind of school you "get what you put in," and where you can build professional relationships with teachers and students in specific disciplines.
Littlejohn said the reason he got the internship at Maddock Douglas was due in part to a recommendation from one of his instructors, J. Darch Clampitt, an adjunct faculty member at Columbia. Other faculty also recognized his talent.
"We are all immensely proud of David and his continually amazing accomplishments," said Peg Murphy, associate chair and an associate professor in the Communication Department, in an email to the Chronicle Thursday, May 7. "He is another fantastic example of what Columbia students are capable of as advertising creative leaders and advertising entrepreneurs."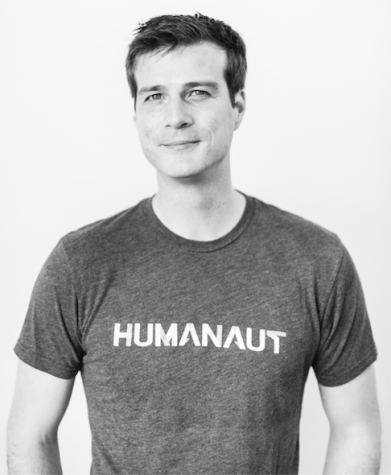 Murphy said one of Littlejohn's first classes at Columbia was her "Introduction to Advertising" course, where he had "strong concept and writing abilities."
Laurence Minsky, an associate professor in the Communication Department, said he still remembers when Littlejohn juxtaposed volume levels to advertise a set of TV Ears—a product that allows those with hearing loss to hear television audio at a comfortable level—in his "Ad Portfolio" course.
For his project, Littlejohn created two of the same ads side-by-side but one was written with small, quieter font while the other was written with a loud, large font, which Minsky said showed Littlejohn truly understood the product.
Littlejohn said he has embraced remote work in light of the coronavirus pandemic and plans to hire more people because they can now connect across the country. Currently, Littlejohn directs a staff of nearly 30 employees.
Recently, Humanaut introduced a platform titled "Homemade," a collective for creative collaborators to be compensated for working on Humanaut projects. "Homemade" is open to any individual willing to work from home who has a background in creative fields like acting, designing, editing, illustrating, photography and writing.
Littlejohn said "Homemade" released its first TV commercial using footage shot from the Homemade community and has more than tripled the number of collaborators with the company.
"We felt like a very small agency in a very remote area of Chattanooga, and now suddenly we feel like [we're] kind of on a national stage," Littlejohn said. "We now have access to national talent and can be working [remotely] and can rethink how we work with people completely."