Columbia alumni share their experience as women in the gaming industry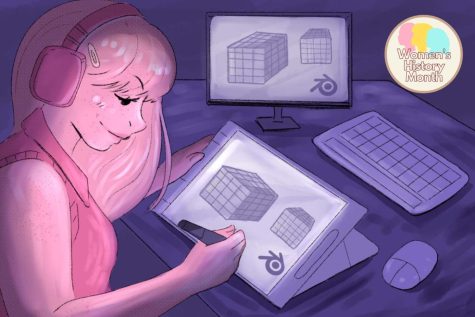 When Elise Motzny was a kid making custom content while playing The Sims, she did not realize the career ahead of her. Now, she is working at High Voltage Software and making environmental assets and events for Fortnite.
Motzny, a 2013 Columbia alum who studied game art, said her favorite part about her work is when her 10-year-old brother asks her, "Did you make that?"
"Seeing my brother, maybe future kids or family, playing a game that I was working on, and enjoying the thing that I made, is kind of no different than when I make them cookies," Motzny said.
Motzny said Columbia gave her the base knowledge that she could have learned online, but she said the biggest issue is that a person who chooses to learn on their own does not know what they need to search for.
"The real value that I got out of Columbia, regardless of the skill set, is the people that I met there," Motzny said "Those are the people that are going to be around in you in your industry … and that could actually help you get a job one day."
According to a survey done by Statista on the gender breakdown of game developers worldwide, the percentage of women in the industry increased from 21% in 2017 to 30% in 2021. But even with this rise, women are still a minority in the industry.
Michelle Flamm is a 2013 Columbia alum who studied game and interactive media design and developed her first game at 12 years old. Now, she is a senior systems designer at Warner Bros. Games.
Some of the projects Flamm has worked on include games like Godfall, Elder Scrolls Online and the upcoming game Weird West.
Flamm said in her career she has experienced sexism in the form of mansplaining and incompetent male bosses, and she even witnessed drink spiking by a male colleague.
In one of her previous jobs, Flamm said she rejected one of her male colleague's ideas because she didn't believe they were good and would cost the company more time. In anger, he called Flamm a vulgar name. When she reported him to human resources, they ignored her complaint.
"Women who want to be in games already know that the deck is stacked against them," Flamm said. "You are going to be more productive than that basic white dude who's already applying to the same job, so go ahead and apply."
Flamm said the best advice she ever got was during her first day at a Triple-A company from a person who hired her as his replacement. He said that it is okay to have imposter syndrome, and if she is lucky, it will not go away. Flamm said her feeling of not belonging and therefore trying harder is important because it set her above her colleagues.