Columbia alum channels the frustration of college graduates in debt in his debut film 'Echo Boomers'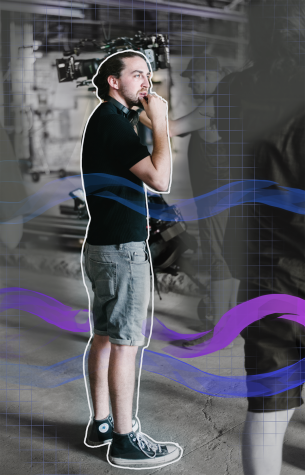 After graduating from Columbia in 2014, Seth Savoy was "kinda pissed off." The directing alum entered a stage of limbo he had seen graduates before him experience: having debt and no job lined up.
But, Savoy took his frustration and eventually turned it into the inspiration for his debut film, "Echo Boomers."
"Echo Boomers" follows the character Lance Zutterland, portrayed by Patrick Schwarzenegger, who gets caught up with a group of recent college graduates-turned-burglars who flip stolen valuables from the rich to recoup their debt and splurge on their vices.
Set in Chicago, the film premiered on Nov. 13 at the Music Box Theatre, 3733 N. Southport Ave., and had a limited theatrical release across the country. Available to view on most streaming platforms, including Apple TV, Amazon Prime Video and Google Play.
"The Music Box is one of the most beautiful theatres in Chicago," Savoy said. "It was cool to see the movie's name up in the kiosks."
Savoy began writing the film's script as he entered his senior year in 2013. After graduating, he entered and won the independent film pitch writing competition at the Sundance Film Festival. Once he achieved the accolade, Savoy said he experienced a "stalling out" in getting his script made into a film.
"I was trying to just keep my head above water," he said. "As a first-time filmmaker, I was trying to just shoot as much as I possibly could—whether it's campaigns or music videos or things that aren't [my] first choice."
The film industry's two biggest hurdles are casting and capital, he said. Savoy was finally able to get his movie made in 2019 through a fundraiser held by his former Columbia instructors and Chicago Media Angels, an investment group that finances entertainment projects.
Savoy said he learned how to keep movie investors happy by using lessons from John Hancock, an adjunct instructor in the Cinema and Television Arts Department.
"You have to think of the reason why someone might want to invest and make sure you can address those needs," Hancock said.
A director does not have to do what investors say, Hancock said, but they do need to draw investors out, talk, gather their views and listen to them.
The scenes of the film that involved Savoy's characters looting large houses were shot in both Salt Lake City and Chicago.
"[Chicago] really does have this unreplicable feeling, vibe and energy, and I think that this movie needed that," Savoy said.
Savoy met with Sean Kaplan, an independent entertainment producer at Soho House Chicago, an entertainment hub located at 113 N. Green St., while seeking funds for his film.
"At the very beginning, all the different people that were introduced to [Savoy] all felt that he was really committed and compelled to do this," Kaplan said.
Kaplan said Savoy's contagious passion to make his film organically drew producers in to "Echo Boomers."
Kaplan said it was an amazing experience to see Savoy go through the entire process of being a first-time filmmaker and come out on the other side.
"He got it done," Kaplan said. "A lot of people are still sitting at home with a script saying that they should be filmmakers, and Seth did it."
Although there were moments Savoy wanted to give up on "Echo Boomers" getting made, Kaplan said he is a "pretty stubborn dude" and wanted to have this story told because it was important to him.
Savoy said if he had not attended Columbia where he had experiences creating short films, "Echo Boomers" would not mean as much to him.
"All these shorts that I did looked beautiful but didn't have a meaning," he said. "I realized if you're going to spend so much time on a movie, you really need to give it a meaning. That directly sculpted 'Echo Boomers.'"