Columbia alum Aaron Hartline talks about success, failure and everything in between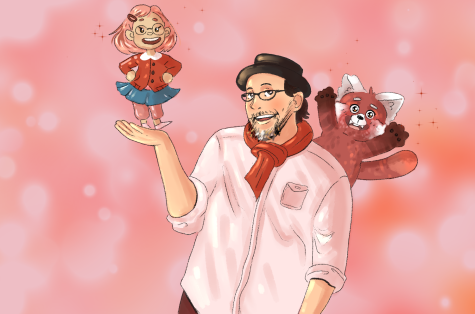 Aaron Hartline, the supervising animator for "Turning Red" and a Columbia alum, has worked on creating characters Buzz and Woody from "Toy Story," Lightning McQueen and Mater from "Cars," Scrat the Squirrel from "Ice Age" and more.
In "Turning Red," Hartline focuses on the main character's struggles to meet her family's expectations, and how those expectations may differ from who she feels she is inside.
"Turning Red" is a coming-of-age film about a confident and dorky 13-year-old Chinese-Canadian girl, Meilin Lee, and her struggles with puberty, the pressure to be the perfect child and her discovery of her ancestral powers, which turn her into a red panda any time she experiences strong emotions.
The film is Pixar's first feature-length movie directed by an Asian woman, Domee Shi. It is also the second Pixar film to feature an Asian lead since the movie "Up," in 2009.
"I definitely resonate with Mei and her story of trying to figure out who you are, but also honoring what your parents expect of you," Hartline said. "My dad could not understand why I would pass up a stable job [at the steel mill] … but when I went into that steel mill [at 19], I looked around and went, 'I can't do it. This isn't me, this isn't who I am. I am an artist.'"
Hartline's role as the supervising animator for "Turning Red" was to assemble and lead a team that could execute the director's vision for the film.
"I worked closely with the director and other department supervisors, making sure they could pull off everything that was in the storyboards while remaining on schedule," Hartline said. "I assigned shots and taught the animators the unique animation style for this film."
The film's style was influenced by East Asian animations, such as "Sailor Moon," "The Girl who Leapt Through Time," "Tokyo Godfathers" and "My Neighbors the Yamadas," which helped the supervising animators chisel out who the characters were, as well what their style would be.
"We had to do some homework ourselves. I know a lot about Western animation in terms of 'Looney Tunes,' and Disney, but I didn't know too much anime influence," Hartline said. "So I really started watching a lot of TV shows, which was great."
Despite having a successful career at Pixar, Hartline applied and was rejected by the studio every year for 13 years. But Hartline kept persisting and accepted failure, something he advises students be willing to do.
"As long as you're moving forward and you're going to fail, fail often. It's okay to fail as long as you learn why you failed," Hartline said. "So that way you can take it on to your next thing."
Hartline said being single-minded when it comes to certain career goals can sometimes be limiting.
"You might think you want to be an animator, but then you get in there and actually think modeling is better. Or [you may like] lighting better. Those smaller shop jobs can teach you all that," Hartline said. "Don't ever pass up an opportunity. [You can still] have a main goal, but don't just hold out for that one. Keep moving forward, keep using [smaller jobs] as a stepping stone, or a ladder to keep going where you want to go."
Hartline emphasized the importance of networking and building relationships at Columbia. Hartline met Everett Downing Jr., one of his best friends, at Columbia. Downing was co-director for "Hair Love," which won Best Animated Short Film at the 92nd Academy Awards in 2020.
"[Everett and I] got together at Columbia … and [worked on] 'Half Pint Heroes' at night together," Hartline said. "And that got us a job at Blue Sky [for 'Ice Age'] which was our first feature together where we both went out there together."
Hartline said above all, relationships are what helped him the most at Columbia, and he recommended that students find a group of people who can inspire them and push them to be their best.
"Turning Red" will be available to stream on Disney+ starting March 11, 2022.