Columbia adds satisfactory/unsatisfactory option for graduate students, but few apply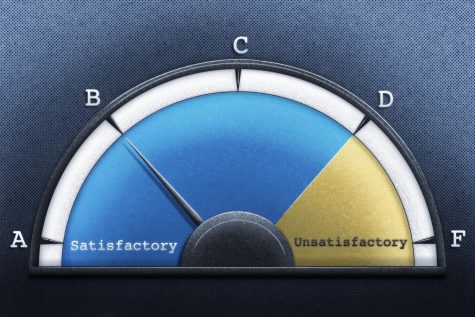 After Columbia expanded its pass/fail grading options for undergraduate students in a moment of academic stress due to the coronavirus and online transition, the college extended a similar option to graduate students.
Faculty Senate's Graduate Council announced at its April 8 meeting a satisfactory/unsatisfactory option for graduate students enrolled in one or more Spring 2020 semester courses.
Interim Dean of the School of Graduate Studies Jeff Schiff said graduate program directors said graduate students have been anxious about their grades since classes began remotely.
Similar to the undergraduate pass/fail policy, Schiff said it was a "no brainer" among program directors to offer graduate students the option to alleviate stress, despite being an uncommon practice in graduate courses.
David Tarleton, associate professor and director of graduate programs for the Cinema and Television Arts Department, said in an April 20 email to the Chronicle that graduate programs at Columbia have never used the pass/fail grading option, only using satisfactory/unsatisfactory guidelines for certain thesis courses.
The difference between the satisfactory/unsatisfactory and pass/fail option is the letter students receive on their transcript.
In declaring this option, graduate students' transcripts will note "SX" for satisfactory or "U" for unsatisfactory. Unlike "S" grades in other semesters, the "SX" grade for the Spring 2020 semester will fulfill prerequisites needed to meet major and minor requirements.
There is no limit to the number of courses graduate students can declare satisfactory/unsatisfactory, but those who are on academic probation must obtain written approval from their graduate program director.
Declaring a class satisfactory/unsatisfactory is irreversible and the application deadline to do so is May 1. Both "SX" and "U" grades will be "completely benign" and have no impact on a student's semester or cumulative GPA, according to Registrar Keri Walters. However, with a "U" grade, "credits will NOT be earned, and the class will not count toward degree completion," Walters said in an email to graduate instructors earlier this month.
Yonty Friesem, assistant professor and director of graduate studies in the Communication Department, said the satisfactory/unsatisfactory option was made to accommodate graduate students' academic transcripts and help them with career goals or future occupations.
However, Walters said only five out of 213 students have opted in, as of press time, but with the May 1 deadline approaching, more students are expected.
For Alexandria Taylor—a graduate assistant and graduate student instructor, and first-year student in the Fiction program—the remote transition has been "virtually painless" due to her workload consisting of reading and writing. Because of that, she will not be using the satisfactory/unsatisfactory option.
Although it has not been ideal with the lack of in-person conversations and workshops, Taylor said it is still bearable because she can see her peers virtually and send work online.
Taylor said it is a great effort by the college and she appreciates the support she has received during the transition.
Walters said she does not expect many graduate students to choose the option because the nature of graduate study is different from undergraduate studies, as they are used to working independently.
"If it can help one student to … feel better about all of the stress and anxiety that's happening this semester, then I think it is important and it's filling a need," Walters said. "Talk to your graduate program director and ask them if they think you should take the course for satisfactory/unsatisfactory."