College hires new full-time Title IX investigator, envisions partnerships with Title IX experts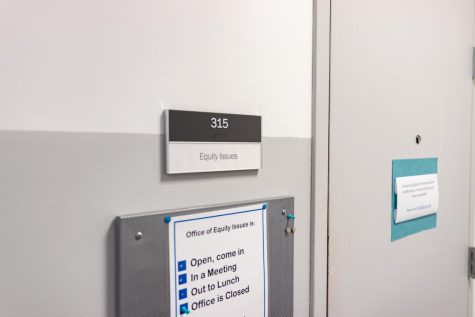 After months of having just interim staff in the Office of Equity Issues, to adding a full-time Title IX coordinator hired in August, the office is finally fully-staffed with a new investigator on board.
Chaselyn Lewis began work on Oct. 24 as the college's new full-time Title IX investigator in the Office of Equity Issues, which deals with instances of sexual misconduct and discrimination on campus. She joined Neil Callicoat, the Title IX coordinator and director of the Office of Equity issues, who began working in his position on Aug. 10.
Lewis said since starting the role she has spent time getting familiar with Columbia's specific Title IX policy and becoming familiar with the city, because prior to receiving this role, she had never been to Chicago.
"I think for any role, you're going to constantly want to better yourself in the role that you're going to be taking on," Lewis said. "I consider myself a forever trainee, because I'm constantly going to be reaching out to learn more about the ever-changing world of Title IX."
Originally from the small town of St. Martinville in Southern Louisiana, Lewis received her bachelor's degree in criminal justice with a minor in pre-law and paralegal studies and a Master of Science in homeland security, both from Northwestern State University in Natchitoches, Louisiana. She previously worked at Louisiana Delta Community College as the admissions communications coordinator and Title IX investigator.
"I'm really passionate about the work of Title IX, which although Title IX is very broad, it's center of being able to remove any educational barriers in the form of … discriminatory barriers," Lewis said. "So discriminatory barriers, such as gender bias or sexual harassment, anything that really affects the student's ability to gain that education, which is just so important."
Callicoat said as the point person in the office without a full-time investigator, he was very busy earlier in the semester addressing numerous issues that come into the Office of Equity Issues and providing supportive measures to students.
"Now that Chaselyn is on board, [I'm] very happy to have a little bit of time to breathe and focus on some things other than just handling student reports and supporting students and trying to get a little more proactive versus reactive," Callicoat said.
Callicoat said he and Lewis are working on an informational packet to circulate on campus and restarting the Sexual Assault Awareness Education Committee, or SAAEC, back on campus to raise awareness. This committee existed at Columbia for some time, but was dormant during the staff turnaround in the Office of Equity Issues.
Lewis said the committee would host events about consent, the Title IX reporting process and where students can access support. It will be open to students, faculty, student organizations, academic departments, counseling services, Student Diversity and Inclusion and Services for Students with Disabilities. They are hoping to launch the initiative in April during Sexual Assault Awareness month.
"Having one individual here in the Equity Issues office for a couple of months was fine," Dean of Students Douglas Eck said. "But, we weren't able to engage in some of those educational and proactive measures for training and for education. And so now we can balance both with a fully staffed office."
Eck said there will be an announcement coming from the Office of the President about a new partnership with a coalition of "national experts in Title IX landscape in higher education."
"It will be a comprehensive opportunity for the entire campus community, faculty, staff and students to hear the same message, to make sure that we're all on the same page, the same foundation when it comes to our rights, our responsibilities in the Title IX atmosphere."
Eck said the decision to bring in outside experts relates to the Mayer Brown investigation into sexual assault allegations against former professor Sam Weller, which found areas needing improvement in the college's handling of related cases. The Mayer Brown investigation led to Weller's termination.
Eck said the group will consult on internal processes at the college, but also provide training for the entire Columbia community.
Eck said he was a part of the committee that interviewed different groups who consult in this area, along with leaders in Human Resources, the Dean of Students office, Student Affairs, the Office of Equity Issues and the President's Office.
The committee of stakeholders, he said, looked for the resources, training and how the experts align with Columbia's processes, which has led to the final stages of formalizing a potential partnership.