College faces pandemic-related decline in enrollment, expects to bounce back this fall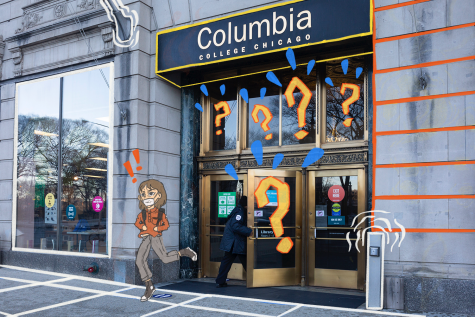 Matthew Smith left Columbia at the end of the Spring 2020 semester, mostly due to cost factors associated with the COVID-19 pandemic.
Smith, who was a sophomore music major, lost both their part-time retail and full-time restaurant host jobs due to the pandemic.
"It got too expensive, and the fact that [Columbia] didn't change or accommodate the price of tuition with the pandemic was one of the big reasons why I dropped out," Smith said.
Columbia experienced a nearly 2% increase in enrollment during the Fall 2019 semester—the college's first enrollment increase since 2008, as reported by the Chronicle, but after the onset of the pandemic, enrollment dropped by about 2.5% during the Fall 2020 semester compared to the prior year.
Enrollment numbers in Spring 2021 are expected to drop by around 5% compared to the Spring 2020 semester, according to Michael Joseph, vice president of enrollment management.
Typically, Columbia faces an enrollment decline of 600 to 650 students between the fall and spring semesters, he said. Joseph anticipates that number increasing by 150-200 students this spring.
This number includes students who have graduated, transferred to another school or dropped out of the college.
"In the fall we were down about 2.5%, so it's a little worse [now]," Joseph said. "I think by next fall we'll see a bounce back."
Enrollment numbers for Spring 2021 will not be finalized until the college completes its census, likely the second week of February, according to Joseph.
According to data from the National Student Clearinghouse, postsecondary enrollments decreased nationally by 2.5% in Fall 2020, and undergraduate enrollments decreased by 3.6%. Four-year private nonprofit institutions saw a 0.1% decrease in enrollment.
Joseph said Columbia's Admissions Office is currently reaching out to students who are not planning to return to the college with the hope to bring them back, as well as recruiting new students for next fall.
"Spring is a big time for us in terms of converting admitted students into enrolled students. About 25% of the (new) students that we admit actually enroll," Joseph said. "[It is] just a lot of outreach to those students who are already in the system."
In response to students asking for a tuition price adjustment with an increased number of online or hybrid classes, Joseph said Columbia has not increased the cost of tuition, keeping it the same as last year.
"We did pull back on our tuition increase of 2% this year, so I think there was certainly an attempt to try to accommodate that," Joseph said, "At the end of the day, the courses [are] still being delivered, and credit [is] still being provided to students."
A Household Pulse Survey conducted by the U.S. Census Bureau in August 2020 showed that more than 16 million Americans nationwide canceled plans to attend postsecondary education because of COVID-19, as reported by Poynter.
During the Fall 2020 semester, Ricky Pineda transferred from Columbia to Maryville University in St. Louis, Missouri, to continue his junior year as a communication major remotely.
Pineda said he transferred because he was not willing to pay the regular price of tuition, as most of the amenities and social interactions typically offered through Columbia were stripped away due to the pandemic.
"I stumbled upon Maryville online, and it suited all my needs for the time being," Pineda said.
However, Pineda said because Columbia offers more creative freedom and a better education, he plans to finish his degree at the college during the Fall 2021 semester.
"The virus really set us back," Pineda said. "I hope that we can all … make it to the end, graduate, get a dream job."