Coalition blocks major Hyde Park thoroughfare to end Illinois' 23-year-long rent control ban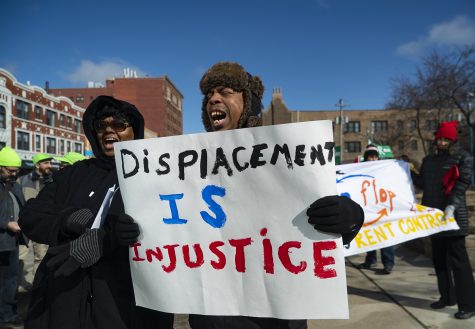 Dozens of Hyde Park residents used a U-Haul truck to set up a couch, lamp, chairs and mattress in the middle of 53rd Street, shutting down part of "High-Rent Avenue" in front of State Rep. Curtis Tarver II's office to protest what they called increasingly unaffordable rents in the area.
The demonstration—organized by Lift the Ban Coalition on Friday, March 6 at Nicholas Park on 53rd street—called out Tarver (D-25th) for voting against HB255, a bill than would end the 1997 Rent Control Preemption Act, when he had campaigned on supporting rent control.
Tarver had initially said he backed the proposed rent control ordinance, but later changed direction when he voted against the bill in March 2019, according to a Friday, March 6 article in the Hyde Park Herald.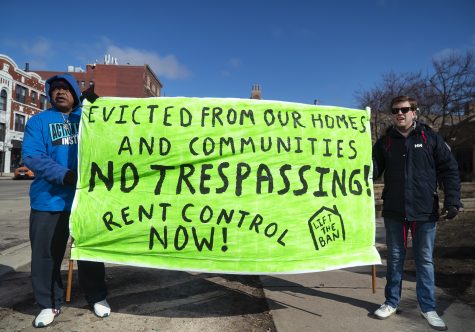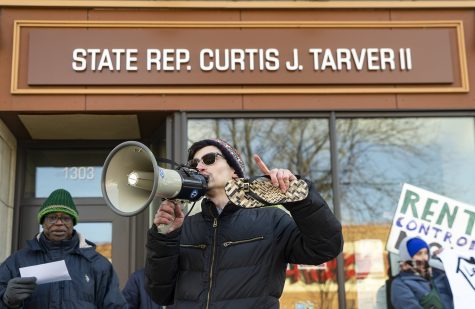 Tarver told the Herald that he did "not believe rent control is effective," according to its article. The Chronicle attempted to contact Tarver on Thursday, March 12 and Friday, March 13, but was told that he would not be available until the following week.
"Right now there is a statewide ban that needs to change, the ban needs to be lifted," said Roderick Wilson, executive director of Lugenia Burns Hope Center, a leadership and development institute founded by former President Barack Obama and Sokoni Karanja in the '90s to support black people on the South Side. "We need this to protect the population of Illinois and Chicago … and this is something that will protect everybody."
Representatives from several organizations, including the Chicago Teachers Union, Chicago Democratic Socialists of America and Jane Addams Senior Caucus delivered speeches as Hyde Park tenants chanted and held signs that read "High-Rent Ave.," "Lift the ban" and "No-poor Rd.," to name a few.
In 2015, the University of Chicago, based in Hyde Park, sold many of its graduate student housing complexes to private property management and it became impossible to afford for many students, said Laura Colaneri, a doctoral candidate studying Hispanic and Luso-Brazillian studies at the University of Chicago.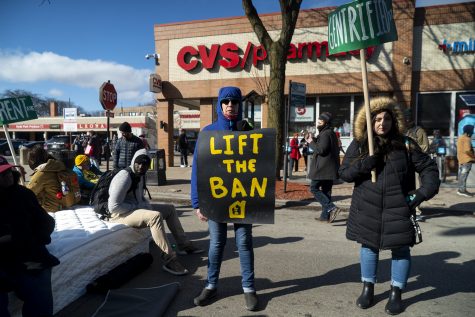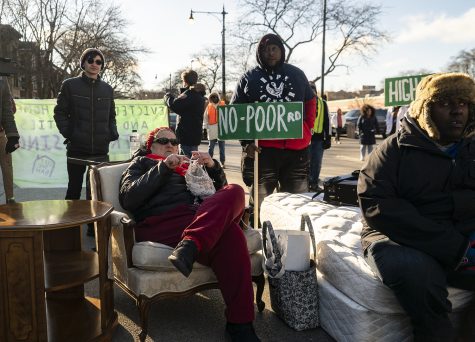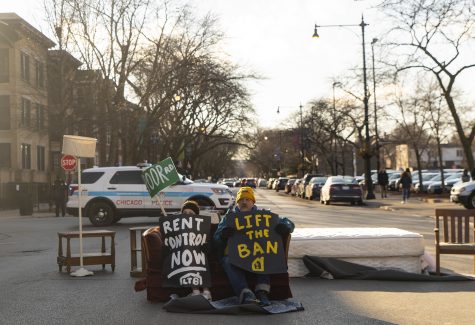 "The private developer started trying to charge us additional utility fees for common area utilities, so it's really just a way of adding on an additional fee," said Colaneri, a member of the university's Graduate Students United, which conducted a 2018 survey covering an number of quality of life issues including housing. "All of us are facing the same issues where 30% of people are paying over 1,000 a month, 25% of people are paying more than a third of their income and another 20%, over half of their income."
According to Rent.com data published May 29, 2019, the price of rent has increased by approximately 12% over the past year, with rent for a one-bedroom apartment rounding out to roughly $1,751, just under Chicago's average rent price for a one-bedroom apartment, $1,944.
Lillie Young, a 78-year-old member of Jane Addams Senior Caucus, said before she moved to a tax–incentive building—complexes where landlords can claim tax credits in return for renting units at lower prices to low-income tenants—her landlord increased her rent by $50 to $100 per month two years in a row.
"I spoke to the alderman and the alderman said the landlord can raise the rent to whatever they want," Young said. "That's why I am out here fighting for rent control."