Climate protesters break police lines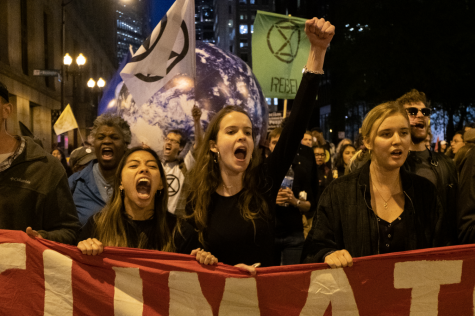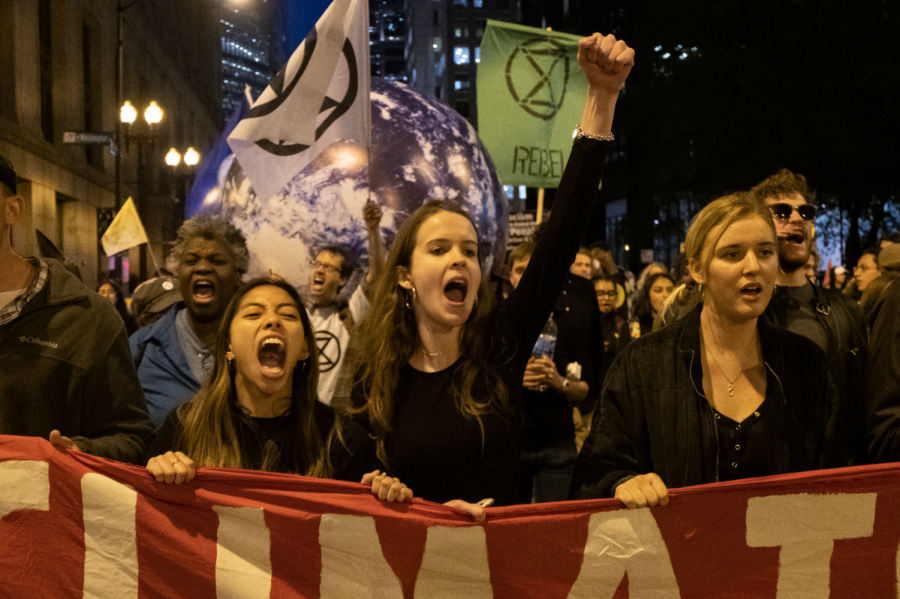 Several hundred climate protestors broke police lines near Daley Plaza Monday night, resulting in at least one arrest and blocked traffic.
The protest, led by Extinction Rebellion in conjunction with other affiliated groups, was part of a global action kick-off dubbed Regenerative Rebellion in conjunction with other Extinction Rebellion chapters around the world.
Extinction Rebellion is an international climate advocacy group dedicated to non-violent demonstrations to promote action against the climate crisis across the globe.
In New York City, Extinction Rebellion demonstrators poured fake blood over the iconic Charging Bull Statue on Wall Street, which some view as a capitalist symbol, as reported Monday by the Guardian.
In Chicago, the event itself was hosted in collaboration with Chicago's Youth Climate Strike and Chicago Critical Mass, which filled Daley Plaza to take part in yoga, music, meditation, storytelling and theatre. The biggest demand of the strike was to call for the declaration of a climate emergency.
While the organization emphasizes non-violence, disruption remained the main goal of the global protests.
"There's going to be direct action; there's going to be disruption of some kind because part of Extinction Rebellion's mission is to disrupt the status quo," said Joe Phillips, an organizer for the Chicago Chapter of Extinction Rebellion. "It's literally the only way we can really force the government to pay attention and take the crisis seriously."
Marchers moved to the north of Washington Street at 6:05 p.m., breaking police lines and occupying the streets.
While officers attempted to regain control, organizers steered protesters away from barricades, stopping to perform die-ins—where demonstrators lie down on the ground to mimic mass deaths—at intersections, blocking downtown traffic for nearly two hours.
Chicago police officers issued two citations during the protest, with at least one arrest by officers shortly after 7 p.m. before the march eventually dissipated on the intersection of Dearborn and Washington streets at about 7:45 p.m.