'Climate Classroom' offers insight, solutions to the climate crisis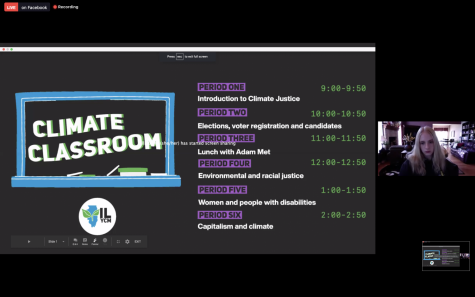 Growing up in Little Village, Gina Ramirez said she remembers the noxious smells from neighboring factories and how her parents would adamantly roll-up the car windows when passing by.
So when Ramirez was pregnant with her son and living in the same neighborhood, she feared raising her child in that environment.
"I want him to be able to walk in the neighborhood and not have it smell like compost, metal and sulfur," said Ramirez, co-chair of the Southeast Side Coalition to Ban Petcoke. "These are all just elements of environmental racism. The city sees the Southeast Side of Chicago as a dumping ground while the North Side has the 606 trail and all sorts of green infrastructure."
Ramirez was part of the Illinois Youth Climate Movement's first "Climate Classroom" on Friday, Sept. 25, where representatives from various climate organizations met over Zoom to share insights on climate change and their experiences with climate activism and politics.
Ramirez and the Southeast Side Coalition to Ban Petcoke has consistently educated individuals about petcoke, which is the petroleum coke used in electric power plants, and how harmful it is to respiratory and cardiovascular systems. Their efforts were instrumental in the city of Chicago implementing a law banning the outside storage of petcoke within communities. They were also one of many community groups in Chicago to help implement a new Air Quality Agenda, according to the Mayor's News Office.
Ramirez said the coalition is also working on a health study with the University of Kentucky to test children for levels of manganese, a heavy metal used in steel making that has been shown to cause brain damage after prolonged exposure, according to the U.S. Agency for Toxic Substances and Disease Registry. The study has been put on hold due to the pandemic.
Ramirez said the coalition is currently trying to convince the city to deny permits for metal manufacturer General Iron after its Lincoln Park location closes and before its planned move to the East Side neighborhood along the Calumet River, as reported by Block Club Chicago.
Other individuals like Jessica Beverly, a member of the Sierra Club—a political organization advocating for climate solutions, said people should keep an eye on upcoming Illinois congressional hearings in November and, more specifically, the Clean Energy Jobs Act.
Beverly said the CEJA would expand workforce training hubs across the state, power Illinois with renewable energy by 2050 with anticipated investments of around $30 billion, regulate carbon-free electricity by 2030 and remove the equivalent of 1 million diesel vehicles from roads by providing 6,000 charging stations per year for 10 years.
"It's really important that we prioritize these policies focused on equity and wealth building as we move away from fossil fuels," Beverly said.
The Climate Classroom also served as a platform for young adults to share their own insights on climate change.
"I think events like [the Climate Classroom] act as a clear bridge of the intersectionalities of the climate crisis," said Matt Ellis-Ramirez, a sophomore ecological restoration and environmental policy major at Triton College and member of the Sunrise Movement.
The Sunrise Movement is a political organization led by young people working to slow the effects of climate change and create jobs in the process. It has endorsed Illinois congressional candidates like Robert Emmons Jr. (IL-01) and Marie Newman (IL-03), both of whom are in favor of climate legislation like the Green New Deal.
Ellis-Ramirez said a lot of environmental issues stem from corporations' "thirst for money before the well-being of other people."
He said although people cannot do much to stop big corporations on their own, there is still time to invest in one's community and push for policies that will benefit everyone.
"I'm gonna say there's no impending date for the kind of crisis we are in. It's been happening," Ellis-Ramirez said. "We've known about it, and the only thing left is to get ready to do your best and that's it."