Clear mask project offers fashion, choice and practicality to Deaf community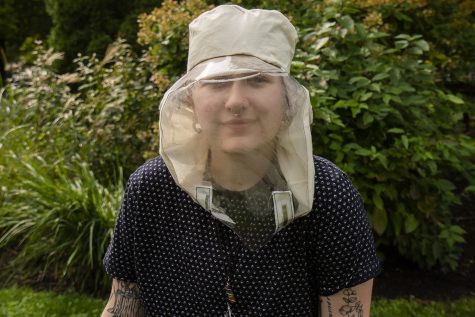 Prior to taking a summer semester hybrid course, Josh Adamczak did not think about the issues wearing a face covering can cause within the Deaf and hard of hearing community by blocking visual emotions on the lower half of the face.
Adamczak is a hearing person, who began to refer to himself as such after learning more about Deaf culture during the course.
A junior fashion studies major, Adamczak said he took "Workshop in Fashion Studies: The Accessible Mask Project" because he wanted to take on the challenge of creating a mask that allows Deaf and hard of hearing people to communicate unhindered.
Now that the course has ended, students have three complete prototypes and time to reflect on areas for improvement.
During the course, students were split up into teams of three and four and were given different breathable fabrics as well as Columbia's requirements for acceptable masks. The groups then presented their final prototypes to a panel of medical professionals, members of the Deaf community, the commissioner of the Mayor's Office of People with Disabilities and Benro Ogunyipe, a Deaf community advocate.
Two of the teams gave themselves the nicknames Firepower and Mask Force.
Adamczak was a part of team Firepower. He said their futuristic prototype was inspired by the movie "Tron" and included a cotton hood, a fog-resistant face shield and a harness to secure the full head covering.
As an athlete himself, Ogunyipe said he liked the prototype mask from team Mask Force members because their design involves less work than putting on a face shield or a hood, making it more user-friendly.
Their design has adjustable ear straps to be worn in different ways and a kaleidoscope-patterned clear material around the mouth.
Ogunyipe said having the option to chose from different masks designs is similar to wearing different pairs of shoes.

"A lot of Deaf and hard of hearing people may have a different preference," he said. "It all kind of depends on what people like."

Renee Kuhel, a sophomore fashion studies major and a member of Team Mask Force, said the biggest issue for each team was finding clear materials within the five-week time limit that were reusable, fog-resistant and breathable, without using vents.
Kuhel said it was a rewarding experience because of the fast-paced environment and the completion of a final prototype. Her group made a face mask with a clear area around the mouth and loopholes to accommodate for hairstyles and cochlear implants.
She said they came up with the idea because they wanted to make a mask that was fashionable and multi-functional.
"The time limit that we had was definitely something I'm not used to," Kuhel said. "The fact that we had five short weeks to do all of this, and we did it … was crazy."
Every week, Kuhel said fashion students watched videos of various ASL signs for clothing and colors in order to be able to communicate with ASL majors and show what they were learning.
She said it was her first time having an ASL interpreter on a Zoom call, but did not find it distracting.
"We had to pause a little bit to make sure we could see everybody and we had to make sure that [we] could pin the interpreter for whoever needed it," she said.
Justin LeBlanc, an associate professor in the Fashion Studies Department, said feedback from panels provided an evaluation of the Accessible Mask Project, including advice on moving forward.
"We're hoping to continue this project into the Fall semester and … create a final prototype that could potentially go into production," LeBlanc said.
Although there are plans to continue the project, students Kuhel and Adamczak said they would not be able to attend due to scheduling conflicts.
Despite conflicts, Adamczak expressed a desire to continue the work outside of the hybrid course, including the possibility of integrating it into his senior thesis project.
"The biggest takeaway for me is that there are aspects of lives that I will never understand," Adamczak said.