Civil rights activist Maxim Thorne discusses youth voting and changing narratives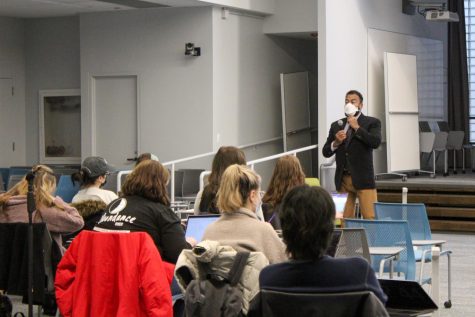 In the wake of various voter suppression bills popping up around the country, Maxim Thorne is continuing to empower youth voices, especially when it comes to voting rights and democracy.
Thorne, a Guyana native, lawyer and CEO of Civic Influencers, visited Columbia's campus on Feb. 21 to talk to students about the importance of the youth vote in society, as well as overcoming the hurdles youth are facing when it comes to casting their ballots, especially youth of color.
"It is very true that young people are the targets of voter suppression. It's very true that there are additional barriers, but we can still overcome it," Thorne said. "How do you balance the narrative that yes, I am oppressed. … It takes an effort that is unfair, very unfair."
During his talk, Thorne said there are approximately 44 million people between the ages of 18 and 29 living in the United States, making it the largest voting demographic. Thorne added that this demographic is the most diverse, yet it continues to have the lowest voting rate.
Civic Influencers is an organization based in Lewes, Delaware, and founded in 2008. Its mission is to increase American youth's civic power honing in on Black, Indigenous and Youth of Color.
Another key component of Thorne's talk was the importance of shifting the narrative when it comes to voter suppression and the lack of America's youth engaging in the act of voting.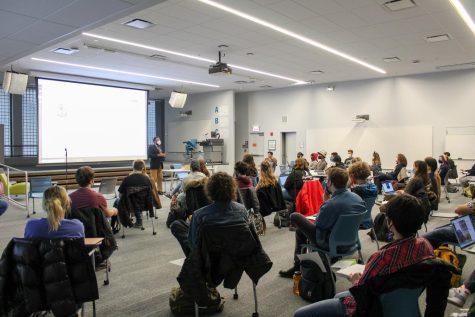 "I could have two different conversations: I could have a very intense and emotional conversation about voter suppression and tell you all of the horrific things that the Right does to stop young people and people of color from voting, and I could have everyone in tears," Thorne said. "Or, I could come in and say, 'If you showed up and I showed you the map, you could determine who wins in every single election.'"
Thorne's visit was held in two separate talks, with student Q&A sessions taking place in both.
The first morning session was an informal session with various members of the Columbia community, including some Civic Media graduate students. The second talk was at 12:30 p.m. at Columbia's 618 S. Michigan Ave. building with Professor of Journalism Sharon Bloyd-Peshkin's new Innovation and Impact course "Defending Democracy" and Associate Professor Curtis Lawrence's "College News Workshop" class.
"I hope [the students] left feeling like, 'Wow, my vote could be pivotal; it could make a big difference, just my vote, the vote of my friends, the votes of my associates,' like it really matters that much and that you can have that much impact," Bloyd-Peshkin said.
In addition to teaching both journalism and Columbia Experience Innovation and Impact courses, Bloyd-Peshkin is the creator of Columbia Votes, a non-partisan initiative seeking to help Columbia students learn about the voting process and aid them in registering. Columbia Votes also works with students to vote where they choose, whether it is from campus or hometowns or in-person or mail-in ballots.
"I just really believe in the youth vote," Bloyd-Peshkin said. "I really believe that youth are the only ones who can really drive our political future in a better direction and preserve the democracy that we have by their activism and by being engaged in the process."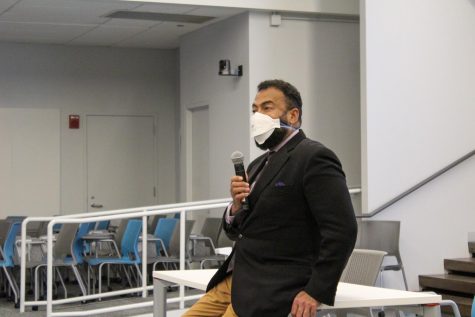 Jordyn Harrison, a first-year civic media graduate student, attended Thorne's morning talk and said one of her biggest takeaways from the discussion was how much power the youth vote actually holds.
"It can take such a small amount of people to have such a paramount difference," Harrison said. "I think what was encouraging [was] that this has been done before, where young people have influenced the turnout of things, not just recently, but … historically. … It is very hopeful."
Ally Longo, a senior deaf studies major and one of the student voter registration geniuses at Columbia Votes, agreed. Longo said she has always been interested in voting and politics, which partially led her to start working for Columbia Votes.
"One of the cool things I've learned is really how much the youth vote matters because it is something that is mentioned, but no one really dives into why," Longo said. "So often we think, 'Oh, there's so many people. Our votes don't matter,' but actually they do because when we all come together we can all make an improvement."
In terms of upcoming elections and engaging American youth in the voting process, Thorne said he is hopeful for the future.
"I would dream to be in this generation," Thorne said, in regards to Generation Z. "Everything that is happening now makes me more hopeful."