City Council delays vote on $500,000 police misconduct settlement until September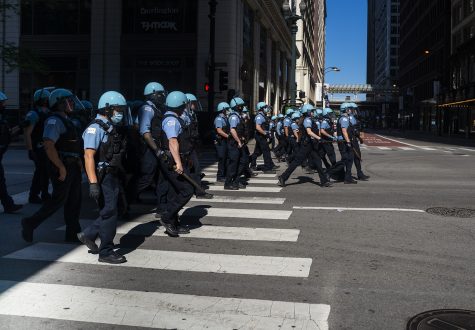 The Chicago City Council today decided to delay a vote on a $500,000 police misconduct settlement that also involves five decades of police misconduct records until the fall.
"This is a victory for transparency," said Jamie Kalven, executive director for the Invisible Institute, a non-profit organization that has advocated for the release of the records.
Kalven, who is also a journalist, sent a statement to the City Council Tuesday, July 21, urging them to defer a vote until September on the settlement on behalf of Charles Green, who had sued for the release of misconduct records dating back to 1967. The settlement would have paid Green $500,000 to resolve the case, but not release the misconduct files, according to a WTTW report.
"Major stakeholders have all expressed a desire to fashion a proactive transparency policy. Committee members have voiced that aspiration. The Lightfoot administration has signaled that it is entertaining such a policy," Kalven said in the statement. "The Invisible Institute stands ready to help in any way we can."
In 1985, Green was arrested when he was 16 years old and later convicted of first-degree murder for a drug-related quadruple homicide on the West Side.
Green has maintained that his conviction was based on a false confession after 27 hours of questioning and also on eyewitness testimony absolving him of the crime that was not allowed to be heard at the trial, according to the Chicago Tribune in 2009.
Green spent 24 years in jail and was facing a life sentence until he was released in 2009 after a judge re-sentenced him to 40 years in prison and released him from custody.
Shortly after his release, Green filed a FOIA request for more than 175,000 police misconduct files since 1967 seeking to prove his innocence and the innocence of others wrongfully convicted.
In his statement, Kalven said, "Mr. Green's attorney has indicated a willingness to engage in a proactive transparency policy that would result in the release of the misconduct records. Let's use the next six weeks to work together, with all deliberate speed, to fashion a transparency policy we can all be proud of."
In January, Cook County Circuit Court Judge Alison Conlon found police and city officials had "willfully and intentionally failed to comply" with the Illinois Freedom of Information Act when it denied a request from Green, according to a WTTW report. She ordered the Chicago Police Department to produce all police complaint records since 1967 and release them to the public by the end of 2020. The city is appealing this decision.
On Monday, July 20, the City Council's Committee on Finance advanced an agreement to pay the $500,000 without releasing the misconduct records.
Eight alderpersons voted against the settlement in the Finance Committee. On July 22, the committee's chair, Ald. Scott Waguespack (32nd Ward), said the council would delay a vote on the settlement until September.
Kalven said holding off on a vote until September "freezes the status quo," which means the settlement is pending. He said the city's appeal of Judge Conlon's ruling will now go forward.
Because the City Council will not meet until September, the appeals court cannot rule on the case until then, Kalven said. With extended time to vote on the settlement, this allows space for groups like the Invisible Institute to engage in focused negotiations directed toward crafting a transparent policy.
Kalven said the release of documents will need to happen over a gradual period of time because they are "huge and require redaction."
According to WTTW, First Assistant Corporation Counsel Renai Rodney said it would "cost the city $8 million and take 10 years to release all of those files and comply with the judge's order."
In 2014, the Illinois Appellate Court ruled in Kalven v. Chicago that the police misconduct files in question should be public records, as Kalven explained in a May 2019 column for the Chicago Tribune. But while the documents are public, certain files when requested have been denied, such as in Green's case. Kalven has proposed that as part of the Invisible Institute, the Citizens Police Data Project, which he describes as a tool for "holding police accountable to the public they serve," would take responsibility in curating the previously withheld documents before they are released.
Kalven said this would require prioritizing which documents are of utmost importance and interest. He added that the idea would be to come up with a realistic and sensible policy for going forward.
"It is important that the Green case is still pending, [because] in a negotiation, there needs to be a frame around a negotiation," Kalven said. "The clock ticking on this lawsuit … creates a space and generates a quality of attention and focus, and that really can contribute to a productive negotiation."