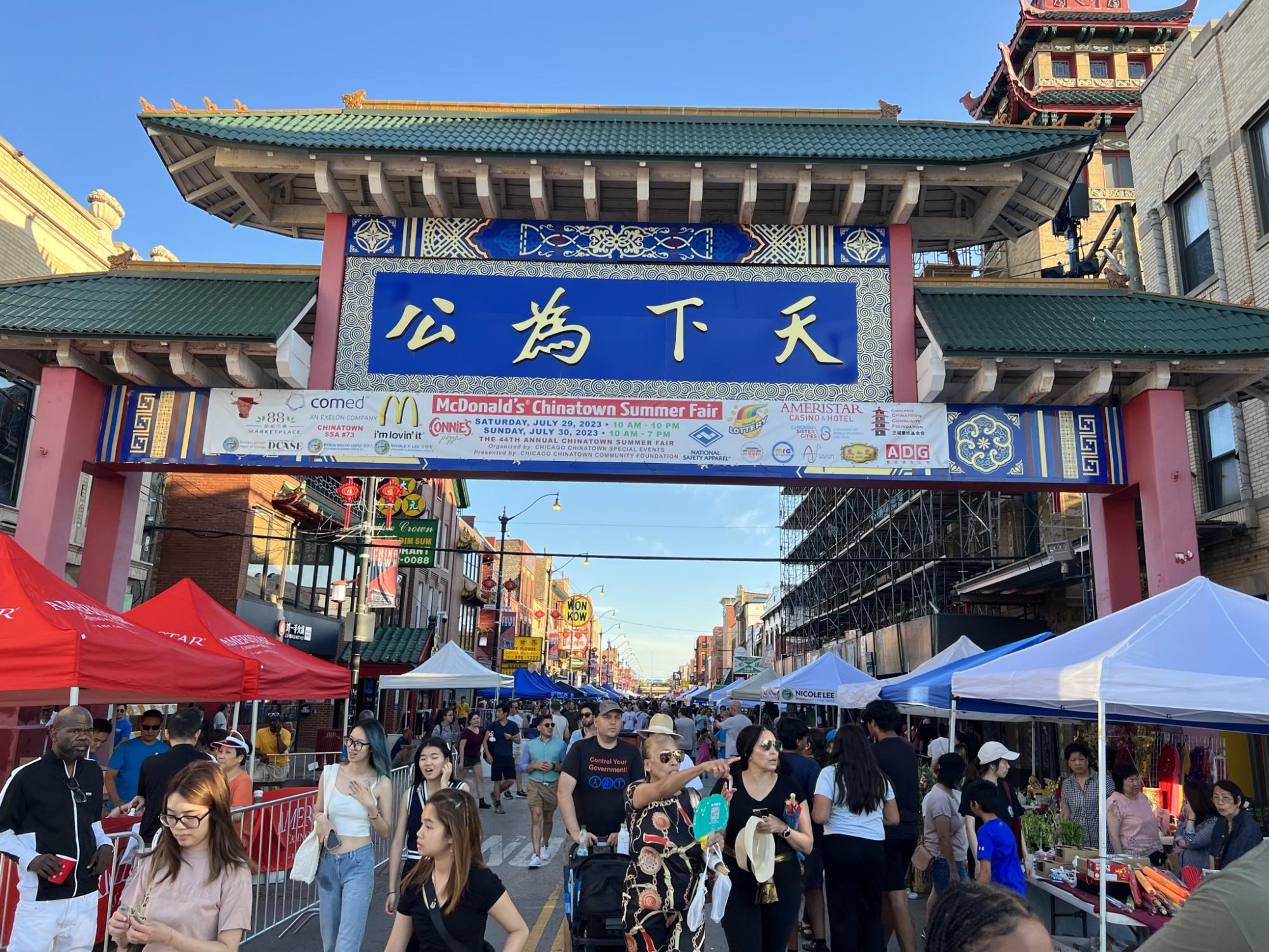 Colorful displays and merchandise light up S. Wentworth Avenue and W. 23rd Street on Saturday, July 29, as tents of local vendors and dance performances showcased Chinese and Asian cultures at the Chinatown Summer Fair.
Since 1979, the fair has promoted local businesses and community outreach, with the help of Chicago Chinatown Community Foundation, a nonprofit organization to help promote events, businesses and culture in Chinatown.
"The goal is to promote, bring people to Chinatown, this is the biggest single event to [Chinatown]. We estimate at least 20,000 people come to Chinatown, to eat at the restaurants, and bring in tons of business," said Darryl Tom, chair and secretary of the Chicago Chinatown Community Foundation. "We work with the local vendors, restaurants, gift stores and the other people who want to sell their wares."
Along with the street full of vendor set-ups, restaurants along 23rd Street were open, too, serving visitors with local favorite cuisines. Community organizations made appearances as well, such as the Coalition for a Better Chinese American Community, a group helping provide civic education, youth empowerment and community engagement around the Chicagoland area.
The main stage of the fair showcased performers throughout the day. One of the popular events of the day was the second-annual K-Town to Chinatown K-Pop Dance Competition. The event featured 15 dance crews from across the Midwest, with four exhibition performances consisting of last year's winners and guest performers important to the Chicago K-Pop dancing community.
The Chicago dance crew RevX, formed in 2021, was one of the groups competing Saturday afternoon. Co-leader NYX said the group originally came together as a fun way between four friends to dance, but now they've added more members and grown into a competitive dance crew.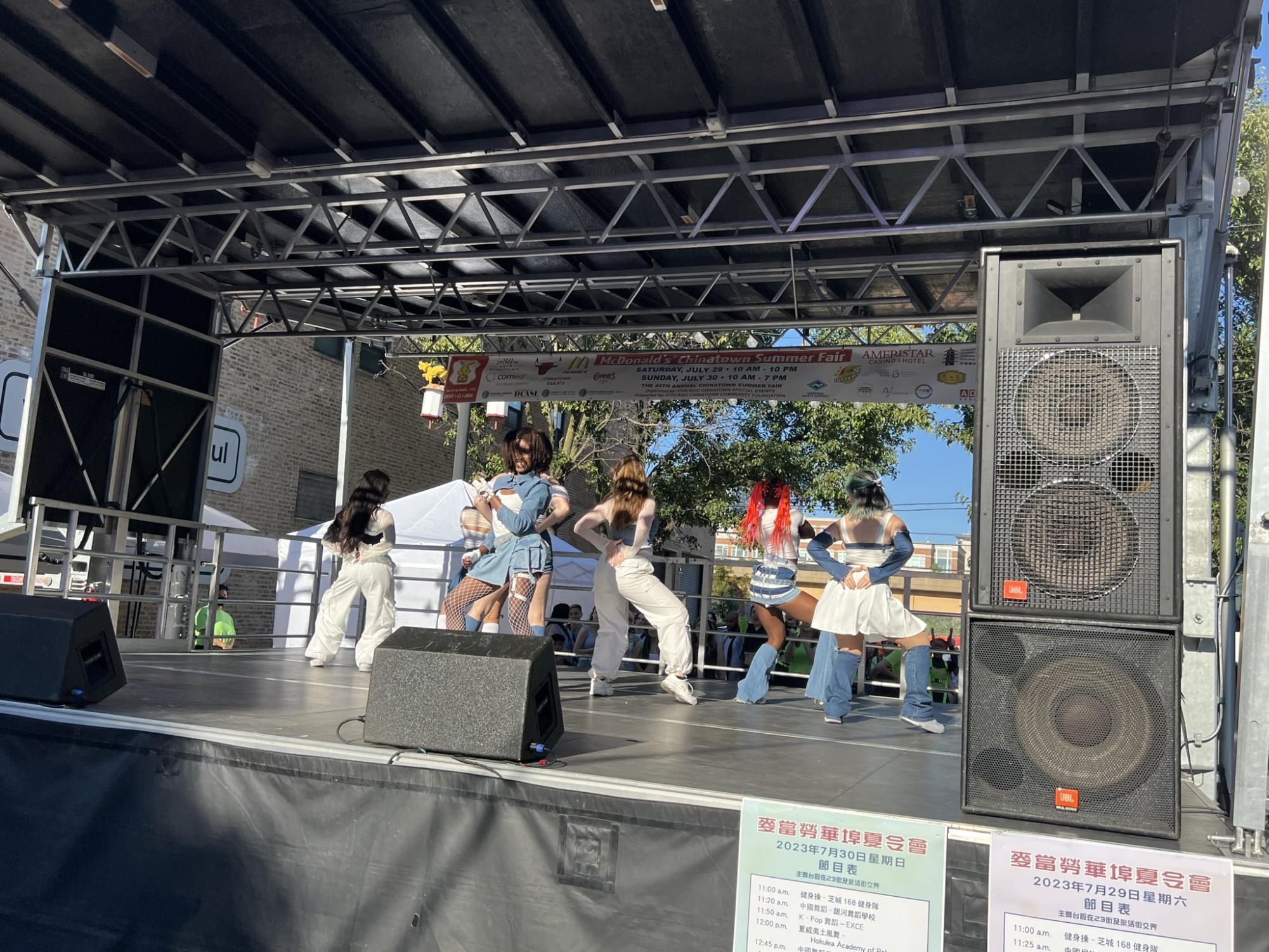 In April of this year, RevX placed first in the Nexus second annual spring K-Pop competition hosted at the University of Chicago.
"At first, we started as more of a fun thing; we really enjoyed k-pop and dancing for mostly fun, we couldn't imagine doing competitions," NYX said. "But now we are recruiting more for competition-based dancing and working our way up to doing competitions."
As their crew grew in size and commitment, NYX and their co-leader Neo went from asking friends to join to hosting full, public auditions.
"It was the four of us and then we started recruiting more of our friends in and doing more stuff with ourselves, then whoa, we could become something big, because we were getting a following on Instagram and then we started holding auditions and the rest is history." Neo said.
During those auditions, RevX recruited students from the Columbia student community. Angel Caldwell and Maritza Onate are dance majors and incoming sophomores — and have both have been a part of the group for more than a year.
"Becoming a dance major, I definitely focused more on technique and to learn more properly about dance," Onate said. "So It's been nice to learn proper dancing techniques because overall it makes my performance better."
Caldwell also said she notices the influence her education has on her dancing.
"I pay more attention to angles because of the basic training we have had in modern and ballet," she said. "The repetition in the classroom really helps."
Covering "Would You Run" by South Korean group TRI.BE, RevX took to the main stage. Dancing with precision, their movement queued perfectly together just as their white top and denim pants outfit. The crowd cheered loudly, dancing along with the crew.
After other competitors and exhibitions performed, the judges tallied their votes for the best crews while the audience and crews waiting in anticipation. Third place went to group Too High and second place to Win.G., a professional dancer.
Choreographer Katie Brizuela held the first place trophy up before announcing this year's first place winner — RevX.
The crew jumped in amazement and Neo gave a speech to the cheerful crowd. She thanked her crew and all the hardwork and dedication they put into the dance, finally raising the trophy towards the sky.