Chicago's NSFW artists are combatting stigma on nudity through sexual affirmation and artistic expression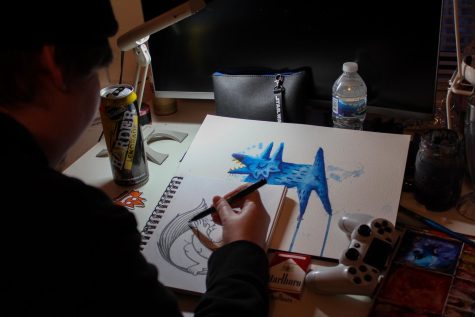 When Kye Smith, an independent artist currently living in Lakeview East, began posting artwork of his cartoon-style character Strappy Wolf on Instagram, he drew inspiration from trans artists on the platform and his own experience.
"I remember giving him the top surgery scars and I really, really liked that," Smith said. "I found that I felt better about myself when I gave [Strappy Wolf] characteristics that kind of matched my own body and my trans experience … When I posted that, other people really connected with that too."
Artists like Smith are combatting the stigma of nudity as being an inherently sexualized concept through the affirmation of their own sexual experience.
Artwork categorized as "Not Safe For Work," or NSFW, often labels artwork as not suitable to be shown in public or on workspaces. Smith feels the label is limiting.

Isamar Medina, a full-time artist from McKinley Park who goes by Kawaii Suga, has been impacted by people on Instagram reporting her work to the point the platform took down images of her paintings.
"Throughout the ages, you see nudity and sexual themes in art … so it's really interesting how now that there's a large spectrum of artists, especially woman and queer artists … letting people know about their experiences, it has a label and has to be hidden from the internet algorithms," Medina said.
Taking down artists' work on social media is not limited to just Medina.
Smith also had his work reported, taken down and even had his Instagram temporarily blocked from the platform days before Christmas Eve last year.
"It was panic-inducing," Smith said. "I've put so much work into this account … it is scary and even continuing to post 'not safe for work' artwork, I've had drawings that were removed before because they were reported and it's just disappointing."
This targeted reporting of artwork considered NSFW can directly impact an artists' ability to boost their engagement on social media and sell their artwork; but mainly, it censors their sexual expression.
Hina Mizuta, Pilsen native and owner of her clothing line Slut Bug Studios, has witnessed plenty of her friends on Instagram face censorship issues as well. Her art style uses an anime aesthetic screen-printed on clothing to depict "slutty bugs."
For Mizuta, her artwork is made in rebellious response to her religious upbringing.
"I really want to change the stigma of sexualizing things," Mizuta said. "Instead of shaming people for being provocative or sexual, we should instead empower that freedom of expression. It takes a lot of confidence."
Based on the positive feedback received from their audience and others, artists like Smith and Medina feel their efforts to make nudity in art more normalized are succeeding.
"Chicago is doing big things right now," Medina said. "Right now a lot of Chicago artists are getting recognized for their talents and that gives all of us a chance to be recognized on a bigger scale … and I'm really proud of it. I'm proud to be from Chicago."