Chicago's infamous publicity stunt makes theatrical debut nearly 40 years later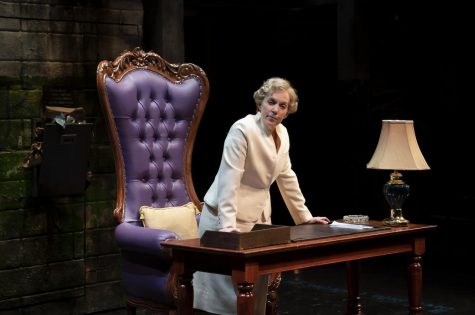 Editor's Note: Lookingglass Theatre Company has canceled all remaining performances of "Her Honor Jane Byrne" due to the coronavirus national emergency. 
A man selling Chick-O-Sticks and books out of a shopping cart, broken elevators that reek of urine and deadly gang rivalries fill the hallways and surrounding neighborhood of the Near North Side Cabrini-Green public housing development in a new play that blends fact and fiction.
When Chicago's first female mayor, Jane Byrne, announced she would move in during the spring of 1981, the entirety of Chicago was left feeling confused. Was it a publicity stunt or was this a deliberate move to fix Chicago's public housing, which was occupied overwhelmingly by African Americans? Byrne's relationship with the black community became strained shortly after she took office.
The Lookingglass Theatre Company's latest production, "Her Honor Jane Byrne," answers some of these questions through in-depth research and interviews while using some fictional elements that lend authenticity to the time.
"In the heart of theatre, it is all kinds of hard to distinguish between fact and fiction because, in reality, the scenes that you are dealing with or some of the people's experiences on stage actually might be drawn from the truth," said Wendy Mateo, the production's associate director and dramaturge.
Byrne, portrayed by Christine Mary Dunford, controversially moved into the Cabrini-Green public housing projects for three weeks even though she lived on the 43rd floor of a high-rise less than a mile east.
The play, written and directed by J. Nicole Brooks, intertwines the stories of people like Byrne and her husband, Jay McMullen, with activist Marion Stamps and other residents who stayed in Cabrini-Green at the time. The public housing high-rise development was demolished between 1995 and 2011. The nearby Cabrini Rowhouses are still occupied.
"We wanted to make sure to always be intentional, and that we were not doing anything just for the sake of art," Mateo said.
Using modern conveniences such as clusters of large televisions and a projector, the production is a realistic fever dream that creates depth while making sure there are no stereotypical characters. Mateo was able to find footage of the real-life Byrne, who died in 2014, speaking at an Easter celebration in Cabrini-Green to play during a chaotic scene toward the end of the production.
"What was very useful and helpful, not only for the play but for the design of the play, was that there was actual footage of the Easter Day celebration," Mateo said. "There is nothing better than seeing people just be."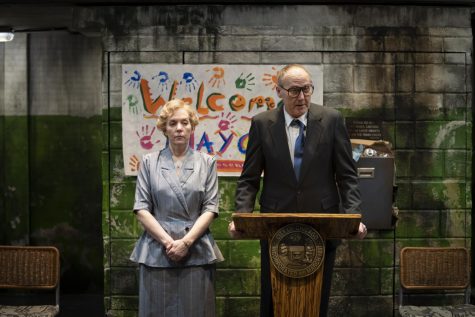 Some scenes toward the middle and end of the show become surreal, including characters sometimes breaking the fourth wall. Such scenes mainly focus on Byrne and her first husband, Lt. William P. Byrne. Scenes showing the couple dancing together in an almost mirroring fashion, to the lieutenant appearing on all of the screens in the theatre as a plane goes down, dramatize how the director was inspired by flight, Mateo said.
"One of the themes of the show was inspired by the question about what haunts us," Mateo said. "What concepts as human beings, what haunts us as a city? What kind of systems and things were in place? What are our personal histories? How do they move us?"
Very little was written about Byrne's first husband, but Brooks included him to make the mayor more multifaceted. From her interactions with her daughter to Byrne standing up to the local alderperson, there is a clear, harsh picture throughout the show of who the mayor was.
"[Brooks] did not want to present a two-dimensional version of [Byrne] because, at the time, the media was very rough on Jane, and we just wanted to be able to say, 'Look, this was a full person who was somebody before she was Jane Byrne,'" Mateo said.
From the beautifully detailed costuming to the realistic sound design right down to the gunshots, "Her Honor Jane Byrne" will leave the audience informed while also starting a conversation about what it means to truly help someone.
"[Do] not go into this thinking it is just going to be some period piece about a moment in time," Mateo said. "The reason this play exists is because we are still being affected by those policies and those things that were put in place. We want you to come see it and experience it as a story but also to know each one of us is responsible for our city and where we live."
"Her Honor Jane Byrne" is the first in a four-part series of plays written and directed by Brooks on Chicago's mayors, from Byrne to Mayor Lori Lightfoot.