Chicago's first veterans home to be completed this year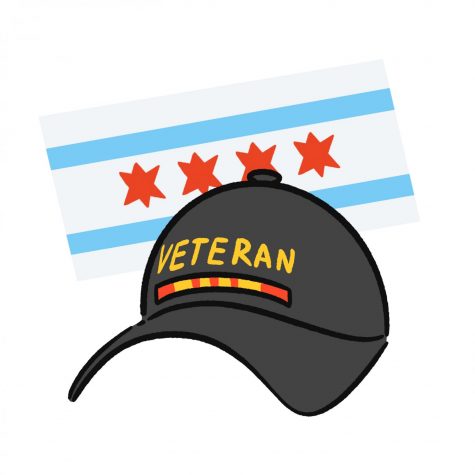 A long-anticipated veterans home in Norwood Park is set to be completed by the end of 2019 after being put on hold for 10 years.
The home, 4250 N. Oak Park Ave., will be the first in Chicago and the fifth in Illinois, with other homes located in Manteno, Lasalle, Quincy and Anna.
During the past 10 years, the project has seen a number of complications, including a budget impasse under former Gov. Bruce Rauner, a design flaw due to earthquake resistance zoning requirements and funding problems.
"I wish it was built sooner, but I am not going to focus on that. I just want to focus on the future and getting the veterans into the home," said State Sen. John Mulroe (D-Chicago). "I have been fighting for funding for as long as I have been a state senator."
Illinois Department of Veterans Affairs Public Information Officer David MacDonna said the veterans homes are long-term nursing homes for elderly veterans. He said all four current homes offer 900 beds total, and the Chicago location adds 200 more to
that count.
"They are going to be surrounded by fellow veterans," MacDonna said. "Everyone there will have a lot in common as far as their service or what they did in the various branches they served."
The new Chicago home consists of five floors. The first floor will have common spaces and administrative offices. On the second floor, there will be four secure units with rooftop garden outdoor spaces. Each residential room is single occupancy with a private bathroom and wheelchair-accessible shower.
The homes offer a variety of skilled care, some with independent living. MacDonna said veterans who want to live in the homes must go through an application process.
Ald. Nicholas Sposato (38th Ward) said the new home will help economic development for the area. He added residents respond greatly to projects or proposals when they involve veterans.
Senior cinema arts and science major and Air Force veteran Scott Taylor said the Veterans Affairs centers he has visited have not had the best service. He did say a veterans home being added to the city is long overdue.
"The fact that Illinois is adding that extra layer of support for veterans is fantastic," Taylor said.
Freshman filmmaking major and Air Force veteran Seth Walter said there are veterans homes all across the country, and a number of them are not efficient. Walter said he has experienced issues with the VA himself, including not receiving  immediate help when he needed counseling.
MacDonna said the home will hire various skilled nurses to fit the needs of its patients.
"There are so many terrible experiences people have had with the VA, specifically in nursing homes or hospitals, so I am always a little [wary] in general of the idea," Walter said. "It just feels like a newer version of what we already have, and what we have doesn't work."
Mulroe said the groundbreaking ceremony of the home's construction was held at the beginning of the month. He said the facility will have the comforts of home and that a large number of veterans in Illinois live in Chicago, so a closer one will benefit them greatly.
"We are fighting for veterans who have fought for us," Mulroe said.