Chicagoans celebrate Biden-Harris win, more work to be done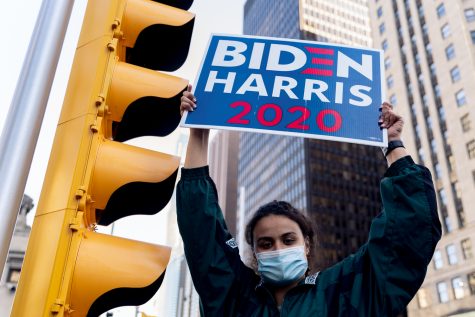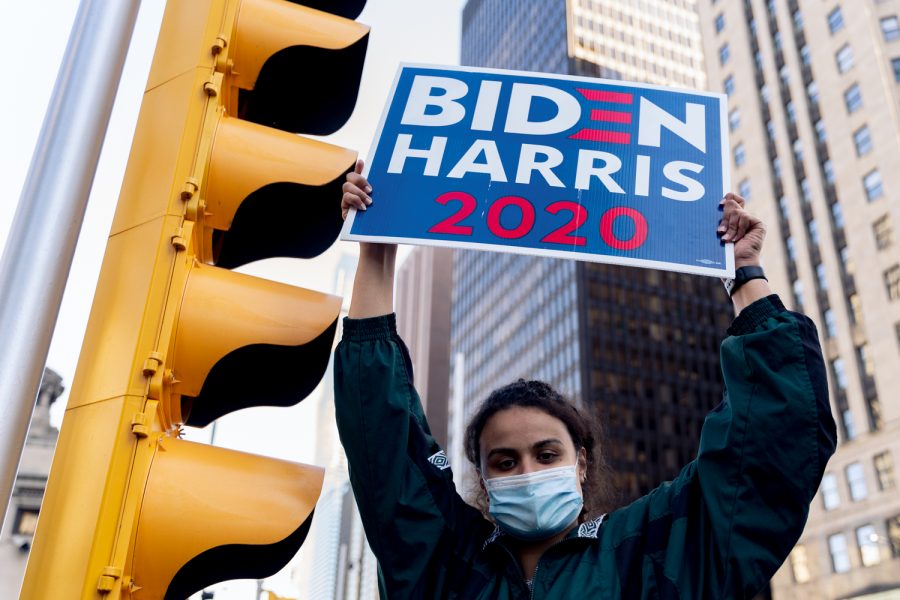 What was originally planned as a rally to demand democracy and defend the election turned into a full-day celebration after news broke that Democratic presidential nominee Joe Biden and his running mate, California Sen. Kamala Harris, won the presidential election.
On Saturday morning, Nov. 7, the Associated Press announced Biden had gained the majority of votes in Pennsylvania, which propelled him past the 270 electoral votes needed to win the presidential race.
Cheers and music filled the air as people met at Union Park, 1501 W. Randolph St., before making their way to East Wacker Drive and North Michigan Avenue.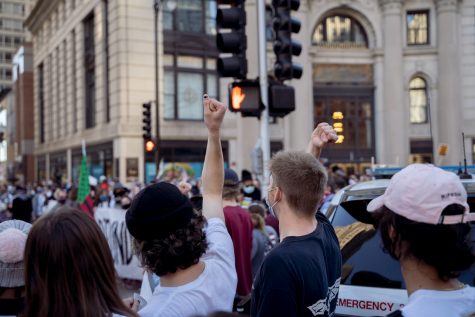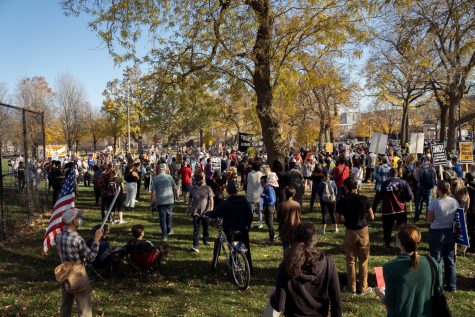 The city raised the Wabash Avenue bridge as thousands of people blocked traffic and caravans of cars headed south on North Michigan Avenue blaring their horns. Many held signs with memes of Trump, and a few read, "You're Fired," in reference to Trump's tagline as the host of "The Apprentice" television program.
The event was hosted by the Chicago Alliance Against Racist and Political Repression along with the Chicago Teachers Union and numerous other Chicago activist groups. Other spontaneous celebrations erupted throughout the city.
Aside from the widespread festivities, many speakers at the rally said this victory was only the start of the progress that needs to be made.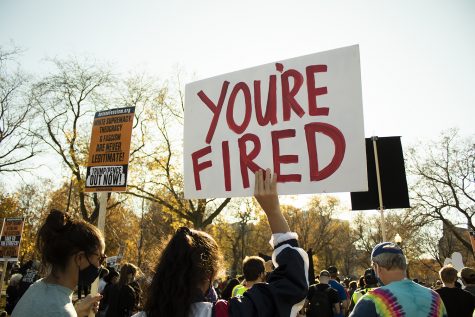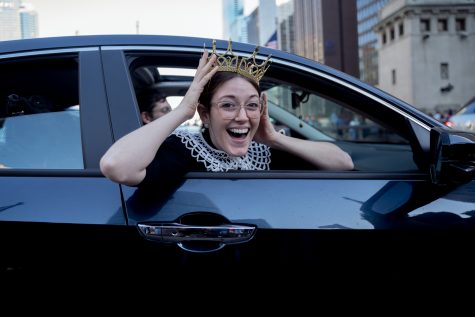 Tanya Watkins, executive director of Southsiders Organized for Unity and Liberation, an organization that helps low-income and marginalized people of color on Chicago's South Side and in the south suburbs, said although she celebrated states turning blue and getting the "fascist" out of office, it is time to demand more from the Democratic Party to earn Black women's vote.
"I refuse to be so naive to think that any white man, with white money and white privilege living in a big a– white house, could ever be singularly invested in my Black liberation," Watkins said.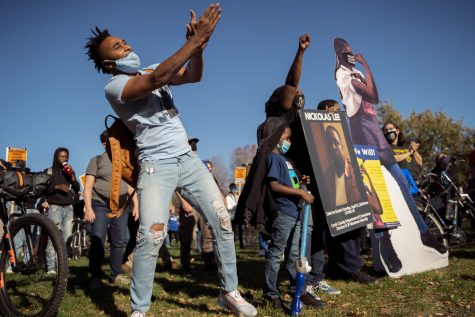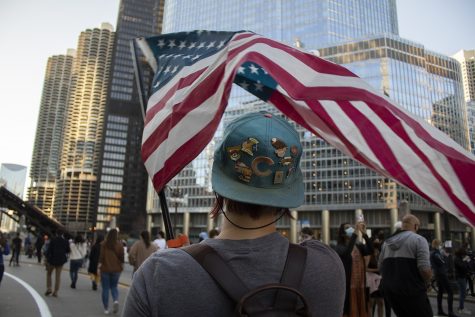 Watkins, a former creative writing major with a concentration in fiction, said if it were not for BIPOC youth who took to the streets during the past few months to protest inequalities and encourage people to vote, the Democratic party would not have had a platform in 2020.
"We have to ensure that no matter who is elected to represent this country, that person is held accountable to us," she said. "So Uncle Joe, we'll see you in these streets."
Biden won Illinois' 20 electoral votes with 55.8% of the state's total vote, according to the Chicago Sun-Times' Illinois 2020 election results. As of 9 a.m. Nov. 9, he has a total of 290 electoral votes, as reported by the Associated Press.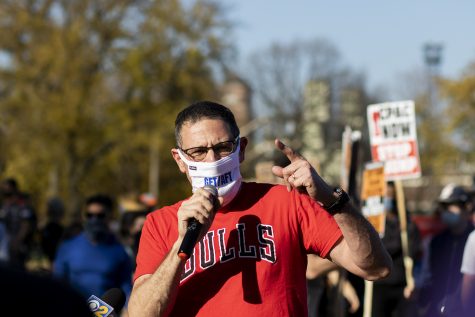 Jesse Sharkey, president of the Chicago Teachers Union, said during a speech it is obvious Trump will not concede fairly—even with a decision made by the Electoral College—so it is up to the people to defend democracy, not those in power that currently govern them.
"This is not a simple, clear-cut victory," Sharkey said. "There's a lot of work for us to do, but right now we're happy."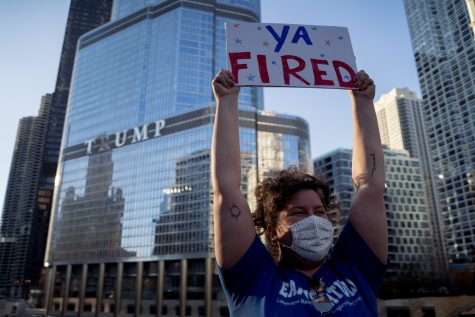 Deborah Cosey-Lane, secretary-treasurer of ATU Local 308, a union striving to improve working conditions for Chicago transit workers, urged people to not be complacent with Trump out of office.
"Donald Trump … turned the … soil and allowed us to see what was under the ground," Cosey-Lane said. "Now it's time for us to plant new soil so that we can see the beauty and the flowers that [have] always been in America."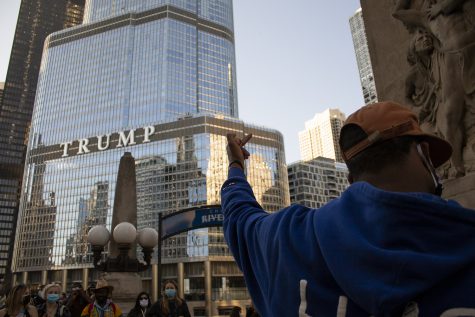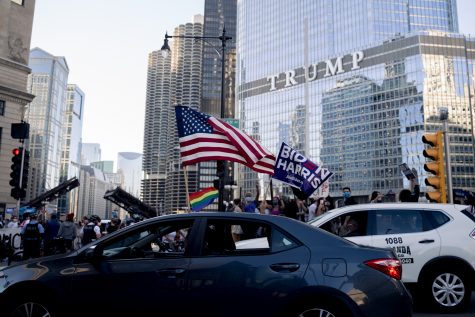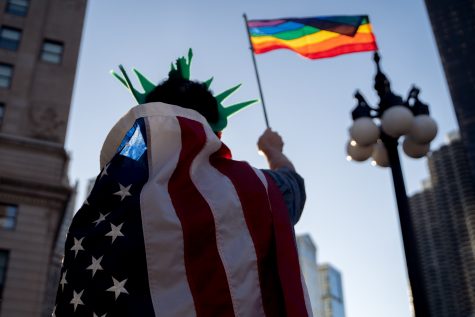 Senior cinematography major Akito Miyazaki went downtown to witness the celebration and shoot photos.
Miyazaki said he has not seen people this happy since former President Barack Obama won the election in 2008. Documenting the moment was like capturing history in real-time, he said.
Although Biden was not Miyazaki's first choice, as he initially voted for Sen. Bernie Sanders (D-Vt.), he said Biden will be a decent president because he speaks to the American people, not just one political party.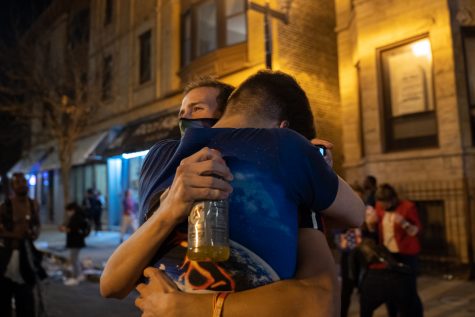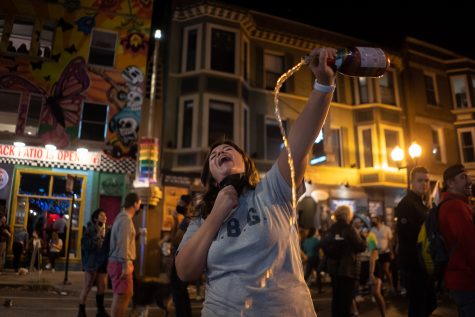 "I feel like as if all these four years of waiting and four years of this hurting [from] this hatred … has become free from our bodies," he said. "This is what the country is supposed to be … united, not divided."