Chicago 'YZY QNTM' giveaway draws hundreds, creates chaos
When news broke of rappers Kanye West and Quavo giving away Chicago-exclusive Yeezy sneakers, hundreds flocked to nab the limited-edition shoes.
People—including Columbia students—with phones in hand to capture the frenzy, swarmed the center of the parking lot near the University Center, 525 S. State St., around the Russian Sherp ATV cars from which people were giving away the shoes on Friday, Feb. 14.
In the midst of the commotion, Gabriel Reyes, a New York resident eager to see the two rappers and potentially get a pair of the sneakers, was inches away from one of the vehicles. As it attempted to depart from the impromptu giveaway, the door slammed close on Reyes' left hand.
Reyes was then transported to Rush University Medical Center, 1653 W. Congress Pkwy., with what he said were broken fingers.
"He slammed the door and broke my f—–g finger," Reyes shouted.
Dorian Maldonado, a friend of Reyes', said the crowd became aggressive, and a man in the car giving away the shoes closed the door quickly when Reyes was reaching for a pair.
Maldonado said the situation could have been handled better and there was poor communication with the crowd and among the people handing out the shoes.
Reyes' fingers were not the only mishap to happen in the swarm, though.
Jahneshia Sowell, a freshman public relations major, saw a tweet about West giving away free shoes in the South Loop around 2 p.m. Friday. Sowell and her friends went to record what was happening when they saw Quavo giving away free shoes as part of the Yeezy promotion.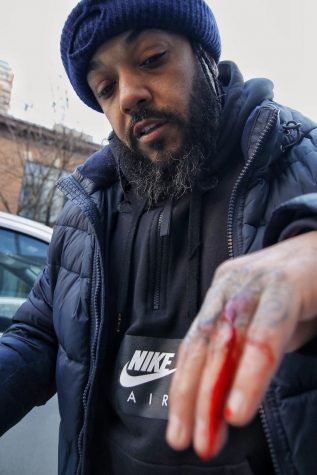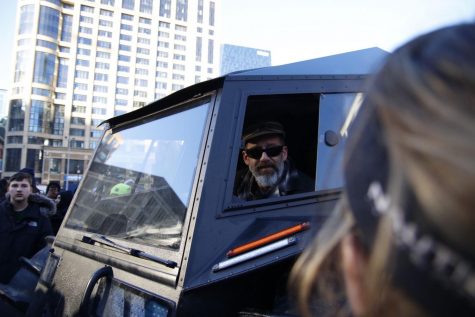 "I grabbed one, and this grown-a– man came up to me and snatched that b—h from me, and I was salty as hell," Sowell said.
Sowell said the crowd was like a mob where fans, police officers and security were yelling and pushing each other around.
"In the beginning, it was fun because we were just running around," Sowell said. "You don't really see those things anywhere else than in the city."
Leo Babaian was eating at Wingstop across from the parking lot when he saw the crowd gathered for the giveaway. Babaian walked over and was hit in the back of the head by someone in the crowd.
"It's a bunch of BS because you're making everybody go nuts, go crazy—for what reason? For a pair of new shoes?" Babaian said. "It's a joke."
The Adidas YZY QNTM basketball shoes are the latest from West's clothing line, and sold exclusively in Chicago—West's hometown—for approximately $250. The shoes were released Sunday, Feb. 16, in coordination of All-Star Weekend. To promote the new items, the ATVs went around Chicago holding impromptu giveaways during the weekend.