Chicago youth protest police involvement in mental health crisis calls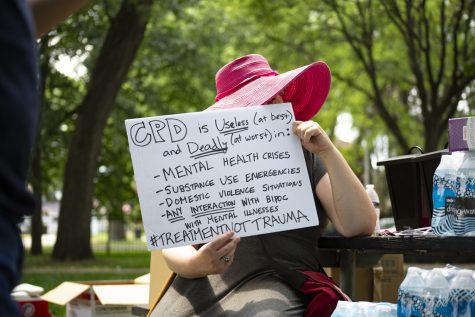 A crowd of people chanted "Lori Lightfoot, spread the wealth" in a youth-organized rally.
An estimated 50 people gathered at Beverly Park, 2460 W. 102nd St., in a Saturday, June 12, rally to give their list of demands to 19th Ward Ald. Matthew O'Shea. The group called for the alderman's support of the proposed Empowering Communities for Public Safety ordinance, creating a youth council in the 19th Ward and co-sponsoring the Treatment not Trauma campaign.
The Treatment not Trauma campaign advocates for mental health services and for an emergency response team of trained professionals to replace police presence in a mental health crisis. In 2019 more than 60% of mental health crisis calls were answered by police officers who did not complete the specialized training, according to an article by Police1.com, an online resource for law enforcement agencies.
"Seeing the world around me and knowing that the constant trauma and oppression cycles are placed upon our communities and living through those — it's really hard to just sit back and watch that and not do anything," said 13-year-old Catlyn Savado, one of the rally organizers and an activist with 19th Ward Youth United and Students Strike Back.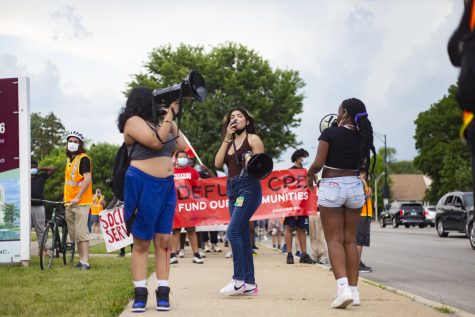 In 2012, under Mayor Rahm Emanuel, Chicago closed half of the 12 public mental health clinics, as referenced in this March report by WBEZ.
Reina Torres, a 16-year-old activist and rally organizer, who is diagnosed with attention-deficit hyperactivity disorder, bipolar disorder, schizophrenia and anxiety, said she has been beaten by police and witnessed police brutality on loved ones.
Torres and their friend were outside of their school when a fight started.
"Because of that fight, I tried getting my friends out, and the cops got really aggressive on all of us," Torres said. "They did not let us leave; they did not let us go home; they made sure that we were traumatized. We weren't even the ones fighting, we were just bystanders trying to get people to get off of each other."
Kaylee Sink, a member of Social Service Workers United, said police should not be involved in these calls. Sink said when they worked with a youth service center, the youths they worked with, many of whom were Black, Brown and queer, were scared every time they started to hear police nearby.
"It's against our code of ethics to have a co-responder model where social workers ride out with police," Sink said. "I want to use the power that I do have as a social worker to try to protect those who are speaking out. The youth who organized this rally today have said similar things as my clients, as my youth who I used to work with."
O'Shea has not addressed the demands of the protestors, organizers said. The youth of the 19th Ward are planning to hold a community meeting and plan to invite O'Shea.
"A huge issue with this is that we have older leaders … watching our communities struggle — and not only watching, but they enable that behavior and they enable the harm and danger that's placed upon our communities.
"It's very, very hard to watch that and watch older people do that when you know that in the next 20 or 30 years, that world they're currently and actively enabling is going to be ours and is going to be placed on young people and then we're going to be left at this world that's very hard to manage," Savado said.