Chicago student artists create art way up in the tree branches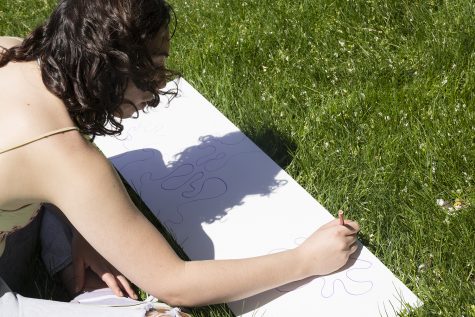 The melodic sounds of the Julia Smulson Quintet, a musical group from DePaul University, traveled across Butler Field and captured the attention of passersby on a warm Saturday afternoon.
As the quintet held a jam session, junior illustration major Alejandro Martell sat nearby in a gnarly tree, illustrating stickers he plans to either sell, post on street signs around the city or drop in the Wabash art drop box at 623 S. Wabash Ave.
Illustrating and playing music were some of the art mediums student artists chose as their contributions to Artists in Trees, a unique public performance art experience held on May 1 at Grant Park.
The event was organized by Charlotte Briskin, a sophomore fine arts major, who regularly climbs trees to work on her own art and wanted to inspire others to "make art in weird places."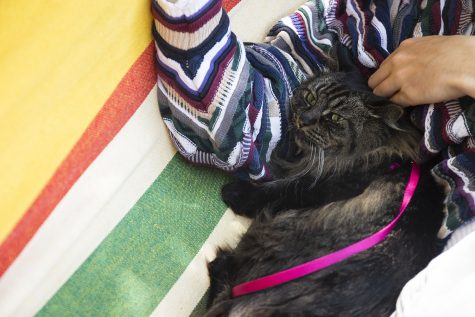 About 20 student artists from Columbia, DePaul University and other universities and high schools participated.
Briskin said they often take inspiration from nature in their artwork and chose to paint and dance at the event, while others played the French horn and the melodica, snapped photographs, made jewelry or sang.
Briskin said they have missed the inspiration and energy that comes from creating alongside other people.
"I've really missed not getting to be in-person [for] classes," they said.
Annabelle Tuma, a junior at Lane Tech College Prep High School, painted in a tree at the event and planned on hanging her canvas off a tree branch.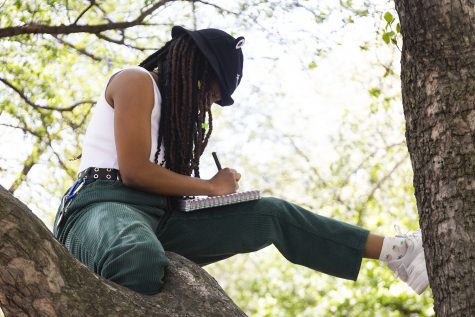 Tuma said people doing random things like making art in a tree contributes to a world with more possibilities.
Artists signed up for the event through a Google Form found on the Artists in Trees' Instagram bio. The form asked participants questions such as what they plan to create, if they are comfortable climbing a tree and if they are comfortable meeting in-person. Anyone was eligible to participate.
Briskin said it was amazing to witness their idea come to life and that the event was partially inspired by historical art movements in France that they learned about in an art history class.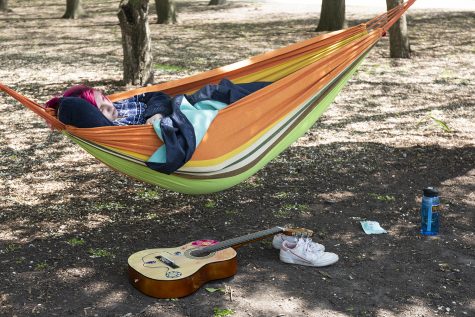 Samira Carr, a sophomore musical theatre major, doodled in a tree and played her guitar in a hammock at the event.
Carr said being surrounded by nature gives her energy and opens her mind creatively.
Lucy Polkinghorne, a sophomore creative writing major, said they frequently create art outside but they had never done it in a showcase with other artists before. They brought paint and oil pastels, played their guitar and used chalk to draw trees on the pavement.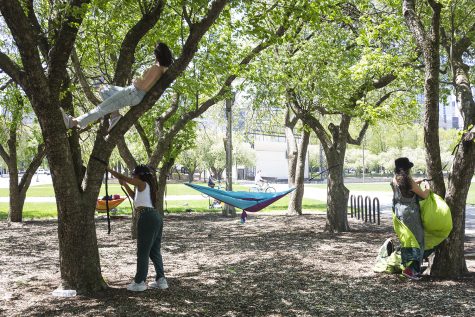 "There's always in my head something about nature involved in my artwork because everything just comes back to nature and earth," Polkinghorne said.
Briskin said they hope to make Artists in Trees a monthly event when it is warmer outside for artists to continue to gather and collaborate.
"We spend so much time, especially now, on our computers, our phones and looking at devices," Briskin said. "Anytime that I sit down and use my hands to create something, it's coming from such an honest and natural place. … It's so real. It is an extension of nature through me."