Chicago Makers Pop Up Shop gives small business owners a platform amid the COVID-19 pandemic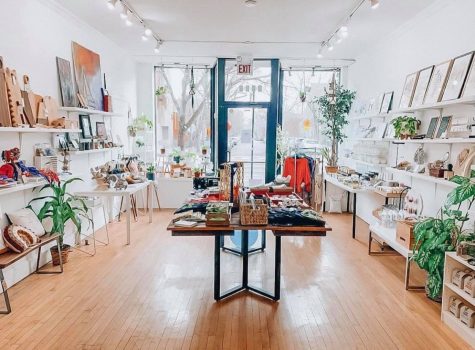 Founded by two small business owners, Anna Romo and Monica Little, the Chicago Makers Pop Up Shop started through the co-founders' passion for their own brands and the need for a platform through which to share them.
Providing a home and outlet to 30 Chicago-owned small businesses, the Chicago Makers Pop Up Shop first opened in November 2020 during the second wave of the COVID-19 pandemic.
Losing her massage therapist job due to COVID-19, Romo turned to yoga and meditation to help with reducing anxiety and stress — and it was through that process that her business started.
"I finally ordered a [candle-making] kit because I was burning so many candles, and … I decided to name the fragrances of each candle after different virtues," Romo said. "That's what I had been meditating on, things like joyfulness, fortitude, endurance, patience — those kind of things."
Romo said this was how the name of her company, Virtue Alchemy Candles, came to be.
Romo reached out to Little after looking for other businesses to help sponsor her brand. She found Little's brand, Plant Based Beauty, and the two spoke back and forth before they met in person in October 2020 and decided to create a space for other small business owners to sell their products.
One of the makers at the pop-up shop, Laura Gannarelli, said it has helped her brand, Youngi Sumi Style Pets, as well as many other businesses, to have a space to share and uplift each other's work after the year of being isolated. Taking inspiration from the Japanese Sumi-E art style, Youngi Sumi Style Pets offers ink wash portraits of pets that can be purchased as prints, as well as items such as tote bags, coasters, mugs and more.
"It created a space for makers and artists, like myself, to be with other makers and artists," Gannarelli said. "We're all one or two people shops trying to make a bigger dream, and to be in a store that's so eclectic with all these different … artisans and makers and in a space that celebrates those dreams, … that's why I wanted to be in their store."
Founder of Little Buddha, Daisy Betance said prior to working on her brand, she was in finance for 14 years and took a soap and candle-making class in 2008 that fostered her interest in making soap products. Starting the company in April 2019, Betance left her corporate job to pursue this full time, with the business now expanding since focusing primarily on soaps and lip balms.
For Betance, the Chicago Makers Pop Up Shop allowed her a space to have her products seen, and she hopes that customers walk away from her business feeling comfortable knowing the products are natural and eco-friendly. Little Buddha offers all-natural shampoo, bug spray, CBD bath bombs and more, as well as reiki energy healing through her other brand Lotus Rising. 
Annie Stolz, founder of Rise and Shine Ceramics, said her goal is to make ceramic pieces that are colorful and cheerful to brighten people's days, all while being functional.
"What I've been really enjoying from doing in-person sales is people just being really excited to start their little mug or ceramic collection and then knowing that they have an intention," Stolz said. "So you walk away feeling happier and having a better outlook on life and feeling good."
Romo said they opened their West Town location Oct. 6 and their Wicker Park shop in early November. Both will remain open until Dec. 23.
Open from noon to 7 p.m. Wednesday-Saturday and noon to 6 p.m. Sundays, the main extended pop-up shop is located at 2064 N. Damen Ave. in Bucktown. Information about the shop's future locations can be found on the Chicago Makers Pop Up Shop's Instagram account and website.