Chicago Humanities Festival celebrates community gardens on the South Side
Colorful hydrangeas line the walkways featuring budding plum trees, raspberry bushes, bell pepper plants and tomatoes on the verge of ripening. The Rainbow Beach Victory Garden is the oldest community garden in the city, consisting of 67 plots filled with all organic fruits and vegetables.
It was one of several gardens featured at the Chicago Humanities Festival's first in-person event since February 2020, titled "Community Gardens as Neighborhood Resources," part of the organization's Neighborhood Initiative series.
The July 24 event began with a panel discussion at the Rainbow Beach Park Fieldhouse, 3111 E. 77th St., led by three women—Dianne Hodges, Naomi Davis and Robin Cline—all dedicated to fighting climate change and providing inclusive sustainability practices and opportunities to the Chicago area.
Hodges, the team leader for South Merrill Community Garden, 7032 S. Merrill Ave., spoke on behalf of the garden's effort to create a sanctuary space, promote conservation-focused lifestyle choices and bring jobs for the South Shore community.
"When you're looking at community gardens, especially in spaces that might be prone to chaos, the garden can become an anchor," Hodges said.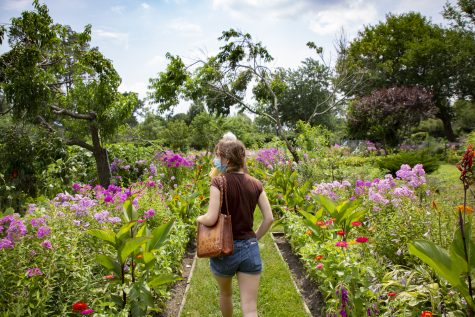 The event offered an herbal scavenger hunt for attendees and informational tours of the Rainbow Beach Victory Garden led by garden members.
The Rainbow Beach Victory Garden was founded in 1917 and received the "Victory Garden" title during World War II because of its food contribution during the war. It has won the Chicago Garden Award twice.
Olga Arias, president of the Rainbow Beach Victory Garden, said nothing is certain in a community unless people maintain it.
"We get this exchange of culture, and that's what's very important in a community garden, and you begin to understand how much more we have in common than anything that separates us," Arias said.
Art on the Rocks on Merrill, a beautification and art therapy project for the South Merrill Community Garden, hosted a table where people could paint rocks for the garden.
Heather Burnside, garden manager and project manager for Art on the Rocks on Merrill, said she has witnessed the garden have a healing effect on community members, especially since the pandemic.
"The one thing I love about gardening is you put a lot of effort into what you're doing, and when you see the fruits of your labor grow before you—and it grows in great abundance, and you give it to people who are in need—that to me is very worthwhile," Burnside said.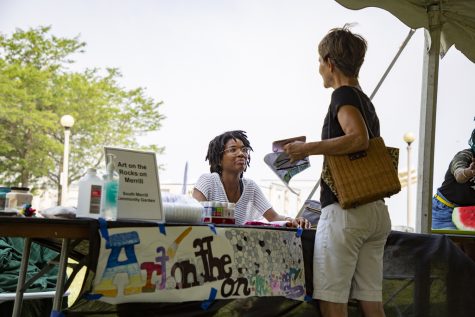 Austin resident Deondre Rutues attended the event and toured the Rainbow Beach Victory Garden on behalf of the Policing Project at the New York University School of Law. Rutues is a community engagement specialist with the Neighborhood Policing Initiative working to decrease violence and crime.
"I focus more on building community coalitions with community ambassadors, people who are stakeholders that know where the programs and other resources that are available to our community that the police can then use to aid them in policing," Rutues said.
Rutues was a part of the effort to promote the Empowering Communities for Public Safety ordinance, which was passed July 21 by the Chicago City Council and Mayor Lori Lightfoot, creating Chicago's first civilian-led oversight commission
Rutues said public health plays a vital role in public safety, and community gardens nourish public health, especially in food desert communities on the South and West Sides.
Naomi Davis, a panelist, granddaughter of Mississippi sharecroppers and the founder of Blacks in Green, a network of resources to create self-serving green economies in Black neighborhoods, said her organization is designed to be woven into the community infrastructure.
"For us, the idea that there is a very natural phenomenon of intergenerational gardening that has broken its strings in urban neighborhoods for the most part, and our ability as community gardeners is the opportunity to connect people," Davis said.
Blacks in Green has an Orchard of Ancestors with 40 fruit and nut trees, along with gardening education programs, youth employment and The Green Living Room, 6431 S. Cottage Grove.
Additionally, organizations such as Green Table Talks, Kandeaux the Farm Plug and Illinois Master Gardeners from the University Illinois at Urbana-Champaign hosted informational booths and activities at the event.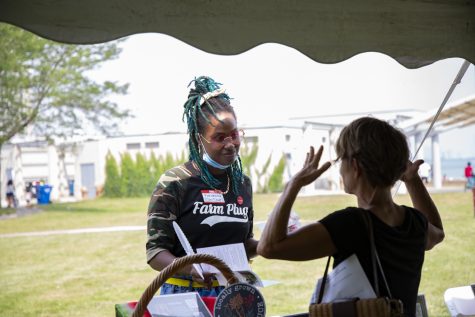 Ena Jones, founding director of Green Table Talks and Roots and Vines Produce and Cafe, said her efforts focus on food deserts on the South Side and shared fresh veggies for guests to make an organic salad with homemade dressing, while they learned about the nutritional benefits.
"One of my passions is to expose people, not necessarily to the dangers of climate change but the challenges that we'll be facing and the opportunities that those challenges will present to us as Black people in Chicago," said Candace Clark, also known as Kandeaux the Farm Plug.
Clark is from South Shore and engages in earth work and cultivation, connecting people to agriculture and including everyone in the climate change conversation. The Farm Plug works with Urban Growers Collective in eight farms around the city.
"All I want to do as the Farm Plug is shine light on all of these things that have been in the dark so long and support people as they become 'agravists,' which is what I call agricultural activists," Clark said.