Chicago Gamespace: A video game history lesson within a gallery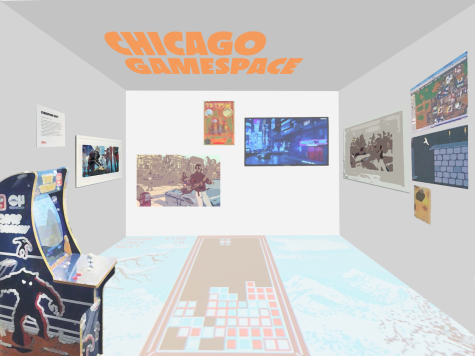 For as long as he can remember, Jonathan Kinkley has been captivated by the possibilities of video games as an artistic medium. He focused his master's degree in art history from the University of Illinois at Chicago on Second Life, the virtual online-world launched in 2003.
After leaving Video Game Art Gallery, a Chicago-based nonprofit, in May, Kinkley decided to curate a private collection of video games and consoles to tell the story and significance of gaming media throughout history and provide free video games for the public to play.
Video games have become a bigger pastime during the pandemic and since May, as a majority of U.S. consumers play games on at least one platform, according to The NPD Group's 2020 Gamer Segmentation Report.
"I think the pandemic is a perfect example of how games are so important to people's lives today," said Kinkley, former executive director and co-founder of VGA. "It's exciting. You're starting to see video games that are emerging and growing and spanning people's tastes and interests."
Since its opening Sept. 6, Kinkley has operated Chicago Gamespace, 2418 W. Bloomingdale Ave., as a playable collection of top video games in history and a gallery of artwork from CD PROJEKT RED's upcoming game, "Cyberpunk 2077."
In the Logan Square studio, Kinkley has a collection of playable titles, artifacts and images, including videos of games being played from the 1960s to the present day, showcasing some of the most notable games from the 20th century.
"I'm going for a space that has a positive playful vibe, but people can also have a smart experience … and get a sense of video game history," Kinkley said.
Kinkley said he created the gallery as a passion project to share his love for video games, and the studio is now open every Sunday from 1-5 p.m.
Some items include the first home console, the Magnavox Odyssey, game cabinets for "Space Invaders," "Pac-man" and "Mortal Kombat II," and a playable collection including "Oregon Trail," "Super Mario Brothers," "Sonic the Hedgehog" and "Final Fantasy VII."
In the other half of his studio, Kinkley has partnered with Cook & Becker, a Dutch-based online art dealership, to exhibit the official video game art print collection from "Cyberpunk 2077."
With artwork from the developers, CD PROJEKT RED and artist Josan 'Deathburger' Gonzalez, the collection visualizes a juxtaposition between a neo-lit aesthetic and the dystopian setting of the game.
To stay open, Kinkley said he raises money through the sale of prints from the Cyberpunk 2077 artwork and rents the space out on Airbnb the rest of the week when the studio is not open.
Kinkley had to take extra precautions due to the pandemic by making the space available by appointment only and limiting the number of people per visit. Appointments can be made online for free and each visit lasts around 30 minutes.
Kinkley said this only makes the tour more interactive, as a conversation is almost always prompted by personal memories or thoughts on the social impact of video games while he walks visitors through a timeline of different games and consoles.
"In Chicago, there's nowhere else you can go and play video games from history that are presented in a museum or gallery-style format where you're playing a game and … appreciating games as an artistic medium," he said.
Chicago Gamespace will have both the Video Game History Collection and the "Cyberpunk 2077" artwork exhibits open every Sunday from 1-5 p.m. until Dec. 20.