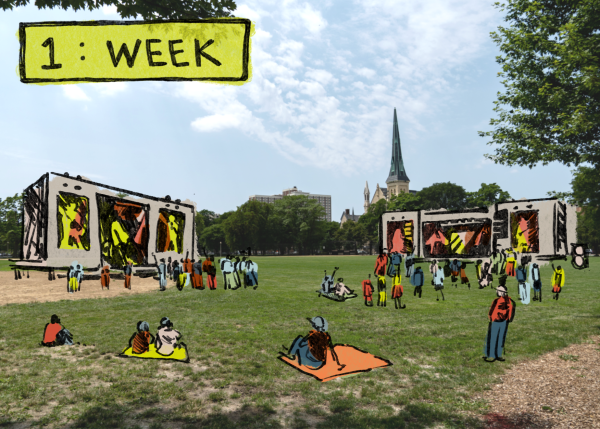 Pitchfork Musical Festival will be back for another year next weekend with local and international artists. Many of its performers are former festival attendees attracted to Pitchfork's size and unique curation of artists.
The festival, which first began in 2006, will take place July 21-23, with three stages spread out along Union Park.
Ece Tagil, an employee at Shuga Records in Wicker Park, will attend Pitchfork Fest for the first time, selling records for the shop.
Tagil said she doesn't typically like music festivals but is particularly excited for Pitchfork because of musicians such as Alvvays and Jonny Greenwood. "The whole lineup is great," she said.
Headlining this year's festival are Big Thief, Bon Iver and the Smile. The lineup will also feature locally based artists such as Ariel Zetina, Sen Mormimoto and Ric Wilson.
Sen Morimoto, a Kyoto-born Chicago resident, is an indie artist whose music brings in notes of jazz and hip hop, will be performing his own music at Pitchfork for the first time.
Morimoto, who has been attending Pitchfork for the past 12 years, said that he typically doesn't like large music festivals keeps coming back to Pitchfork because its smaller and attracts great musical talent. "It's a lot of my favorite musicians in the city playing with us. And so I like playing with musicians who have a sort of musically rebellious spirit in a way," he said.
The first time he played the festival was in 2019 when he played the keys and sax for Lala Lala. He also performed alongside Nnamdï in 2021 and with Kaina in 2022.
His performance this year will feature an eight-piece band, performing songs from all three of his albums and also a few songs from his unreleased record "Diagnosis." The new record, to be released Nov. 3, leans more towards rock and alternative music.
"I think having a little time away from performing a lot, and a little time since I've released music has given me a lot more freedom to play with the setlist," he said.
Ric Wilson, a funk and disco infused rap artist from Chicago, will be performing at Pitchfork for the second time. He first performed at the festival in 2019. Wilson said he had attended a number of Pitchforks as an audience member over the years and performing there had always been a goal of his.
Since his last performance, Wilson said that this year the band will be much tighter music and relationship wise. "I think last time, I was kind of just trying to define a sound. I think this time I'm really just trying to master it," he said.
This year Wilson said he'll be bringing a better live performance, with more music material and a longer and later set time. Wilson will be playing music from his album "Clusterfunk" and various singles he's released including songs he's done with artist Terrace Martin. Wilson said his audience should "come ready to dance."