Someone You Should Know: New SGA president shares vision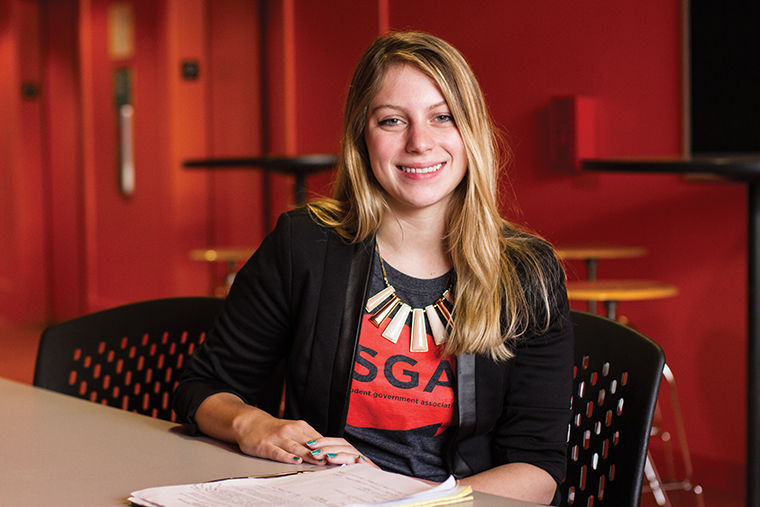 Sara Kalinoski, a native of the Southwest Chicago suburb Oak Forest and a sophomore science & mathematics major, never planned on being involved in politics. However, she will start her second year at the college as the newly elected president of the Student Government Association thanks to a vote of confidence from her faculty advisor. In the midst of painting, selling portraits and preparing for a trip to Florence, Italy next year, she said she has exciting plans for her position.
Kalinoski said she is looking forward to making positive changes at Columbia and is thrilled to be a voice for the student body.
"I've always had that political 'fight for people's rights' [attitude]," she said.
As president, she hopes to educate the college community about SGA and help foster collaboration throughout the college with changes to First-Year Seminar and by working to garner more support for a student center. Kalinoski said she also hopes to make the college more affordable by supporting a cap on tuition increases, which SGA advocated for last year. In addition to addressing the college's tuition, she said she wants to work with Michelle Gates, the Chief Financial Officer and vice president of Business Affairs, to  provide better budget transparency for students.
Kalinoski said she also spearheaded an initiative last year that encourages faculty to choose affordable textbook options for their courses. After this measure was approved by the Provost Council, her goal is to work with faculty this fall to make textbooks more affordable on a college-wide level.
The Chronicle spoke with Kalinoski about her goals for SGA, becoming president and how she plans to capture the student voice.
THE CHRONICLE: What inspired you to join SGA?
SARA KALINOSKI: Last year, I was only a freshman, and I didn't even know about the Student Government Association until my department chair and major coordinator nominated me to be the Science & Mathematics [Department] senator. As soon as I got in, I was hooked. I absolutely loved it. To really get the students' point of view across and help make Columbia a better place is just amazing. To be a part of that made me want to be president because I know we can do it if we all come together.
Have you ever participated in student government before?
I did in elementary school and middle school. Then, in high school, I did a lot of volunteering work.
Is there anything you want to continue from last year?
Last year, we did some amazing things that we want to continue. We're agreeing to continue the college-wide forums. Out of that, we sparked sexual assault awareness, so now we are a part of that community [effort]. We're also trying to push harder to have our syllabus include information on The Learning Studio, the counseling services and college Advising Center so students know those resources exist.
How do you plan to accomplish your goals for SGA this year?
Through college events like Weeks of Welcome. We had that ice cream social on Aug. 27, we will be participating in Casino Royale and Fresh Meet, and we had our booth at Convocation. We're going to implement more classroom visits this year. It was a great success last year, so we want to do more. We're going to continue working with the faculty, staff and administration. Also, we have our Facebook [page] and our website to talk to more students so we can educate them.
How are you going to stay objective while working with the student body and administrators?
[By] gathering all of the information and still understanding that we're here to represent the student voice. We're here to help create change, work together and be that liaison with information from students and faculty. I'm a very objective person, but as student government, we're here for the students.
How are you going to elicit feedback from students to capture and respond to the student voice?
Through classroom visits, college-wide forums and word of mouth. Like I said before, we want to implement more class room visits. Those visits also help SGA understand students and help collaboration happen.
What are some things that surprised you about your position as president?
I wouldn't necessarily say I was surprised but more impressed with how much of a relationship we are able to have with faculty and students and how much say and influence we have. We've been able to have so many opportunities, like lobbying to cap the tuition increase and our external relationships. We are newly part of the Coalition of Chicago Colleges, and our involvement with the Illinois Board of Higher Education has really impressed me.
What influenced your decision to study at Columbia?
I chose Columbia because of the concentration Arts & Materials Conservation. Columbia is one of only three undergraduate programs to offer this degree. There has been a huge transition in the art history world where you need the chemistry background. I absolutely love the program. I'm really happy here at Columbia.
What is your favorite thing about attending Columbia?
The opportunities and the connections that you get to have here. Also, being able to create your body of work and really succeed. Plus, the diversity of people. I am getting to meet so many new people in Chicago. It's just amazing.
What do you enjoy doing outside of  your work with SGA?
I'm an artist. I love to paint and draw. I sell some portraits on my own to people I've met. I do a lot of portraits and contemporary art, too. That's my passion.
What are you most excited about for this year?
We have such a great working relationship with the president's office, the administration and with the students. I'm really excited to accomplish things. I want to capture the student voice and build a sense of community within the school. I'm also looking forward to all students being able to live what  they love.