Inclusion is goal of new interfaith space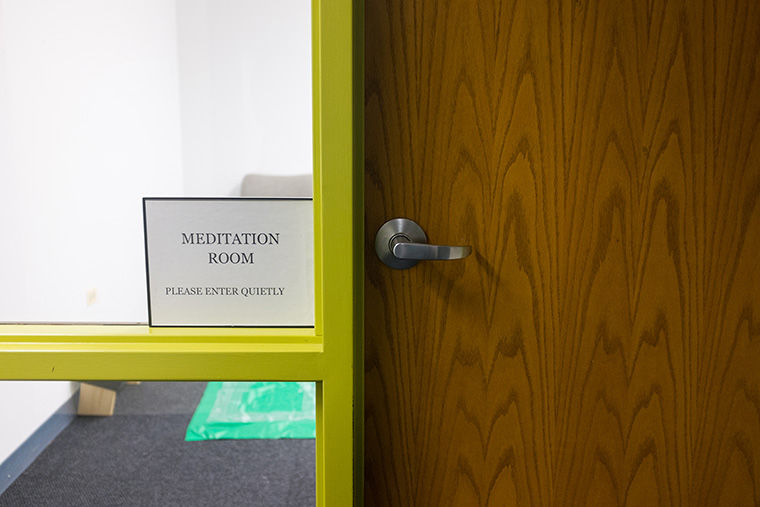 An interfaith prayer and meditation room has been established in the Library starting this semester, allowing individuals to have an on-campus location for religious and secular practices.
The room, located in room 301-E of the 624 S. Michigan Ave. Building, includes various furnishings that can be used in religious services, prayers and meditation including a shoe shelf, a kneeling bench, meditation pillows and prayer rugs fitted with compasses.
Kimberly Weatherly, director of the Office of Multicultural Affairs, said she was inspired to create the prayer room after she discovered Muslim students had been praying in campus stairwells.
"We're inclusive; it's about making sure the needs of diverse students are met, and that includes faith," Weatherly said. "That's something we don't talk about a lot of the time here at the institution."
Weatherly said she hopes the designation of the room shows the college's consideration for students' spiritual lives as well as a commitment to providing resources for a successful college experience.
A guide for interfaith spaces on campus, created by the nonprofit Interfaith Youth Core organization, states, "Interfaith spaces communicate inclusiveness, support of a religiously diverse student body, and foster a campus's commitment to pluralism."
These spaces can also bring religiously diverse students together, the document added.
Students without religious affiliation can go their entire college career without speaking about other people's religious values, according to LaTanya Lane, campus stewardship manager for the IFYC.
"[A lack of conversation] sets folks up to live in bubbles outside of school, and it doesn't prepare them to constructively engage in religious diversity upon graduation," Lane said.
The facility could help start a dialogue of understanding, acceptance and inclusion as people become aware of the space and the people who utilize it, according to Kimberly Hale, head of Community Engagement and Special Initiatives at the Library who partnered in the creation of the room.
"It could be the beginning of bridging different groups together and acknowledging religious diversity on our campus because we want to make sure all of our students and all of our community knows this is a room for everyone," Hale said.
Students will be informed about the room's availability at the start of the spring semester, according to Weatherly. Not all religious student group leaders had been made aware of the space as of press time.
"We plan to send out a notice to people and especially to student organizations so we can get the word out," Weatherly said. "It just came about at the end of the semester, so we'll have a full opportunity to market it and let people know."
Other opportunities for religious inclusiveness include an on-campus faith series held once a month that will focus on the beliefs and practices of a different religion each session. The offices of Multicultural Affairs and Student Activities and Leadership will present the series, according to Weatherly.
"It's not enough to have diversity, it's knowing how to engage that diversity constructively that leads to better and stronger civic engagement and a better and stronger society," Lane said.