A blissful return for LFL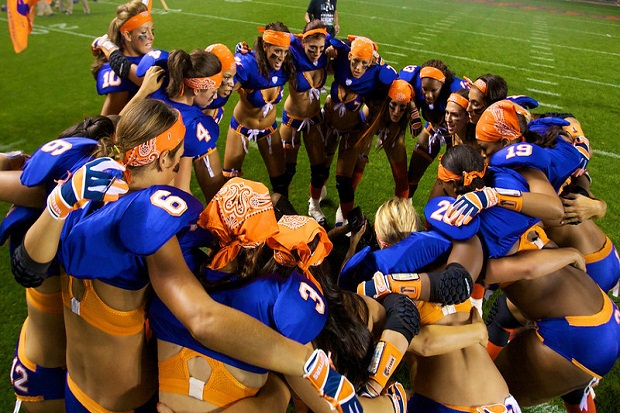 The Bliss, Chicago's resident team in the Legends Football League, formerly known as the Lingerie Football League, is on a quest for a repeat championship win this summer.
After picking up wide receiver Jessica Price and defensive back Di'Andra Frye for the 2014 season, the top seeded Chicago Bliss started their season with a 25–21 come- back win against former Legends Cup three-peat champions and third-seated Los Angeles Temptation on May 9.
"Former [champions]—let's get this straight: former. Nobody cares about [the Los Angeles Temptation] anymore," said Chicago Bliss Head Coach Keith Hac. "We're the champions. We're on top now and they're just going to have to get used to it."
Hac said his only concern about this year's squad is its shallow defensive line. He said the team has two defensive ends and one who could play if needed but has not identified anyone who could permanently fill the third position.
Quarterback Heather Furr, four-year LFL player and last year's MVP, said she is confident the team can stay focused after their championship win. She said there was a lot riding on the May 9 game because it was their season opener.
The league switched its fall and winter season to a spring and summer season two years ago to better match up with the recently created Australian league. The name change from Lingerie to Legends came soon after in 2013.
The rebranding was intended to attract more athletes and to distance the team from its frilly image, according to Courtney Gifford, national marketing manager for the LFL. However, the change has gotten mixed reactions.
Gifford said with any type of rebranding effort people will recognize a product by its former name until the company can overcome the previous brand's shadow.
Furr said she thinks it is more respectable and marketable to play for the Legends Football League than the Lingerie Football League. "With the Lingerie Football League everyone's assumption is that it's just girls running around with no clue what they're doing, but we're true athletes that are playing football," Furr said. "I think that will help the players get a little more respect for those that haven't seen the sport yet."
Hac said he thinks people sometimes dismiss the LFL as "glorified powder puff football." However, he said people would be convinced otherwise if they attended games.
Along with the name change, the LFL has also expanded to Canada and Australia, Gifford said, adding that the league hopes to start a team in Mexico in time for next year's football season.
"[The LFL] takes off wherever it goes," Gifford said. "When [people] see the way the girls play, they become instant fans. There's nothing like it. It's incredible."
Gifford said the team has players with a variety of interests, and includes mothers, a dentist and a medical sales representative. She said all sorts of personalities can be found on the team and that if the league was anything like what many critics think, they would not be a part of the organization.
"There's always going to be that negative light, but you're not always going to be someone's cup of tea and that's fine with us," Gifford said.
The Bliss has three games left this season, with the last home game scheduled for June 13. However, the team may host the playoffs if it is the first seed going to the postseason.
Hac said his season goals include going undefeated and winning the championship again because the winner of this season's Legends cup will play against Australia's team for a bigger title.
"We're just going to play football," Hac said. "We can't turn the ball over. We have to play fundamental style football: Run the ball, play good defense. [It's] football 101 and we will win. I have no doubt in my mind we are going to win."