Documentary-style project alleges discrimination in Theatre Department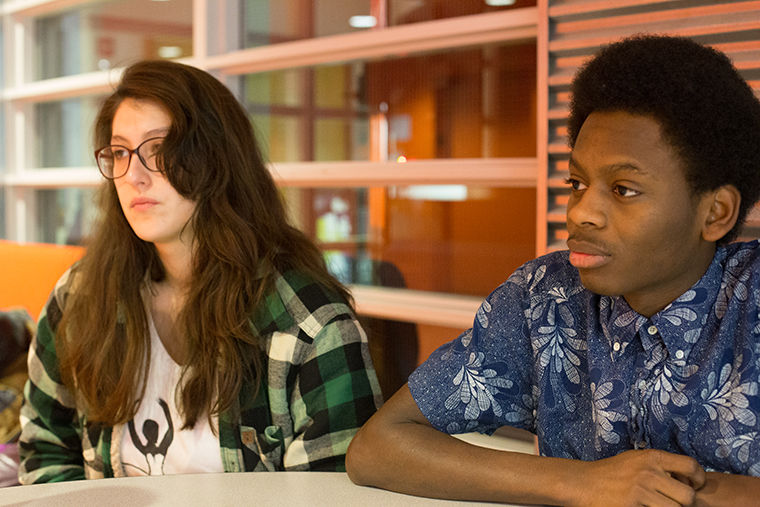 A documentary-style project for the "Art Activism Community Project" J-Term course by a group of students alleges instances of discrimination by members of the Theatre Department based on students' physical appearance.
Liliana June-Lotero, a junior business and entrepreneurship major, said she and three other students decided on the topic after discussing a mutual feeling of underrepresentation and discrimination in the Theatre Department.
June-Lotero, who used to be a theatre major, said she has faced that discrimination personally.
June-Lotero said she is registered with the Services for Students with Disabilities Office and alleges that former adjunct professor Christie Kerr refused to honor her request for accommodations, which then negatively affected her grade. June-Lotero's experiences are not included in the project.
Kerr is no longer at the college and declined to comment on the allegations.
The Chronicle spoke with the Services for Students with Disabilities Office, but did not receive permission to publish an email statement on its disability accommodation process.
After members of the group posted on the Columbia College Chicago Class of 2019 and Class of 2020 Facebook groups, June-Lotero said they were flooded with messages about discriminatory experiences.
According to June-Lotero, there are  three people included in the documentary called "Columbia Unrepresented," which was released on YouTube Jan. 18, and numerous students  who originally shared their experiences but asked to be left out of the project.
"The students that have come to us are students who have faced discrimination in the [Theatre] Department based on what their body looks like," June-Lotero said.
Haley Slamon, a 2017 theatre alumna, is one of the students in the documentary sharing her experience.
Slamon said in spring 2016, she received a rejection email after auditioning for the BFA in dance. The email stated, "We encourage you to work on your personal health and stamina," which she said was the only reason for her rejection. After questioning this in person with current associate chair and professor in the Theatre Department Ashton Byrum, Slamon alleges that he told her she was not in shape.
"[Byrum] said, 'You know your technique needs work but whose doesn't? Your performance is great, but when you dance you don't look healthy.'– That was verbatim," Slamon said. "Obviously, I was upset, because that's not something a teacher should say."
Byrum responded to the allegations in a Jan. 18 email to The Chronicle stating, "I cannot comment on a current or former student's record without the student's consent, due to student protections under federal law: FERPA. Please note that I also cannot address the allegations that you have mentioned as I do not have any additional details of the situation beyond what you have provided."
Slamon said she took the incident to Chair of the Dance Department and Allen & Lynn Turner Chair of the Theatre Department Peter Carpenter in fall 2016, who had asked Slamon how the situation could be resolved. She asked for a written apology from Byrum, but never received one, Slamon added.
"Students hold teachers in really high respect," Slamon said. "That language matters and a lot of interactions between faculty and students at Columbia can be tactless at best and incredibly harmful and toxic at worst."
Carpenter echoed Byrum's statement on federal law in a Jan. 18 email to The Chronicle and also stated, "I will say that admission to the BFA in Musical Theatre is highly selective and competitive; a number of students who audition are not admitted. In the abstract, I can say that a student's weight would not be the basis of consideration, though their overall physical conditioning may contribute the clarity of their dancing. In a case that you describe, the issue would be the functionality of their dancing, rather than the aesthetic."
Slamon said she is hopeful the video will incite change, but she cannot help but remain pessimistic.
"[Columbia] tends to brush off these problems when it's a single person trying to address them, and so I hope that the strength in numbers will show that this is not an occasional student who is angry about grades," Slamon said. "This is  a perpetual and systemic problem at this school."
Will Pettway, a sophomore theatre major and member of the project, said Columbia consistently markets itself as an accepting and diverse community but fails to meet that standard with these issues.
"Columbia's really good at marketing itself as this cool, woke place, but as soon as you come to Columbia it's clear that's not the case," Pettway said.
Pettway said the group plans to  share the project on social media to try to provoke change.
"The goal of the video is specifically to have the performers of Columbia accept themselves, accept their bodies," Pettway said. "To have them know that because faculty members have said something, it doesn't mean it's true."