Featured Artist: Brendan Babinski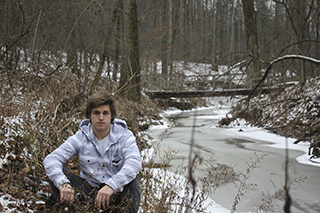 Brendan Babinski, a sophomore cinema art + science major, first discovered his love of environmetal filmmaking when he and a neighbor in his hometown, Midland, Mich., took a break from skateboarding to film the scenery.
More recently, Babinski and his two best friends, Lex Hollenbeck and Hunter Wilson, started a humanitarian and environmental video marketing company called Monumental Media to fuel their passion for filmmaking and the outdoors.
The company's latest goal is to raise $3,000 through a Kickstarter campaign by March 7 to fund a cross-country trip to create promotional videos for national parks. The campaign has raised $2,360 as of press time.
In addition, Babinski sold a commercial to beverage company Minute Maid in 2012.
The Chronicle spoke with Babinski about his love of filmmaking, the great outdoors and the future of Monumental Media.
THE CHRONICLE: Why does filming geographic scenery intrigue you?
BRENDAN BABINSKI: I don't fully know, but I always loved being outdoors. It's also a technical thing. I hate setting up lights. Natural light is the best light to film with and the most crisp. I've been pretty active with playing sports like baseball my whole life, so that might [also] be part of it.
CC: How did you start your company, Monumental Media?
BB: Monumental Media started about three months ago with just a small idea when my old roommate proposed that he wanted to make an outdoor wilderness video. Our other friend, Hunter, is all about being outdoors and in national parks and whatnot, so that was where the idea first branched off from. We actually thought about it and realized we actually could do this for real because we had all the skills we needed. I'm the filmmaker, Lex is the fitness enthusiast and Hunter is the marketing major with the outdoor experience. We realized that if we pursued this, we could actually make it happen. We wanted to make ourselves as legitimate as possible so we formed a limited liability corporation. Our mission statement is to do video marketing for companies and organizations that are humanitarian companies or environmentally driven. For instance, we started the Kickstarter for the National Park Project because we are trying to give back [to national parks] by raising awareness because they're losing so much money [from government funding].
CC: What are other projects you have done through Monumental Media?
BB: We just finished our commercial for [Grounds for a Better World]. They are a coffee shop that gives 100 percent of their profits to orphanages overseas and local youth centers around Midland, Mich. We thought it would be a perfect cause to support. They're one of our first jobs so it helped us get exposure. [The] commercial will be shown all around Midland, so that will help us with publicity as well as help them out.