Students grab coffee with Kim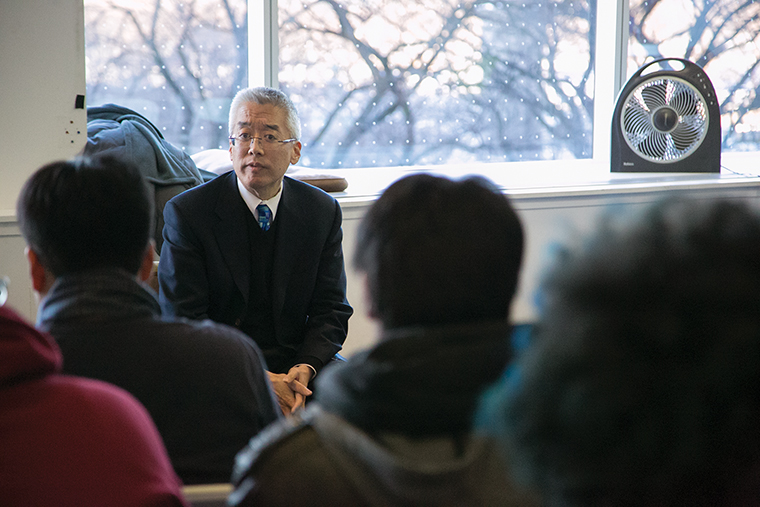 More than 50 students gathered Jan. 29 to grab free food and coffee at President Kwang-Wu Kim's first installment of the Conversations with the President series, one of several presidential initiatives aimed at connecting directly with the student body.
Kim notified students via email Jan. 27 about his Coffee with the President initiative along with new student office hours, during which students can schedule one-on-one time with Kim.
Each of the seven office hour sessions will last approximately 20 minutes, and the sessions will be held once a month, according to an email from Dayle Matchett, Kim's chief of staff.
All of the available slots for the semester have already been filled, Kim said.
The first of four planned conversations between Kim and the student body, which was held in the Office of Multicultural Affairs in the 618 S. Michigan Ave. Building, dealt with diversity and inclusion. From February through April, Kim will address topics such as student spaces, college affordability and departmental collaboration, he said.
The topics were chosen based on concerns that students brought to his attention, Kim said.
"[Diversity] is one of the main topics that students have brought up to me, and it's one of the primary reasons why I came to this school as president," Kim said. "It's one of our advantages, but it's also something we really have to get right."
Nicole Carroll, president of the Student Government Association and a junior fiction writing major, said in the past it has been rare to have such interactions with administrators, but Kim wants to have conversations before making decisions.
Carroll said students may feel as though their concerns are not always taken into account, but participating in these events and asking questions will enable students to express their opinions on how to improve the school, she added.
"I would encourage [students] to come, ask questions and be open to discussions because it's a rare opportunity to get the chance to have an open dialogue," Carroll said. "Sometimes people discredit how important their views are … in the scheme of a large school."
During the Jan. 29 discussion, students spoke about their different interpretations of the meaning of  diversity such as health, they expressed their concerns about the efficiency of the college's mental health services, resulting in students discussing their positive and negative experiences with the college's counseling center as well as possible solutions.
Brandon Hammer, the SGA senator for the Marketing Communication Department and a marketing communications major, said the forum provided an opportunity for students to express their individual concerns and address the needs of the college community.
Hammer said he was grateful for how available the president has been to students, adding that students should attend these events to voice their concerns.
"I believe that [Kim] has done a great service to the student body by making himself accessible and by engaging in this open platform for communications," Hammer said. "When you're in an environment that is in transition … you always want to know what's going on."
Jesus Iniguez, a junior art + design major, said the discussion went well and encouraged students to attend future sessions.
"I feel like the issue of diversifying the curriculum was addressed very well," Iniguez said. "If you have the opportunity to go to another question-and-answer[session] with the president, do it. Get your voice heard."