Careering While Queering event allows students to practice methods of self-care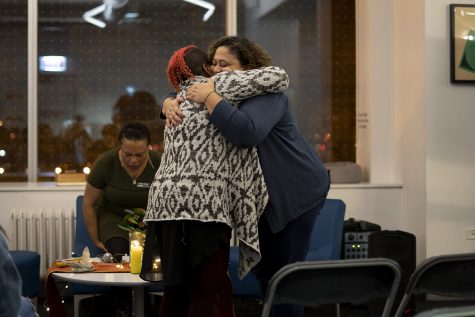 Pride flags, fairy lights, candles and a video of a cascading waterfall surrounded meditating students as they chanted, "Everything is always working out for me," in the North Reading Room on the fourth floor of Columbia's Library.
After students established their emotional state with affirmations, they participated in a workshop and dialogue with Meida McNeil, artistic and managing director of Honey Pot Performance—an Afro-diasporic feminist performance interdisciplinary collective.
The queer students and allies were taking part in Careering While Queering, which centered on self-care and wellness in the LGBTQ+ community, at Columbia's Library, 624 S. Michigan Ave. on Thursday, Nov. 21.
Creative Industry Liaison Darlene Jackson, who organizes the program every semester with the Career Center and the Student Diversity and Inclusion Office, said she began Careering While Queering in 2018 after noticing a lack of programming centering on LGBTQ+ students workplace or career experience.
"We talk about … methods, techniques, tips, tricks, insights that they can pull from when they go into environments where they may perceive or may actually be subject to homophobia or invasion of privacy or just classic misgendering and things like that," Jackson said.
In past semesters, Jackson said Careering While Queering has addressed topics of LGBT identity being expressed through clothing, which can lead to queer people being ostracized and outed at work, as well as transgender people transitioning and receiving gender confirmation surgery, leading to them being asked invasive questions, denied opportunities, or in some cases, fired.
According to the Human Rights Campaign Foundation's 2018 study "A Workplace Divided: Understanding the Climate for LGBTQ Workers Nationwide," 46% of LGBTQ+ employees remain closeted at work, 53% have experienced discriminatory jokes and 10% have left their workplace due to an unaccepting environment.
Jackson said for this semester's "self-care" theme, professionals were invited to teach students how to take care of themselves under pressure brought on by work and life.
According to the 2015 National Survey on Drug Use and Health, sexual minorities are approximately two times more likely than heterosexual people to experience mental illness.
Student Diversity and Inclusion Director Charee Mosby-Holloway said self-care is not always inclusive or accessible to queer people, who struggle daily with the right to exist.

"Within that fight for survival, we also have to create room for joy and care for ourselves and our community," Mosby-Holloway said. "Our hope with this program is that we're giving folks some skills to think about self-care holistically."
Sophomore musical theatre major Cade Anderson said he enjoyed the event because it allowed him to meet more members of the LGBTQ+ community at Columbia.
"It was so much fun," Anderson said. "I chose not to do stuff like this, and I feel now that I should do more of these things because it was helpful and eye-opening. I didn't know what I was walking into, which was really cool."
Senior fashion design major Jane Van Amberg, who went to a Careering While Queering event last semester, said the topic this year helped her realize the importance of self-care as a bisexual person.
"I think that it helps strengthen [the] community, to know that there are people out here who are also queer and looking to thrive in the world," Van Amberg said. 

Tristen Winfield—a self-ascribed "Asian bodyworker" and owner of the healing and wellness business Tune In With Tristen, who led Careering While Queering this year—said with her work, she wants to provide healing tools, services and resources to help marginalized communities who need self-care and mental health treatment at disproportionate rates.
"There's so many obstacles that we're faced with every day just by being queer in the workplace, in schools, in church, at home," Winfield said. "Having a set of resources within, having a guidance system, if you will, is so important in order to keep your … grounding and try to keep your peace."
Jackson said in the spring, the Career Center plans to offer a Careering While Queering event covering entrepreneurship and LGBTQ+ business owners.