Zombies brought to life in new play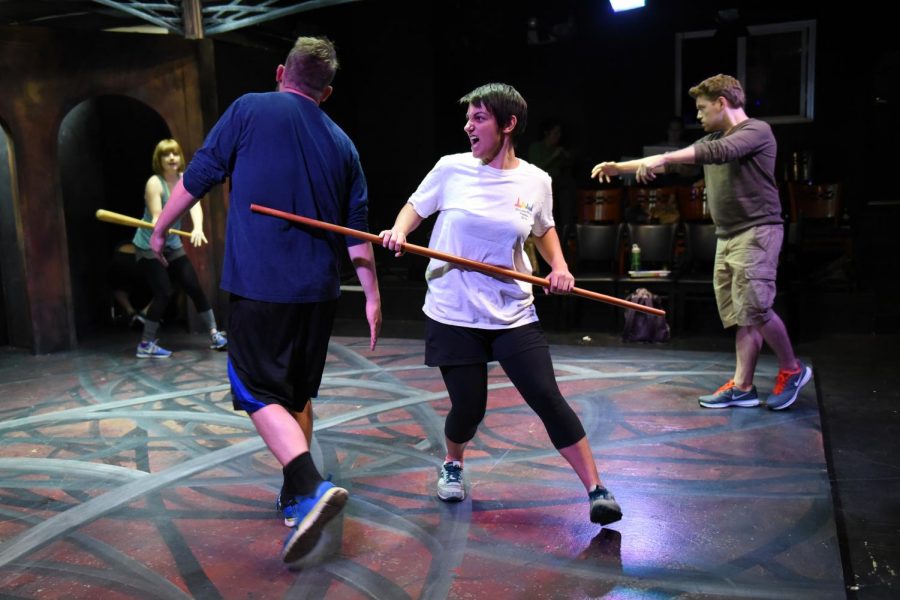 By Andrew Carroll
October 17, 2016
Factory Theater opens its second season at its Rogers Park location with "Zombie Broads," a new play by Chicago playwrights Sara Sevigny and Corrbette Pasko that blends comedy and horror.
The show at 1623 W. Howard St., which previewed on Oct. 13 and runs from Oct. 21 until early December, takes a humorous look at zombie apocalypse survival. 
Cast member Spenser Davis plays Alex, who is secretly involved with Shelby, the daughter of the play's protagonists. Davis said "Zombie Broads" tells the story of a zombie survivalist book club that comes together to prepare for a possible apocalypse. 
"[The characters] think [the apocalypse] is going to come but, in the back of their minds, know that it's probably not [going to]," Davis said. "It's comedy about preparing for something that you don't think is going to happen until it actually does." 
Sevigny and Pasko worked for three years on the show, which drew inspiration from one of Sevigny's biggest terrors—zombies.
"It just takes one [zombie], and the whole world is over," Sevigny said. 
Pasko dared Sevigny to face her fear, and the resulting play combines several genres. The writers invited Janice L. Blixt, the artistic director of the Michigan Shakespeare Festival, to direct the production, which is her first collaboration with Factory.
Blixt and the playwrights agree the play is much more than a seasonal production, and the play can entertain year-round. 
"It is fun [to perform] in the fall, but it is not one of those things that after Halloween becomes useless," Blixt said.
"Zombie Broads" playing during the Halloween season is entirely coincidental but fortunate, according to the playwrights.
"That's how it happened to work out," Pasko said. "We wrote it for a different space when the Factory was in Avondale [before moving to its new location in 2015]. It didn't get accepted so we went back and rewrote a lot. It's a much better show now."
With a number of rewrites and delays because of the Factory Theater's move to Rogers Park, the show finally came together for the 2016-2017 season.
The cast, described on the theater's website as its "shameless ensemble," is supportive and works well together to create the zombie storyline, Davis said. He expects audiences to be gripped by the unique theatrical sequences in the play, which include "some cool stage magic."
Blixt said the mixture of theatrical elements makes the show stand out.
"What I'm loving about this is it's a combination of so many things," Blixt said. "It's a horror movie onstage, but it's also a silly comedy."