Featured Artist: Dana Digrispino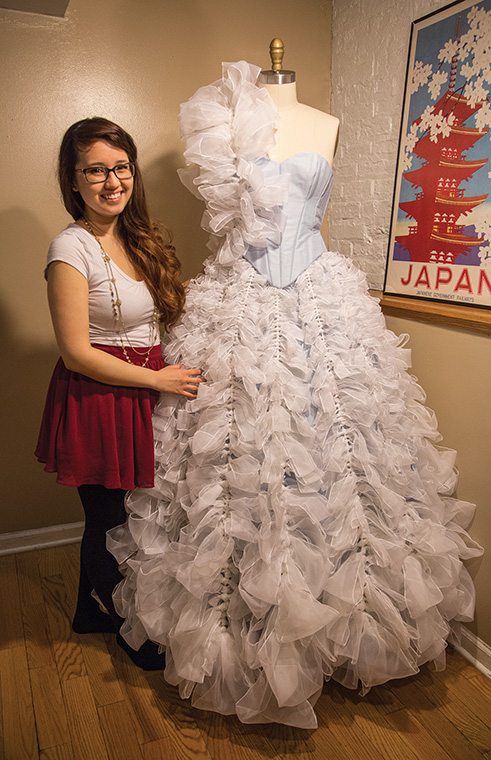 Senior fashion studies major Dana Digrispino dropped her finance studies in 2011 to pursue her dream of being a fashion designer. Now, her decision may generate a return on investment.
Digrispino was one of eight Columbia students selected to showcase their designs and compete for a $5,000 award at this year's "Launch 2014: Driving Fashion Forward" show at the Autohaus on Edens Mercedes-Benz dealership, which took place April 13.
Digrispino was notified March 12 that she had been chosen after submitting an application with photos of her designs along with some background information. As she looks forward to graduating in May, Digrispino said the exposure will be helpful when she opens a studio in her hometown of Orland Park, Ill.
Digrispino said her fashion classes at Columbia have helped guide her through refining her sewing and designing techniques.
The Chronicle spoke with Digrispino about her fashion designs, post-graduation plans and personal style.
THE CHRONICLE: What looks did you prepare for the show?
Dana Digrispino: A mini dress and a ball gown that I have been making since last semester. They are both inspired kind of by the Rococo time period [and] I'm using a light blue, pastel color. The mini dress is made out of silk organza. The dress itself is very sheer, and then on top it's decorated with hand-dyed blue organza that I made. It's kind of a long process, but I basically got the fabric and then I cut it into strips, and then from there I ran it through my sewing machine and it makes the ends nice and neat. The second one is this over-the-top ball gown that I completely covered in white macramé. It's also made out of silk organza and corseted. A lot of work went into these pieces, and I'm really happy that they are finally finished.
CC: How did you acquire your passion for fashion design?
DD: I've always had an interest in sewing and that's where it all stemmed from. I love making things.
CC: How would you describe your personal sense of style?
DD: Definitely girly and feminine. I like a lot of pink. I would say spring and summer are my favorite times because I love dresses and skirts.
CC: What are your post-graduation plans?
DD: I'm actually planning on opening my own studio back at home in Orland Park. I've been [working on] it this past semester, going back and forth from Chicago to the suburbs. By the time I graduate, I'll have a nice foundation to work off of.
CC: Do you have an official name for your studio currently?
DD: No, not yet. It's all in the works [regarding] what I want to call the place and if I want to name it after myself or not, so we'll see what happens.
CC: What is your dream job?
DD: It might come as a shock to a lot of people, but I actually really love costume [design] and I think that's where my real passion is. I love making clothes, but there's something about costumes that is much more exciting to me. I think I might make my work more costume-oriented [in] the future. I would love to just make costumes for a couple years, work on my portfolio and then maybe work in Hollywood making costumes for movies and TV. At the end of the day, if I can just find a job making beautiful clothes, I'd be really happy doing that.
CC: What advice do you have for young and aspiring designers?
DD: I would definitely say just find what you love and find what you're passionate about. There are so many different facets in fashion design. You don't have to just be a designer. You can be a buyer, you can be a seamstress, and I would really recommend that they find what it is about fashion that they love and then go after that.