Chronicle management unveiled for 2017–2018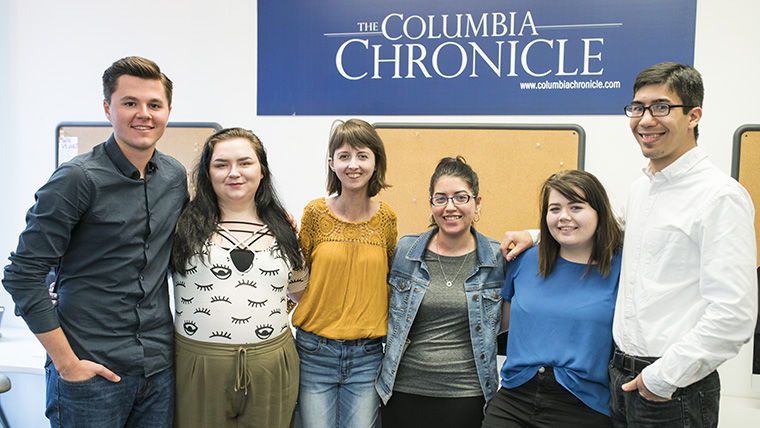 After an extensive application and interview process, The Chronicle's management team for the 2017–2018 academic year has been chosen.
The team,  officially started May 22 and includes veteran Chronicle staff members who have spent one to two years at the newspaper. They are: Editor-in-Chief Zoë Eitel, Managing Editor Eric Bradach, Managing Editor Ariana Portalatin, Digital Content Manager Brooke Pawling Stennett, Ad & Business Manager Charlie Connelly and Art Director Zoë Haworth.
Eitel previously served as Arts & Culture reporter and managing editor; Bradach served as Metro reporter and editor; Portalatin served as Campus reporter and editor; Pawling Stennett served as Arts & Culture reporter and Opinions editor; and Haworth served as graphic designer and senior graphic designer. Connelly is returning to his role as Ad & Business manager.
Len Strazewski, faculty adviser for The Chronicle, said the new team's experience rising through the ranks at the newspaper has helped them become familiar with the college's operations and the production of the paper.
"The new management team reflects the best traditions of The Chronicle," he said. "We are positioned perfectly for another award-winning year."
Strazewski and The Chronicle's Assistant Faculty Adviser Stephanie Goldberg, General Manager of Student Publications Christopher Richert, Communication Department Chair Suzanne McBride interviewed candidates along with members of the previous management team.
"I am honored to work with these amazing students who lend their talents to The Chronicle," Richert said, echoing Strazewski's sentiment about the upcoming year being "positioned for greatness."
The Chronicle is continuing to hire for staff positions in reporting, editing, graphic design, photography, videography and marketing for the Fall 2017 Semester, and the application can be found on The Chronicle's website.