Reflections & Replacements: College talks provost departure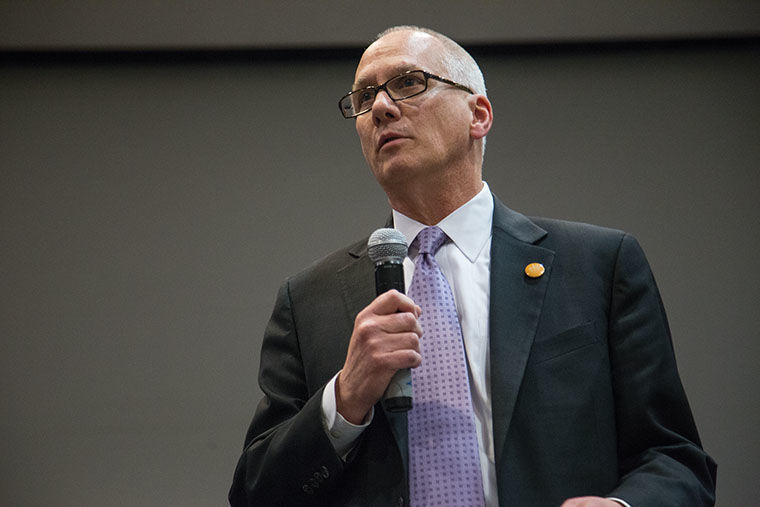 Following President and CEO Kwang-Wu Kim's April 6 announcement that Senior Vice President and Provost Stan Wearden will be stepping down in June 2019, the college community is reflecting on his accomplishments and what work remains for a new provost.
Wearden was appointed provost by Kim on Feb. 26, 2014, and began in June 2014 after the position had been filled on an interim basis for three years, as reported Feb. 28, 2014, by The Chronicle.
Kim told The Chronicle that the provost's decision was not surprising because they agreed to discuss Wearden's future at the college upon nearing the end of his five-year term.
"What we agreed is if he was thinking about stepping down, I need to know so I can think now about the transition. We're great colleagues and I have a lot of respect for Stan," Kim said. "I'm beginning to have the conversation about what he's thinking about next. He's thinking about a lot of different directions, but he's really helped us accomplish a lot, and as I keep reminding him, he's not done yet."
Wearden's duties included implementation of the college's five-year Strategic Plan, approved by the Board of Trustees in May 2015. Along with continuing to execute the plan's goals, Kim said Wearden will also be preparing the college for its next accreditation site visit, which will be next year, according to Kim's April 6 email.
"By the end of his five years [Stan] will have overseen most of the [Strategic Plan's] implementation," Kim said. "The college has an accreditation site visit and those come every 10 years so he will have helped the college through at a very key moment in our ongoing development. Those two things are a very substantial legacy for a provost."
Kim said he hopes that by the time of Wearden's departure from his position in June 2019, the goals set forth in the Strategic Plan will either be completed or underway as the plan is set to be fully completed by 2020.
Kim has already begun to think about the search for a new provost, he said, including who will be on the search committee; Although no decisions have been officially made.
If the timeline goes as planned, the search should start at the end of the summer with the announcement of the search launch, initial candidate interviews in December or January and the announcement of the new provost in March 2019, according to Kim.
"I'm looking for all kinds of diversity in the pool [of candidates]," Kim said. "I have said that as we advance as a college and take further steps on this diversity and equity conversation, it's important as we go into these searches that the search firms grab a hold of that too and help us talk to people who represent the broadest range of experience possible."
Duncan MacKenzie, chair of the Art and Art History Department, said he learned of Wearden's decision in Kim's email announcement.
MacKenzie described Wearden as an incredibly valuable leader and said even though he is saddened by Wearden's decision to step down from his position, the advanced notice will be beneficial to the college as it advances in its new provost search.
"The way Stan has structured this gives us the opportunity to not have interim leadership [and] to continue under his guidance while we find the person who is to replace him," MacKenzie said.
Onye Ozuzu, dean of the School of Fine and Performing Arts and a professor in the Dance Department, co-chaired the previous provost search committee with Kim that selected Wearden.
Wearden's progress implementing the Strategic Plan has set up the college for continuous success, she said.
"He did what he came here to do, and what he was asked to do," Ozuzu said. "This initial building and development phase has been accomplished. As someone who served a pivotal role on his search committee, I do feel as if we got the right person for the job that needed to be done."
Ozuzu said she is grateful that Wearden will still hold the position until his successor is chosen. The college's goals will inform the decision of who will fill the position, she added.
"What I expect to happen is an inclusive, thoughtful and strategic analysis of what the college needs to do next in order to optimize our evolution [and] how we build on the foundation that's been laid these past five years," Ozuzu said. "There will be a process of articulating that vision in order to inform the position description."