Circuit Bending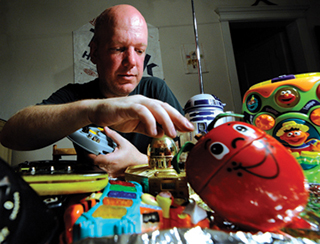 By Jody Warner
September 7, 2008
In a pitch black, classic theater, the words "Roth Mobot" faded in on a 20′ by 20′ screen behind two men dressed in suits. A deep hum grew louder as the two men began to intently fiddle with a table full of twisted electronic toys and circuit boards. A tapping sound grew as the screen faded from "Roth Mobot" to a detailed image of a praying mantis head. A distorted, robotic voice, familiar to that of one produced by a child's speak-and-spell, began saying the words "nauseous" on top of "busy" and "upset." A pounding noise of something like giant wind chimes grew louder. A heavily distorted keyboard scraped out random pitches as the screen faded to an image of a house fly head. The crowd of people remained in an eerie calm as the music permeated their skulls.
At the Bent Festival in Minneapolis, Patrick McCarthy and Tommy Stephenson of the experimental/electronic/jazz band, Roth Mobot, performed a show with what some would never refer to as music. They are just a part of a growing movement of dissecting and manipulating electronics-a phenomenon known as circuit bending, as well as DIY electronics and hardware hacking. And with festivals and workshops focused on the art, the movement is spreading to those young and old, musicians and technicians, artists and engineers and more.
Circuit bending consists of modifying electronics, usually children's toys or battery-powered equipment such as Texas Instruments' "Speak-and-Spells" and Casio sampling keyboards. The goal is to create new instruments by adding knobs or crossing circuits.
Anyone can circuit bend. All it requires is to open up an electronic device and experiment by crossing wires to see what sounds are produced from the toy.
The sounds produced by "bent" instruments are something similar to what one might hear in a sci-fi flick and often have an eerie sense about them, but can vary depending on what the artist intended them to be used for.
Circuit bending is not a genre of music but is the foundation of much experimental and noise music, as well as ghetto-tech, glitch-hop and more.
The movement has been happening underground for more than half a century, but it wasn't defined until Reed Gazhala coined the term "circuit bending."
Gazhala, an innovator of musical instruments, has been messing around with electronics since 1966, ever since a short circuiting mistake he made with a nine-volt plastic amplifier at 15 years old. After his accidental bending, he began to wonder what kinds of sounds could be made if he intentionally short circuited some electronics.
"Other people were fooling around with it at the time, and they were hip to the idea of experimental electronics of the age," he said. "What did I see different? I saw an orchestra while other people saw an instrument."
Gazhala built an instrument out of the amplifier only to have it smashed by the audience while he was performing. Apparently, they didn't like the types of noises the instrument was making, he said. After he repaired it, he encased the instrument in hard cedar. The instrument was then dubbed "The Odor Box."
Forty-two years later, Gazhala has built instruments for various different artists and bands including Simon Garfunkel, Tom Waits, Nine Inch Nails, Peter Gabriel and many more.
The Chicago band Roth Mobot formed in 2005 when McCarthy hosted a circuit bending workshop while bartending, although McCarthy  said he and Stephenson weren't intending to pursue a music career, said McCarthy.
"We've never booked a gig-the gigs booked us," he said. But as their reputation as a band started growing, they often used their performances to promote their workshop.
After being asked about the name almost every time they played, the two settled on the name Roth Mobot. The name of their band came about by accident when they were discussing what it would take to build a moth robot but kept mistakenly saying Roth Mobot. Later, when someone pointed out that it was a spoonerism, McCarthy said he thought, "It makes sense for benders to spoonerize stuff."
In the middle of a performance one night in 2006 at Hotti Biscotti, 3545 W. Fullerton Ave., the audience came up and began to play the instruments, McCarthy said. "Tommy and I went and sat at the bar," he said. "You wouldn't go up on stage and grab someone's guitar. But it makes sense-they're toys. They say, 'Pick me up.'"
After some shows people often ask to buy their CD, but McCarthy and Stephenson insist on selling their instruments instead of CDs because most of the music is improvised.
"Why not just let them make the music themselves?" McCarthy said.
The band only has one song they are able to successfully reproduce in their shows called "Hamburger Drive-Through," he said. All of their other music is improvised. This is one reason the music qualifies as jazz even without the classic instruments, McCarthy said.
As well as designing instruments and performing, McCarthy teaches short workshops about the creativity of circuit bending at the Old Town School of Folk Music, 4544 N. Lincoln Ave.
"Some people ask me, 'What have you made lately?' and I say, 'I made 20 more circuit benders.'" McCarthy said. "I just like to create more circuit benders. That's my passion."
He said he hopes by teaching circuit bending he can help people become creatively self-actualized.
"In our culture, we've been programmed to think that technology and creativity or art are only for a few special people," McCarthy said. "It's not about being a creative person. It's about remembering that we are a creative species."
McCarthy said electronics and technology can be very intimidating to people and said he hopes to demystify electronics.
"I could come up to someone and say, 'Hey, you want to get together and build a one-of-a-kind musical synthesizer?' The first thing that comes to their mind is that there's no way they would be able to do that," McCarthy said. "We're surrounded by all this technology, but everyone is intimidated and frightened by it. If I come up to someone and say, 'Want to drink a couple of beers and break some toys?' immediately they're like, 'That sounds like something up my line.'"
McCarthy often builds his equipment with electronics he finds in the garbage or at yard sales. He said he keeps his craftsmanship low to encourage students to match the level of his equipment or surpass it. If he built incredibly complicated equipment, repainted and with complicated knobs and switches, it would only re-mystify electronics, he said.
"If I show up with a device kind of falling apart a little bit, got to slap it to make it work, people will think, 'That thing is a piece of s–t. I could do that. I could do better than that.'" McCarthy said. "And then I think, 'A-ha! I got you.' Some people bend things really well just to spite me. It's a convenient back door into the field of electronics."
McCarthy said in the future he hopes to be able to teach a DIY electronics course full-time. "You know what Columbia needs?" he said. "It needs a hardware hacking course."
As well as workshops, circuit bending festivals are also springing up.
The Circuitastrophe Symposium in Cincinnati had people from around the country attend the festival, which was recently celebrated for the first time Sept. 4-8.
Mark (1/2 Mang) Shafer, organizer of Circuitastrophe, said the event was first planned to be at one gallery, Semantics, for three days, but slowly. After adding a gallery here and an installation there, it turned into an entire festival with galleries and venues added such as The Contemporary Arts Center, Murmur and the Art Damage Lodge.
At the festival, one of the main highlights is an event where participants build a machine that controls other machines through LED (Light Emitting Diode) pulses, Shafer said. In other words, one machine will send out multiple electrical pulses, which in turn can control other machines-a robot controlling robots.
Gazhala, author of Circuit-Bending: Build Your Own Alien Instruments, is another supporter of teaching the art of circuit bending. He has published extensive instructions on bending instruments which he said isn't a very smart move for him, economically. He would be better off keeping the ideas to himself so he could reproduce and sell the instruments. But rather than capitalize on the market, he just wants to share information on the subject freely and expand the future of circuit bending.
"My finger being on the pulse of circuit bending, I've had a front row seat to the movement," Gazhala said. "We are still at the bottom of the bell curve going up, and the steepest part of the curve is still yet to happen."
Some cool websites to check out about circuit bending:
The Man, Reed Gazhala: Anti-Theory.com
The Band: RothMobot.com
The Workshops: RubberMonkey.org/CircuitBending
The Instruments: Alien-Devices.com
The Festivals: BentFestival.org and GetLoFi.com
sschnarr@chroniclemail.com