Cosmic Bikes gives cycling duo fresh start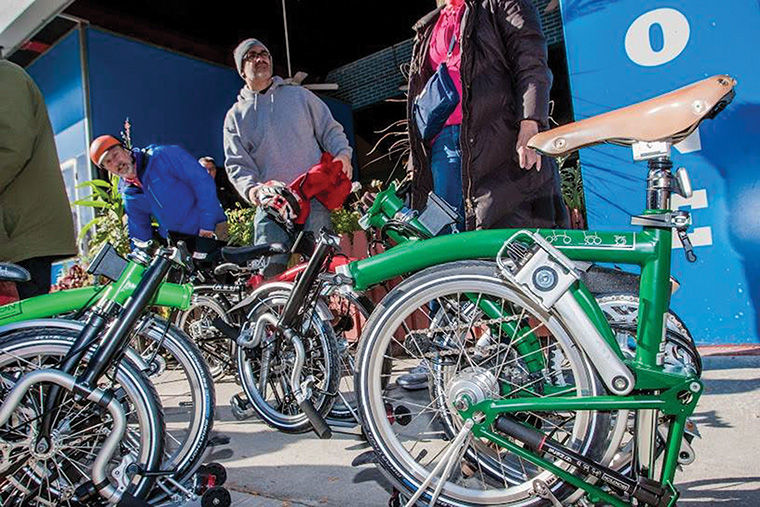 By Arts & Culture Editor
April 11, 2016
The closing of Rapid Transit Cycleshop last February deflated the city's cycling community like air rushing out of a flat tire.
However, just weeks later, Justyna Frank and Chris Stodder, the husband and wife co-owners, announced plans to open Cosmic Bikes, 4641 N. Milwaukee Ave., in Chicago's Jefferson Park neighborhood with hopes to open its doors by late April.
Located in Wicker Park, Rapid Transit was widely regarded as one of Chicago's first shops to feature bicycles as a means of transportation rather than a mere recreation. Since the store opened in 1994, the city's cycling community has grown exponentially and similar cycling shops have opened, including Blue City Cycles, 3201 S. Halsted St., and Boulevard Bikes, 2535 N. Kedzie Blvd.
Adam Petriatis, a salesman at Boulevard Bikes and former employee of Rapid Transit, said  while the old shop was a casualty of rising rent rates and neighborhood gentrification, the opening of Cosmic Bikes is a way for Frank and Stodder to spread the cycling movement to a new area.
"Prices will rise until people are priced out, and the cycle will keep repeating," Petriatis said. "It's a bummer what Wicker Park is turning into. But it means the creative people will just do cool things elsewhere."
When Rapid Transit first opened, Wicker Park was a completely different neighborhood, Frank said. Still a slightly grungy, edgy area, the neighborhood was a far cry from the "Saved By The Bell"-themed cafes and frozen yogurt shops that line the sidewalks today.
"I guess we were seen as the 'gentrifiers' at the time," Frank said. "The difference between what was happening then and what's happening now is the businesses that were moving in were locally owned. Right now, you see a lot of banks and national chains. That's quite a difference from what it was 20 years ago."
Bicycle ridership has not always had the biggest fan base throughout the city, Frank said. Anti-bike lane sentiment abounding. For example, uproar ensued from a 2014 proposal by Alderman John Arena (45th Ward) to create safer bike lanes. The influx of Divvy Bikes has also made cycling's appeal far from universal in the city.
"That bicycles are not welcome as viable vehicles everywhere in the city is no news to us," Frank said. "We have been dealing with that as long as we've been in the business. That's not necessarily a deterrent. It's a reality in every neighborhood. Certain people have the mindset that bicycles don't belong on the street."
The Jefferson Park cycling community is far smaller than that of Wicker Park, but Stodder said he is hopeful Cosmic Bikes will appeal to the neighborhood's under-served cyclists.
Stodder said he sees Cosmic Bikes as a fresh start. After running Rapid Transit for more than 21 years, he remains sentimental about the old shop. But at the same time, Stodder said the thrill of having a new slate still has not dissipated.
"I still feel like I have something to contribute to the cycling community," Stodder said. "It's all happening in a period of months, and I've had this range of emotions of dread and terror to hopefulness. I haven't completely stopped mourning the loss of Rapid Transit, but I'm starting to feel good about Cosmic Bikes."