P-Fac labor audit exposes violations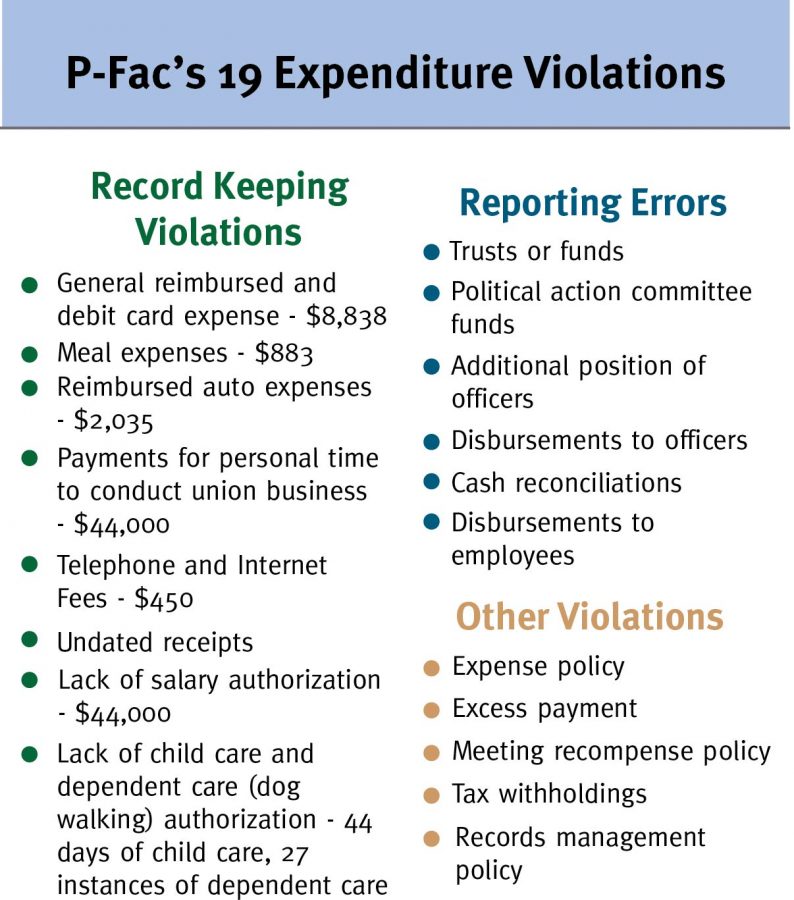 P-fac, Columbia's part-time faculty union, has undertaken measures to restructure its expense reporting following a recent audit by the U.S. Department of Labor that found nearly 20 violations of recordkeeping, reporting and other financial requirements between 2013-2014, according to union President Diana Vallera.
In a May 26 audit letter from the DOL's Office of Labor Management Standards, an unidentified field investigator outlined problems such as failure to retain adequate documentation for debit card transactions and for $44,000 in salary payments to officers and members conducting union business. Also noted were payments made for meals, mileage, phone and internet without itemized receipts to support them, a lack of written authorization for child care and dog walking expenses and a receipt for a cab ride that, according to the investigator, had been hand-altered.
Recordkeeping and reporting statutes for unions are outlined in the Labor Management Reporting and Disclosure Act, a law that clarifies how unions should document expenses, according to Michael Purcell, director of the Chicago District Office of the Office of Labor-Management Standards.
"The unions have to keep records to support all their income and disbursements," Purcell said. "The organizations are also required to file on an annual basis financial reports based on the amount of money they bring in."
Vallera, who is also an adjunct professor in the Photography Department, said the violations resulted from P-Fac's former parent union, the Illinois Education Association, failing to provide training on proper recordkeeping practices and access to union accountants. The period of time investigated in the audit was prior to P-Fac's January 2015 disaffiliation from IEA.
"This is a reflection of the service we received from IEA," Vallera said. "Since the recordkeepings, those tax reports were all done in the same way. In fact, many of those people were trained with IEA and were all improperly done. That reflects the training from IEA because we followed what their training was at that point. Now we know that training was improper."
Beverly Stewart, chair of IEA's Higher Education Council, said Vallera is blaming the IEA for P-Fac's violations, but it is the responsibility of the local unions to accept help from the parent union, which includes regular training sessions and access to the parent union's accountants—both of which she said P-Fac did not avail itself.
"It's troubling she's so willing to blame other people for her errors," Stewart said.
Michael Persoon, attorney at Despres, Schwartz and Geoghegan, Ltd. who represents P-Fac, said violations are commonly found in most union audits due to the complexity of the federal statute for recordkeeping.
Nancy Traver, an adjunct professor in the Communication & Media Innovation Department and a member of P-Fac's steering committee, said the union needed guidance in terms of how to run its finances—something Traver claims P-Fac did not receive from IEA.
"The issues that the DOL pointed out in their response were just honest mistakes," Traver said. "People failed to write down something on an expense report—there was nothing purposeful. Either mistakes [were made because of] human error [or] people failed to report something [that] in most cases [was a] very small amount of money."
In compliance with the audit, P-Fac has since hired a certified public accountant and properly filed its LM-3 tax reports a second time, Vallera said. She added that if a similar audit were to occur following the disaffiliation, results would be better.
Stewart said while it is common for unions to make recordkeeping mistakes, some detailed in the audit letter, such as those for dog-walking services, suggested laxity in use of the union's dues money.
"It's other people's money and it's not their personal bank account," Stewart said. "I think they forgot that."
Vallera said they were never told by IEA that dog-walking expenditures were improper.
According to Purcell, the DOL does not instruct unions on how to spend their funds, but inspects to see if those expenditures are properly authorized by members and have records to support it.
The audit reports that P-Fac executive committee member Susan Tyma, an adjunct professor in the Science & Mathematics Department, received reimbursement for a taxi expense for $25.65, but a copy of the receipt that shows the fare was originally priced at $5.65 had been "hand-altered to reflect $25.65."
Vallera declined to comment on the report of a hand-altered receipt and Tyma did not respond to requests for comment, but Persoon said he does not think anything inappropriate was involved.
"I wouldn't speculate as to what actually happened whenever that receipt was created, but I'm pretty confident that nothing improper happened," Persoon said.
However, according to Stewart, hand-altering receipts is not proper protocol.
"The receipt reflects what you pay," she said.
Jim Nagle—an adjunct in the English Department, a P-Fac member and a member of Columbia Adjuncts United, a P-Fac opposition group—said he disagrees that the audit's results are unremarkable. He said union members deserve a thorough explanation of the cited violations, and the mass email they received from Vallera Aug. 18—nearly three months after she received the closing letter—was not sufficient.
Nagle agrees the union members should be reimbursed for time conducting union business, but he thinks some of the additional expenses are "troubling" and reflect a concern for the convenience of executive committee members.
"The [DOL] letter makes it clear that they didn't provide adequate receipts and on some occasions turned in receipts that weren't accurate and were inappropriate" Nagle said.
Nagle said he worries most members are not fully aware of the audit letter's content, which CAU has posted on its website. He said he thinks as the semester progresses, the details of the report may inspire other adjuncts to run for office in the fall, seeking a change in P-Fac's leadership.
Vallera said she is available to members who have concerns about the audit, but is not particularly worried that adjuncts will be upset by the results, as they have already disaffiliated from IEA. She also said she is not worried that it will affect her presidential status.
"My number one concern is members not getting courses, proper assignments and [ensuring] the quality of education," Vallera said. "It's the stuff we've been fighting for that's on our mind the most right now."