'Burnt out' students struggle with cancellation of Spring Break; faculty leaders say they were not consulted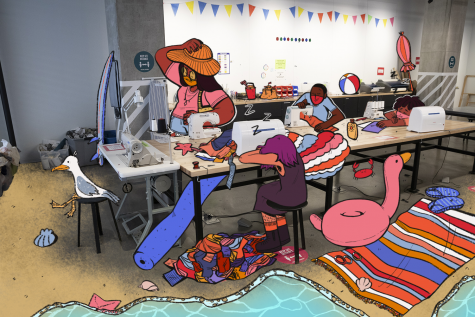 Students like Gabrielle Pelayo were looking forward to taking a break from classes and having the chance to relax for a week. However, due to a new initiative at the college, she will not get the opportunity just yet.
Because she works on the weekends and does not have time to herself, Pelayo said she feels drained mentally and needs time off from schoolwork.
"I really hope this is just a temporary thing," said Pelayo, a freshman double major in creative writing and acting. "If this persists, I'm not sure if I am going to survive."  
As students and faculty approach the middle of the semester, many, like Pelayo, are in need of a break from Zoom and approaching assignment due dates.
But in November, the college announced that during the Spring 2021 semester there would not be a Spring Break—initially scheduled for the week of March 29—instead adding "Making Week" in May. Faculty leaders say they had no input in the decision.
THE INTRODUCTION OF MAKING WEEK
Making Week will take place right before the final week of the semester and will be a week when no classes take place and no assignments are due.
The Office of the Provost sent out an email in November describing what Making Week will entail, but some students and faculty are unsure how a break near the end of the semester makes up for the absence of a break mid-semester.
Representatives from campus groups such as the Faculty Senate and Columbia's part-time faculty union CFAC said they were not included in the decision-making process.
Diana Vallera, an adjunct faculty member in the Photography Department and president of CFAC, said while she recognizes the decision was right at the time because the college needed to plan ahead, it is disappointing that CFAC was not consulted, as it is another large scale decision made by Columbia.
"When you have stakeholders, when you have unions and student [and] faculty groups, those leaders have to be invited to the table," she said. "That really was highlighted during the pandemic when we had to bargain for safety issues."
Senior Associate Provost Nathan Bakkum said the decision to eliminate Spring Break and introduce Making Week was made in November so faculty could begin planning their courses accordingly, and students would be aware of the updated academic calendar.
Bakkum said that in November, the COVID-19 positivity rate in Chicago was between 10% and 15% and the city had imposed strict travel restrictions. 

"Those travel restrictions were really key to this decision," he said. "The safety of our community is the number-one consideration in all of our planning through the pandemic."
Bakkum said the college is not equipped for students to quarantine, specifically in residence halls, as there was a concern that students may travel out of state for Spring Break as travel restrictions changed.
THE REACTION
Jenn Lee, a graduate student in the English and Creative Writing Department and a graduate student instructor for "Writing and Rhetoric II," said the college should not get to decide what young adults do during Spring Break.
"I didn't like the decision ahead of time, and now that I'm in the middle of [it] … I really don't like it," Lee said. "I understand the impulse, but … for an institution that publicly and fairly loudly [expresses concern] about mental health and student health, it seems like a very strange decision to me."
Sean Johnson Andrews, associate professor in the Humanities, History and Social Sciences Department and Faculty Senate president, said the Faculty Senate was told the college was making this decision, but they were not asked to give input.
"We were told, 'This is what we're thinking,' and we said, 'We don't know about that,' and they said, 'Well, it's probably what we're going to do,'" Johnson Andrews said. "And that was about it."
He said Faculty Senate members have brought up concerns about this decision a few times during Campus Reopening Task Force meetings and have asked the college to create a more formal pause in the semester, but administrators have not been receptive.
The Assessment Task Force, which includes representatives from Student Affairs, the Office of the President, Strategic Communications and other offices across campus, was consulted in the decision, Bakkum said. He said the President's Cabinet, the Office of the Registrar, Academic Advising and several department chairs were also part of the decision. Bakkum said he did not have the names of the specific department chairs involved.
Patricia McNair, an associate professor in the English and Creative Writing Department and Faculty Senate member, said she learned about Making Week the same way as other students and faculty—in the email detailing the college's plans for the spring semester.
While McNair understands the administration has a lot on its plate due to the ongoing pandemic, she said it felt like the decision was "made for us and not by us."
"I find that very frustrating," McNair said. "It was a decision that was made … without our input, and there was no way at that time to say, 'I don't really want to do that with my class.'"
Guy Villa, assistant professor of instruction in the Graphic Design Department, said in his discussions at the end of classes, he found that many of his students were disappointed they did not get a Spring Break.
"I think a lot of [students] use this [break] to decompress," Villa said. "I could already tell students were getting burnt out and they were looking forward to that week to take a breather, and now we aren't really going to get it."
Bakkum said it is important to think about "how to build some rest into the flow of the class," as this has been a focus in his conversations with faculty about the absence of Spring Break.
"[This is] … so that there is that time for intense focus, and some time for students to back off and reflect a little bit," he said.
Vallera said she recently emailed the Office of the Provost inquiring whether adjunct faculty would be required to work during Making Week and be available to their students after receiving inquiries from CFAC members. While there will be no classes held, Vallera said the college informed her that faculty should still communicate with their students during Making Week.
THE RATIONALE
Bakkum said Columbia has thought of creating Making Week in the past when it considered introducing a more formal finals week. He said Making Week is based on the model of Reading Week that other institutions use, such as Northwestern University and Harvard University.
The purpose of Reading Week is to grant students an opportunity to dedicate time to focus on final assessments and projects for their courses, Bakkum said.
However, he said because a traditional reading week would not work the same way at Columbia, the college is calling it Making Week and giving students the opportunity to focus on finalizing projects while campus facilities remain open.
Some colleges, like Northwestern University, have both a Spring Break and Reading Week included in their academic calendar.
Bakkum said while the college explored other options, such as isolated non-instruction days throughout the semester, it decided on Making Week to ensure the safety of the Columbia community and leave courses that are not a full 16 weeks unaffected.
Some students and instructors are still confused by the decision.
AlJoya Hall, a junior technical theatre major, said it is always around this time of the semester when she feels like everything begins to "intensify." In the past, she has used Spring Break to relax and not think too much about school work.
"Usually after Spring Break is when everything starts piling up," Hall said. "So the fact that we don't have that breather time, and we have to jump right into everything toward the end of the semester isn't really helping us mentally or physically."
Villa said having a week off before finals week throws off his schedule because his class now has to complete final projects sooner.
"By having [a break] at the end of the semester, we lose a week," Villa said. "It doesn't make a lot of sense, because it really just eats into the productivity and creativity of the semester."
LOOKING FORWARD
In the future, Bakkum said there will be an ongoing conversation about whether or not Making Week will continue in spring semesters to come. If Making Week were implemented alongside a Spring Break, the college would potentially have to extend the academic year, which could be an issue due to the timing of Columbia's summer sessions and J-term.
McNair said the best way for students and instructors to get through a semester without a break is to continually communicate with one another.
"If students are at the point where they really need a break, they need to talk to their teachers," McNair said. "We don't intend to make it harder on anybody, because [then] it's only harder on ourselves as well."