'Bubba's Block Party' celebrates first ever Chicago NASCAR race, community discusses impact
Over 100 NASCAR fans and newcomers enjoyed everything from pit crew demonstrations to a live musical performance by Lupe Fiasco at "Bubba's Block Party" at The DuSable Black History Museum on Wednesday, July 28. NASCAR driver Bubba Wallace hosted the Hyde Park event in celebration of Chicago's first NASCAR street races, to be held on Saturday, July 1, and Sunday, July 2.
Families tested remote-controlled cars, purchased NASCAR merchandise and ate and drank in the yards surrounding the museum. A handful of Black-owned business vendors sold clothing, handbags and jewelry.
Chicago native Alandis Phillips was at the block party and said the event, as well as the NASCAR races coming to Chicago, brought a "beautifulness" to the city.
"We've got tourists from all around the world coming to Chicago for a positive reason, right? So you get events like this that are a benefactor of that," Phillips said.
Jaemin Robertson said he was excited to see the economic opportunities NASCAR may bring to Chicago, proposing that it may one day be an annual event, and expose young people to the sport.
"Not only in an event like this which exposes it to other people who may not be the biggest fans of racing but give them all a chance, an opportunity to kind of think about like, 'Man, maybe I wanna race someday,'" Robertson said.
Some people were more skeptical about the impact of NASCAR in Chicago. Tonal Simmons said they were concerned about what areas in particular would benefit.
"I'm more curious, 'Where is the revenue going?', 'How is it actually going to give all of Chicago?' especially if we're having events like this out here with the community, How are we giving back to them?" Simmons said. "You know, car racing is great, and people also need resources."
Emanie White said Chicago does not have a track record of investing beyond the downtown infrastructure.
"I think that Chicago invests in downtown Chicago, and this event [the race] invests in downtown Chicago and if you're talking about, 'Does this impact Black Chicago?' Not really," White said. "And so I think in that regard, it's just like any other event that comes to Chicago."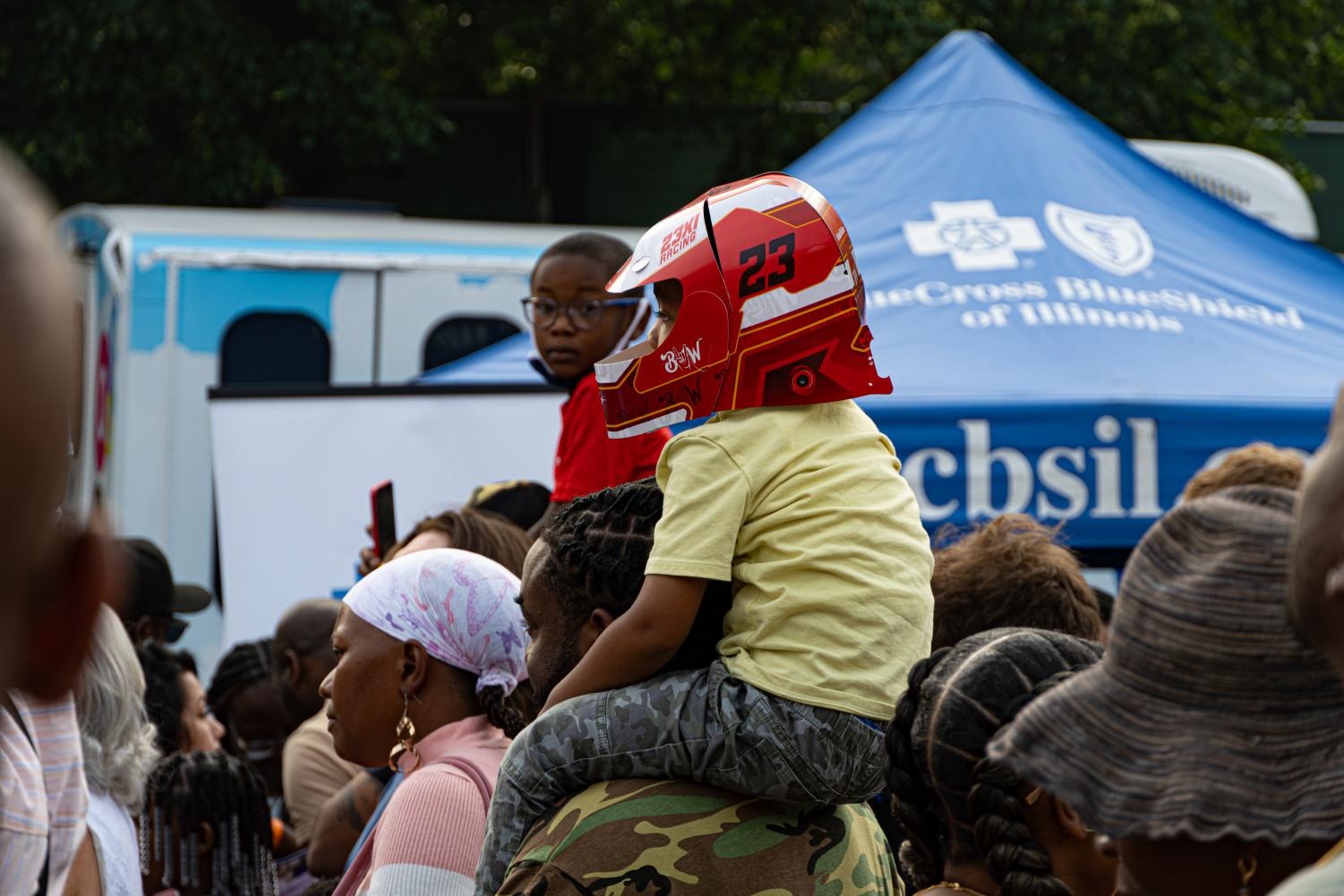 Both races on July 1 and 2 will feature trophies designed by Chicago artists Nicole Beck and Thomas Lucas. Lucas' trophy will be given to the winner of the Grant Park 220 to take place on July 2. He spoke at "Bubba's Block Party" and said his design was inspired by the city of Chicago itself.
"It's a beautiful city. It was really important for me to showcase Chicago as almost a point on the map. And the shape of it has a lot of speed, but it also is a funnel that sort of brings everything to a point," Lukas said.
Charisse Thompson said NASCAR races and events like this would bring people together.
"This event is actually awesome because, you know, NASCAR is not typically a huge event in Black communities, but this outreach is doing a wonderful job," Thompson said.
Chicago Street Course President Julie Giese said she was proud to be a part of Chicago.
"We're so excited to be able to make history this weekend here in this amazing city," she said.