Bridgeview's 'Palestine Fest' celebrates Palestinian culture, keeping history and traditions alive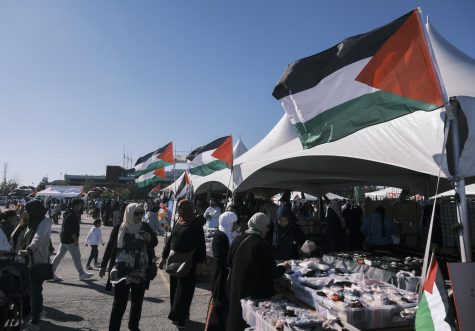 "The old will die and the young will forget," said David Ben-Gurion, Israel's first prime minister, about the Palestinian people in 1949. But the young have not forgotten as the older generations relay the culture, language and history to the younger generations of Palestinians around the world.
Bridgeview's second annual Palestine Fest took place at SeatGeek Stadium Oct. 1, with speeches from Palestinian-American comedian and political activist Amer Zahr, performances from the traditional Palestinian dance group Alsalam Dabke and Palestinian singer Fadi Hanani, and poetry readings from Aysha Affaneh.
Attendees say immersing in and interacting with the history, culture and people keeps the Palestinian resistance alive. Younger Palestinians at the event spoke with the Chronicle about the resistance, and how they keep the culture alive within the Palestinian community living in the Chicagoland area.
Salaam Khater, the president of the University of Illinois at Chicago's chapter of Students for Justice in Palestine, stood in front of the SJP stand at the Palestine Fest, conversing about the group and its mission with the many attendees at the event.
According to Khater, Students for Justice in Palestine is a secular, solidarity organization with the purpose of organizing for Palestine's human rights that are violated by the settler and apartheid state of Israel.
"We also advocate for the self-determination of the Palestinian people, and we do a lot of on-campus work to boycott and divest from Israeli institutions and make sure our school's money is going to the right places," Khater said.
SJP hosted multiple events within the past year including discussion panels, "101" courses on activism and SJP, and events highlighting Palestinian culture and symbols of resistance.
Beyond events done at UIC, Khater spoke about the importance of individual Palestinians passing down the culture, language and practices to the younger generations.
A practice Khater said is key for younger Palestinians to remember is "Tatreez," an embroidery technique older Palestinian women use as a piece of self-identity. Khater said Tatreez is one of the biggest signs of resistance and solidarity, especially from women.
One of the most important subjects Khater believes needs to be shared among Palestinians living outside of the country is the language. Khater said being born and raised in America made families stop using their native tongue, which can be lost within growing generations the less it is used.
"I speak the old language, which is called 'Fallahi,'" Khater said. "Not a lot of people speak that language anymore, and I continue to do so because that is my ancestry. … If we lose our language, we lose our identity."
Hashem Said, a representative for the Chicago Palestine Film Festival, a nonprofit institution showcasing stories made for and by Palestinians, talked about the organization and his own Palestinian background at Palestine Fest.
The Palestinian film festival was first established in 2001 and is run by volunteers from a variety of occupations. All committee members are Palestinian, but the film festival welcomes volunteers from all backgrounds.
For Said, events like Palestine Fest, along with the film festival, allow Palestinians to create and showcase their own voices that combat the image established for Palestinians by others.
"I feel like it is important to give ourselves a voice. Normally, it is other people who control the narrative," Said said. "With the film festival, we are given the opportunity to tell our own stories and to control our own narrative. That's a very powerful tool because we are no longer allowing other people to dictate how Palestinians are portrayed — we portray ourselves."
Sadeen Mizyed, a freshman at Universal School in Bridgeview, attended Palestine Fest as a representative for Yalla Shabab, an organization geared toward and run by high schoolers in the Chicagoland area. Funded by American Muslims for Palestine, the activist group plans events for high schoolers to involve themselves in the culture and history of Palestine.
When asked why Mizyed attended the fest, she mentioned the struggles she has seen her family go through as Palestinians. She said she hopes to never see her family go through these struggles again.
"People don't understand that it is not a war, it is an occupation," Mizyed said. "Zionism is run and funded by other countries … but all Palestinians have is their voices."
Mizyed said important actions people can take in keeping the Palestinian resistance going are spreading awareness and talking about the history of Palestine.
American Muslims for Palestine created Palestine Fest to allow Palestinian practices to be experienced, culture to be shared and history to be taught to the younger generations of Palestinians in the area.
"If we the younger generation forget … Palestine will never be free," Mizyed said.