BREAKING: Staff union votes to ratify new contract, averting possible strike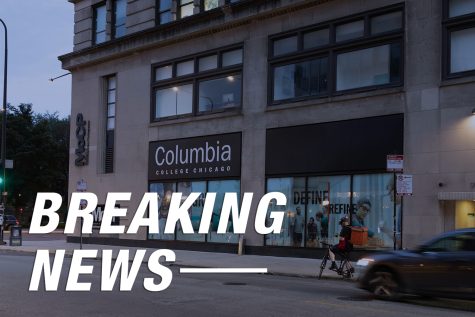 A new collective bargaining agreement between Columbia College Chicago and the union representing staff employees has been ratified, with 98.8% of voting members in favor of the new contract.
The Friday vote eliminates the possibility of a staff strike.
The contract went into effect immediately upon ratification and will expire Aug. 31, 2024.
The United Staff of Columbia College's previous contract expired Aug. 31, 2018, and the staff has continued to work under the expired terms since. The union sent a notice Nov. 15 which would have invalidated the terms of the previous agreement, allowing the union to call a strike as early as Jan. 15.
USofCC's membership includes full- and part-time staff of the college who work outside of the classroom.
Under the new agreement, actively employed members will receive a series of retroactive pay increases for each year – covering Sept. 1-Aug.31 – since the expiration of the last contract: 1.5% for 2018-2019; 1.5% for 2019-2020; and 2.75% for 2020-2021. These retroactive pay increases will be given in a lump sum payment within 90 days of the contract's ratification. Payments will vary per employee depending on current salary and date of hire.
The contract also includes a pay increase of 4.75% for the current fiscal and contract year – Sept. 1, 2021-Aug. 31, 2022 – part of which will be distributed as a lump sum payment to cover the months that have passed.
Union members will receive a raise of 2.5% for both 2022-2023 and 2023-2024.
The initial payments from the college will include a signing bonus of $1,500 for full-time employees covered by the contract and $750 for part-time employees.
Craig Sigele, president of the USofCC and academic manager in the Communication Department, said the union had initially asked the college to remove the signing bonuses in favor of having the money put into the overall raise.
On Dec. 3 the college sent an email to faculty and staff with the college's offer to the union, including the potential signing bonuses. The following week, USofCC members voted to not accept the offer included in the email. Sigele said the union's bargaining team was then able to negotiate for an additional increase in compensation and other improved terms in addition to the signing bonus offered by the college.
A joint statement from the college and union's negotiating teams on Dec. 22 said both sides were "very pleased" that an agreement had been reached, saying "both teams worked hard to reach this point and will collaborate over the coming days to finalize a contract that reflects a shared vision and investment in the staff and future of our institution."
The new agreement also locks healthcare costs at the 2018 rate through 2023, after which costs will increase. Sigele said the costs will then increase slightly for single individuals and "more significantly" for families.
The contract also includes the addition of five paid personal days off each year and four weeks paid parental leave, along with four weeks paid caretaker leave. The contract also states that the college will allocate $20,000 a year for professional development funds, with individual members able to apply for up to $500 for developmental opportunities.
Sigele said a highlight of the new contract is that employees will be able to contact Human Resources directly for position and salary evaluations instead of going through their supervisor.
"When [members] may feel like they've taken on additional work or that their job has changed significantly, before they had to go to their core supervisor, who didn't really have a schedule of when they had to have things completed," Sigele said. "So we had a lot of members waiting for their supervisors to get things to HR because, you know, they're busy, too."
The new agreement establishes a schedule which requires Human Resources to respond in a set amount of time.
The contract also established an increased severance plan for members who have been employed for 10 or more years. Under the old agreement all laid-off employees received a 90-day notice and two weeks severance pay. Under the new agreement, members who are asked to work half of the 90-day period will receive four weeks severance and members asked to work the full 90 days receive six weeks severance.
Sigele said this was added after Mary Matucci and Michael Bright, who worked for Columbia a combined 62 years, were laid off with two weeks' severance.
Sigele said there was a membership meeting Wednesday to go over the agreement, and he said members were "encouraged" by the new contract.
"People are very excited," Sigele said. "And they're really energized by it. We've had a lot of interest in becoming more active in the union, people wanting to get on committees. Because we're back at the table in another two years."
The Chronicle attempted to contact a college spokesperson for comment, but was not successful as of publication Friday evening.
Sigele said the union is satisfied with the final contract but hopes future negotiations will take less time.
"Although the final contract is very good, it's not healthy to have a huge lump sum payment," Sigele said. "It's not great for your taxes, and people shouldn't go that long without a raise. So hopefully, going forward, the union and the college have more efficient negotiations."