BREAKING: J.B. Pritzker reelected as Illinois governor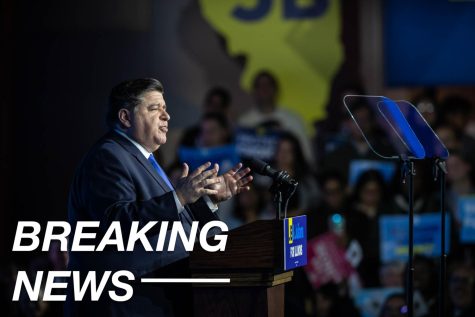 Often seen as a symbol for transformative change, the day began with a total lunar eclipse of a full super blood moon and ended with J.B. Pritzker reelected as governor of Illinois, coming out on top against opponent Republican state Sen. Darren Bailey. 
The AP projected Pritzker's win immediately following the close of the polls, with the incumbent governor leading Bailey by 13 points as of 11 p.m. 
To a warm, welcoming and cheering crowd in a ballroom at the Marriott Marquis hotel, Pritzker delivered his victory speech to attendees, despite Bailey not yet publicly conceding. 
Bailey called Pritzker to concede at 9:30 p.m.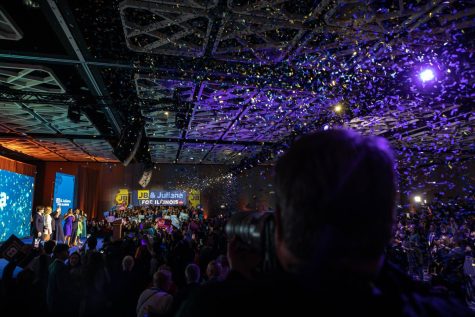 "I'm grateful tonight that Illinois continues a long tradition of peaceful and fair elections, and I'm so thrilled to spend four more years serving as your governor," Pritzker said.
Pritzker reminded the crowd of what has been accomplished under his administration, and he was met with people chanting, "J.B.! J.B.! J.B.!" and "Four more years!" 
"We raised the minimum wage to a livable wage; we guaranteed a woman's right to choose. … We expanded healthcare to half a million more people, increased college scholarships for 26,000 more students and we legalized cannabis," Pritzker said.
Calling out the former President Donald Trump, Pritzker recalled how Trump left a "wreckage" from his presidency, saying, "Here we are, two years into cleaning up."
"To the fake patriots and their enablers: You don't love the United States if you're not willing to defend it against a man who would destroy it," Pritzker said. "Donald Trump is the modern embodiment of tyranny that our founders feared the most."
Pritzker recalled how he told voters four years ago about his mother's battle with alcoholism and how she chose to fight, and that he also promised to fight. 
"I choose to fight to protect Illinois families. I choose to fight for workers. I choose to fight for women's rights, for civil rights, for voting rights. I choose to fight for the better world imagined by those who never let their hopes be reined in by their experiences," Pritzker said.
Before taking the stage, Pritzker was congratulated and praised by his running mate, Lt. Gov. Juliana Stratton, on being elected to serve four more years. 
"J.B., in 2017 I said yes to your vision, leadership and commitment to getting Illinois back on track," Stratton said. "Tonight, we celebrate that despite the efforts of those who continue to try and silence our voices, we have once again prevailed."