BREAKING: CPS moves to remote instruction for first quarter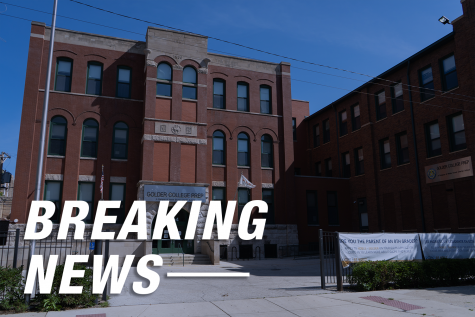 All Chicago Public Schools will officially go fully remote for the start of the fall quarter after immense pushback from teachers unions and parents, Mayor Lori Lightfoot and the district's CEO announced in a press conference and statement.
In the statement released Wednesday, Aug. 5, Chief Executive Officer Janice Jackson said before the second quarter of the school year, the district will assess the state of the coronavirus and the safety of switching to a hybrid learning model, similar to what was proposed in their preliminary reopening framework.
As reported by the Chicago Sun-Times Tuesday, Aug. 4, the school district originally planned to have students attend in-person classes two days a week, while participating in remote learning other days of the week.
Officials said this model would help mitigate the spread of the coronavirus and still ensure students receive critical in-person instruction and school services such as meal plans, according to Block Club Chicago.
Now, in switching to remote learning for the first quarter, families can expect to receive a final reopening framework with detailed expectations by this Friday, Jackson said in today's statement.
"We remain committed to helping every student reach their full potential, even under these unprecedented circumstances, and we are confident that with your support, CPS will remain a school district on the rise," Jackson said.
Teachers have continuously pushed back against a hybrid model, demanding solely remote instruction for the fall. The day before this announcement, there were various reports of the school district planning to announce the switch today, as reported by WTTW.
The decision to make the switch is abrupt as just last week city officials told families to decide by Friday, Aug. 7 if they wanted their children to take part in in-person instruction, according to the Sun-Times.
Last week, the district said parents who chose remote instruction would have to stick to that decision through the first quarter of the school year, which ends Nov. 5, but parents who picked partial in-person instruction could opt-out at any time.
It was also planned that students who were to take part in remote instruction would only be offered live instruction one day a week on Wednesdays.
"The district said attendance will still be tracked the other four days, and kids will be expected to 'engage in a minimum of five hours of instructional activity' those days," according to the Sun-Times Friday, July 31.
While the Chicago Teachers Union put pressure on officials to make the switch and threatened to strike, "a city source emphasized the decision had nothing to do with a potential teachers strike," the Chicago Tribune reported Tuesday, Aug. 4.
Though the district will opt for remote learning initially for the first quarter of the school year, it is currently unclear when students and teachers will return to in-person instruction.
This issue is not limited to CPS, as staff and faculty from Columbia have voiced concerns about the start of the school year in other districts. Jennifer Sadler, an assistant professor in the Business and Entrepreneurship Department, will host a Columbia College Chicago Parent Meetup at 10 a.m. CDT Thursday, Aug. 6 over Zoom for Columbia parents to voice concerns about the upcoming Fall 2020 semester.
More updates to come.