BREAKING: Columbia will serve as a vaccination site for employees, students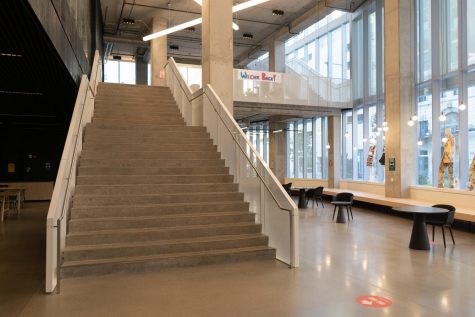 As COVID-19 vaccinations become more available in Chicago, the college announced it will be a vaccination site for employees and, later on, students.
In a Thursday, Jan. 21 email to faculty and staff, co-chairs of the Incident Assessment Task Force Ron Sodini, associate vice president of security, and Laurent Pernot, chief of staff, said the goal is to provide vaccines for students and employees while "adhering to the priority groups designated by government health officials."
Getting the vaccine will be voluntary and not required for members of the Columbia community. 
According to the email, the college will receive doses of the vaccine from the city of Chicago and/or the state of Illinois, and vaccinations will be handled by CareATC. While vaccinations will be free for members of the Columbia community, employees can also be vaccinated elsewhere. 
The college will offer vaccinations to its community members in four phases based on the following state and city guidelines: 
–Phase 1A: Healthcare personnel including those in hospitals, outpatient providers, EMS, labs, mortuary workers, home health care and pharmacies and long-term care facility staff and residents.
–Phase 1B: Frontline essential workers including correctional officers, first responders, manufacturers, educators, those working in grocery stores, the U.S. Postal Service, food and agriculture and public transit, and people 65 years or older.
–Phase 1C: Other essential workers not included in Phase 1B and people aged 16-64 years old with high-risk conditions. 
–Phase 2: All people aged 16 years and older not in Phase 1 who are recommended for the vaccine. 
The email said Columbia will communicate with employees who are eligible for the vaccine during each phase and send a confidential survey to help determine how many vaccinations are needed, a process which was recommended by partners at Rush University Medical Center. 
The survey will be sent in the form of an email from the office of Institutional Effectiveness with the subject line "COVID-19 Vaccination Survey."
Currently, vaccinations are in Phase 1A, which includes Columbia's Student Health Center workers, for whom immunizations have already started, according to the email.
Phase 1B will start in the state next week, and will include the college's security personnel and all employees aged 65 and over. 
The email said the college has had several meetings with health officials, but does not have projected dates for when Phase 1B immunizations will begin at the college itself. 
Higher education is included in Phase 1C, and the college has been told by state officials that vaccinations for this phase will likely begin later this spring or this summer. 
But, because some faculty and staff members will be working in-person with students during the spring semester, the college has renewed its requests made in 2020 asking the state to include college educators in Phase 1B, which currently includes just K-12 teachers and staff.  
As for students, the email said that under the city and state's vaccination plan, those with health conditions that make them susceptible to COVID-19 will be eligible for the vaccine in Phase 1C, and all other students will be eligible under Phase 2.
The vaccinations provided by the college will likely be the Moderna vaccine, which will require two doses, 28 days apart, according to the email. If a member of the Columbia community receives one dose on campus, they cannot get the other dose from another provider. The college will also not provide a second dose to people who receive their first dose elsewhere.
 More updates to come.