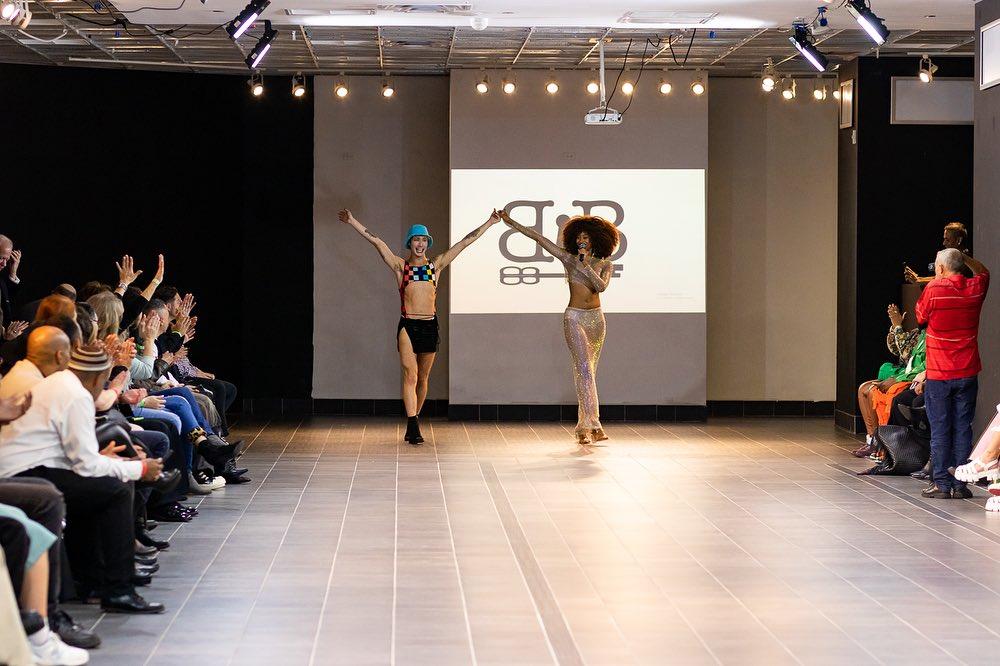 Columbia alum Brandon Brown is designing clothes to represent inclusivity and fluidity with garments like the one they modeled at a recent Chicago Fashion Show event. The "fast lane body suit" featured crochet accessories and is included in Brown's latest collection.
Brown graduated from Columbia in December 2022 after studying fashion design and fashion styling. Their work, which features trendy pieces that they manipulate, is inspired by dance and queer culture in Chicago. "When I started designing after Columbia, I wanted to be very purposeful. A lot of my stuff is pulled from festivals, EDM, club life, and queer life. Chicago offers that. I wanted to appeal to the people around me," said Brown, who is from Huntley, a northwest Chicago suburb.
With inclusivity being the buzzing word in the fashion industry, designers and brands are rethinking what it means to be inclusive. Brown's show did exactly that, with their models ranging from all genders, shapes and ethnicities. The pieces dazzled on the runway with skin-tight silhouettes, crochet flare and frisky checkered, floral patterns that can be worn on a night out in town, in the office, or on the street.
Brown, who is non-binary, said their identity also factors into their work. "Because of who I am, non-binary just seem to always circle back when I am designing, so I design a lot of nonbinary garments, Brown said.
With a new collection launching Wednesday, Nov. 1, Brown is making garments for everyone. "My new collection is going to be hoodies. I want to play around with buckles and detached sleeves and garments because they are more appealing from a distance and it offers unisex and diversity," Brown said.
Attendees at the show were star-struck by Brown's designs. "I liked how everything was put together. I liked the colors and I liked the design. I definitely liked his ambition and that he walked in his own show," said Emonie Coleman, a first-year marketing major.
Hailey McCord, a junior marketing major, loved the show's inclusivity. "I thought that the fact they included so many different people was wonderful and amazing. It represents Columbia very well. It reminded me of the eighties," they said.
"The colors and the designs, the shape of it is different from what is out there in the industry now. Their work is a trailblazer and I am excited to see their future works", said Nabeeha Kazi, a junior designs management major.
During their time at Columbia, Brown was inspired by faculty members who helped them get their creations to life. "Dana Connell guided me through my senior year and my portfolio," Brown said, referring to the associate professor of Fashion Studies. "She helped me position myself to get a job in the industry. It was hard because, at the end of Columbia, you go so many different routes with fashion. She knew I was in the long game for manufacturing and technical design."
Now working at the National Safety Apparel Company as a technical designer, Brown is able to work in the fashion industry as they are launching their creative works on the side, such as modeling and designing until they get to their end goal which is the Big Apple, every fashion enthusiast dream.
The inclusivity in Brown's brand is important, said Kazi.
"Every model that wears the clothing brings out the character of the clothing. It is especially important in a climate where inclusivity and recognition are important because people acknowledge themselves more when they see people put themselves out there making changes and making appearances," said Kazi.
Brown wanted Columbia students to know that, "You don't need to know. You just need to keep moving forward and not say no to any opportunity because that opportunity can teach you that you don't want to do that. That you need to get the farthest away from that. That is something I am learning every single day. But stick to it and don't give up on yourself."