Body empowerment club Body Haven hosts Y2K inspired 'Freak Like Me' fashion show
Denim-on-denim outfits, pearl-like gemstone makeup and bright pink velour tracksuits lit up the runway for Body Haven's "Freak Like Me" Y2K-inspired fashion show.
The event was held Saturday, March 12 on the fifth floor of the Student Center, 754 S. Wabash Ave.
As the popular Y2K trend has resurfaced on social media over the past couple of years, users celebrated the nostalgia of fun clothing aesthetics, including low-rise jeans, butterfly clips and baby tees. However, there were beauty trends from that era that were not as inclusive towards plus-size women. The "Freak Like Me" fashion show is attempting to change the narrative of Y2K by being size-inclusive.
Before the start of the show, attendees were welcomed to the exhibition hall where tables were located for the designers of the show. The tables contained designers' portfolios, their business cards and two mannequins to display their previous work.
A Y2K-themed photo station was also included in the exhibition hall where people could take photos behind the early 2000s themed pink hearts backdrop, with props such as Care Bears plushies, a lip phone, cassette tape-shaped purse and more.
Hot pink stage lights illuminated the catwalk as the show opener and singer-songwriter, Elijah Jagours, also known by his stage name Háj, performed hits with a fellow guitarist from his debut album "Escapism" that included "Liar, Liar, Liar" and "Hurt Me."
Body Haven's founders — President El Concepción, Vice President Bri Ramirez and Financial Director Kiera Battles — introduced the show by saying every single body, no matter what shape, color or size deserves to feel sexy and loved.
Ramirez, who also serves as Body Haven's director of communications, said that the club wanted to have an annual staple event in the spring and decided on a fashion show.
"We decided to do Y2K because we kind of wanted to reimagine and reclaim that kind of very nostalgic era that we all love, except a lot of the fashion in that period didn't really love us," Ramirez said.
Ramirez said the show's name "Freak Like Me" came from the idea that "we're all kind of freaks outside of the societal norm."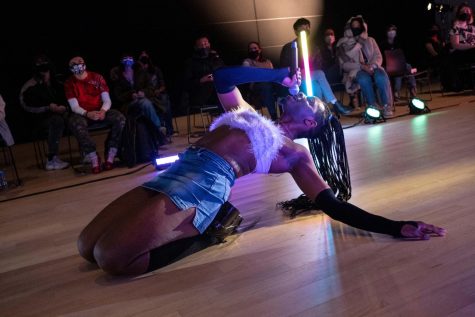 A model call was posted on Body Haven's Instagram where they asked students interested to email the club their name and pronouns, headshot and full body photo. Models were not required to be experienced to walk in the show.
Neida Aguilar, a sophomore arts management major, was a model for the "Freak Like Me" fashion show and is a member of Body Haven. She said when the Y2K aesthetic first originated, it was not inclusive toward plus-size people.
"The fashion is really iconic for its time, but I think that it definitely needed to be more inclusive, and I'm really excited for this fashion show because it's basically a different take on Y2K," Aguilar said. "It's a breath of fresh air."
Because of their diverse representation and defiance of traditional beauty standards, Aguilar said Body Haven's message of size inclusivity is beautiful. She was particularly drawn to the club's body positivity quotes and affirmations on their Instagram.
Model and designer for "Freak Like Me," Emily Hochbaum, styled pink and black leather co-ords for her and the models. Hochbaum played around with zebra prints and pink Vivienne Westwood-inspired corsets.
"Freak Like Me" was Hochbaum's first experience taking model measurements and creating patterns from scratch.
"It's definitely a challenge, but it's been a fun challenge, and I really enjoyed it," Hochbaum said. "I want [the models] to be comfortable at the end of the day, so I try to collaborate with them as much as possible."
Despite the strides made in size inclusivity in the fashion industry today, Hochbaum does not see total acceptance of body positivity in high fashion brands.
"I think that the industry is still stuck in that beauty idea with the skinny, size two models, especially with high fashion brands," Hochbaum said. "The average American woman is not a size two. They're not a size zero. They're sizes 12 or 14."
Closing the show, the models walked with their designers in coordinating styles and struck poses for the cameras as the audience erupted in cheer.
For upcoming shows, club meetings and daily body positivity affirmations, visit Body Haven's Instagram or join through Columbia's Engage website.