Big Mouth brings together singers, comedians and more for a night of community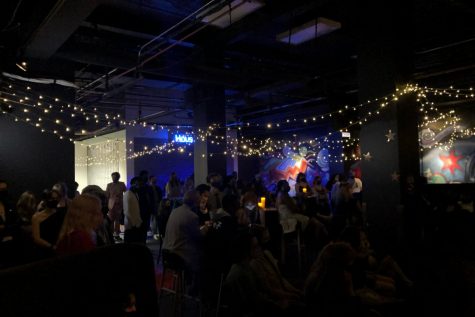 Students laughed, cheered and sang along to the musical performances at Big Mouth, the Student Programming Board's recent Hollywood-themed open mic night. The event featured performances by singers, musicians and more.
Big Mouth's open mic night was hosted by Josh Ocean Thomas, a junior comedy writing performance major, Sept. 24 at The Haus, 623 S. Wabash Ave. For many performers, this was their first time onstage in a couple years.
Avianna Rossetti, a sophomore music major, performed her song "Midwest Love" at the event. Rossetti, who draws inspiration from artists like Mitski and Jade Bird, said this was her first time performing live in two years.
"I really miss [performing]. It makes my adrenaline run," Rossetti said. "I definitely have to get back into the swing of it, for sure. But really it's just like my love for performing and being onstage. It's just [that] it feels so good."
Music has always been a part of Rossetti's life. Her dad plays guitar and taught her "a bit of what she knows." It wasn't until Rossetti's sophomore year of high school that she decided to dedicate herself to music.
"I didn't have a career plan," Rossetti said. "I didn't have a college plan, and I had my English teacher tell me, whatever you want to do, just do it — you'll end up exactly where you need to be, as long as you're doing it with authenticity."
Rossetti has an upcoming EP planned, which will feature her song "Midwest Love." The release date is unknown, but Rossetti's demo, "The Death of Her," is currently available to stream on Spotify.
Sabrina George, a sophomore music major, performed a cover of "No One" by Alicia Keys. This was her first time ever doing an open mic event.
"It was kind of nerve-racking, but it was honestly really fun," George said. "The crowd was very, very awesome. So nice. So it kind of made it a little bit better."
George has been singing since she was 8 years old and had been focused on singing primarily classical music and musical theatre since high school. Her last performance was in "Mamma Mia" during her senior year of high school. George's Big Mouth performance marked her transition from musical theatre to the R&B and pop genres.
"I really thought I was gonna be a classical [music] instructor, like a private lesson teacher," George said. "But once I started performing songs like these, I was like, I really want to be a musician, a songwriter and maybe a producer one day."
Fallon Braddy, a musician and member of the band Every Day, also performed. The senior music major was inspired to perform at Big Mouth by a desire to connect with the Columbia community.
"I really wanted to meet other people at Columbia," Braddy said. "I enrolled last year, and [school was] all virtual, so I didn't really get a chance to make any friends, and I thought this would be a good chance to connect with others."
Braddy has been playing guitar for about 14 years and has been playing music "every day since 2014," touring the country and playing in punk and small DIY spaces for about four years before experiencing "burnout" and deciding to try college.
Braddy also expressed a desire to compose music professionally.
"I have a deep love for interactive media and like video games, and I would like to make music that's tailored for those spaces," Braddy said.
Every Day's new album "Tasogare" is now available to stream on Spotify and to buy on Band Camp.