Council announces faculty rankings approval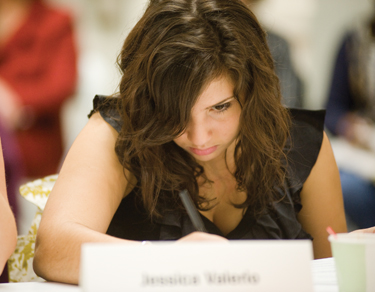 At the College Council's first meeting of the academic year on Oct. 3, few decisions were made, but the meeting was filled with college-related announcements. Topping the agenda was news about faculty rankings, the opening of the new student art store, Shop Columbia and campus safety concerns.
Louise Love, vice president of Academic Affairs, started the round of announcements with a report that the board of trustees met on Oct. 2 and voted to approve faculty rank. Love said the change will be effective next fall.
"People who are tenure track and not yet tenured will be assistant professors, and people who have achieved tenure will be associate professors," Love said. "This was an excellent effort on the part of the task force, and we were glad to see it approved by the board."
Mark Kelly, vice president of Student Affairs, said Shop Columbia, the college's new student art store, is set to host its grand opening on Oct. 16 from 5 p.m. to 8 p.m. Shop Columbia is located in the Wabash Campus Building, 623 S. Wabash Ave. The new store will feature a variety of student artwork, including paintings, photography,
clothing and jewelry. Kelly said all work will be sold on consignment, with the exception of student designs purchased by the store for the purpose of reproduction.
"[Shop Columbia aims to] sell student work across all the disciplines and to also introduce students to how to work within a business environment," Kelly said.
Later in the meeting, campus safety and related concerns were addressed by Alicia Berg, vice president of Campus Environment.
"The PA system is virtually completely installed, so if there were to be an event right now, we would be able to make announcements to the whole campus community," Berg said. She also said a roll-out of communication regarding the system is currently being worked on.
The new emergency notification system was installed during the summer in the wake of the NIU shootings. The system includes emergency strobe lights and speakers in every classroom and public space on campus, as well as scrolling banners located near elevators.
Berg also said a new policy involving building security guards has been implemented in response to direct concerns raised by SGA last year.
"If someone is locked out of their class, the guard will have to call for a back-up person so that they can leave their desk," Berg said.
Guards are also being "strongly" discouraged from unlocking offices and
classrooms in the future, she said.
Other highlights from Berg included information about improved instructional space. She reported that a "student gathering space" has been created on the fifth floor of the 33 E. Congress Parkway Building. The new gathering space is WiFi ready and adjacent to a shared computer lab and a shared part-time faculty suite. Berg also reported that the new 916-1000 S. Wabash Ave. buildings will be complete and ready for use by spring.
When asked what could done to create a more efficient elevator system in the South Campus Building, 624 S. Michigan Ave., Berg said she would look into the issue again, but ultimately, students and faculty have to work with the existing system.
"We don't have enough elevator space for the building," Berg said.
The next College Council meeting is scheduled for Nov. 7.